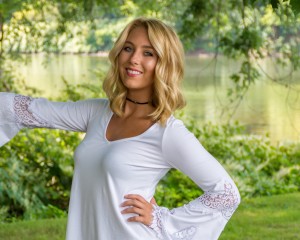 Hello!  I'm Madison Krupp, a senior journalism major at Point Park University.  I've lived in Pittsburgh my entire life and have experienced many great things here!  I love writing, experimenting with my Nikon camera and adventuring with friends.  I'm now 23-years-old (soon to be 24) and have plans to move to Charleston, South Carolina after graduation.  I graduate this April 30, which is both scary and exciting!  My dream job would be to work for a women's magazine.
May 7, 2016
Hello again! I am so excited to be traveling with this group. I have just graduated from Point Park with a Bachelor of Arts degree in Journalism. I have never been out of the country, besides Niagra Falls in Canada, so I am very excited!
It is the night before we leave, and so many things are racing through my mind. Did I pack enough, or too much? Do I have everything I need? How do I use my new electronic adaptors? The curiosity is killing me! I am still overwhelmed by the fact that I am traveling to Europe. This is something that has always been on my bucket list. I could not be happier to share this experience with my professor Helen Fallon and some of my best friends. I know this will be an experience to remember forever. I fully plan on capturing my experience through my journal writing. I will also be bringing two cameras; one DSLR and one new polaroid!
I am traveling for many reasons. The first, which may be obvious, is that I've always wanted to see Europe. I also hope to expand my knowledge of media so that I can apply it to my future career. As a journalist I am ecstatic to write a piece overseas. I think this will really help my portfolio stand out. I also hope to capture high quality photographs that I can publish with my writing. I want to enter a media job with the ability to write an article and provide photos to my future editor.
We have been preparing for this trip all semester long. In some aspects I feel I know what to expect, but I also feel a lot of uncertainty. I cannot wait to conquer the known, and the unknown, so that I can share details of this amazing experience!
May 9, 2016
After a long day of sightseeing in London we are finally relaxing in hotel beds! We departed Pittsburgh through Delta airlines, who provided excellent service. The first flight was brief, lasting only an hour. Flying usually doesn't bother me, however I started feeling queasy. The second flight lasted seven hours, departing from JFK to Heathrow in London. I was fine the entire flight, but the last hour was tough! I have never been on a seven hour flight. I took a melatonin in the hopes of falling asleep on the plane, which only resulted in roughly two hours of real sleep.
Once we landed in Heathrow, we waited in the long line to clear customs. Once we entered the UK we were met by our tour guide, Ed. I must say, I was immediately impressed with his British accent! I've wanted to visit London for as long as I can remember, and being surrounded with people from another country is a surreal experience.
We boarded a bus at the airport to begin our tour of London. Ed talked the entire time about origins of landmarks and explaining common mannerisms. He told us not to ask someone if they are English, because you might offend someone of Scottish or Welsh descent. I'm glad he told us that one! He also made several references to Harry Potter, which made me extremely happy. We toured St. Pauls Cathedral, Westminster Abbey, saw Big Ben and dined at North Sea Fish, which is known for serving the best fish and chips in London. They didn't lie! It was the most delicious fish and chips I've ever tasted.
We are now checked into the Ibis hotel, located near Euston Station. Tomorrow is a big day. We are visiting Buckingham Palace to see the changing of the guards, touring the Tower of London, then Mackenzie Kristen and myself are departing for The Making of Harry Potter Studio Tour London! I cannot describe my excitement. I'm exhausted, but I hope the excitement doesn't keep me awake!
May 10, 2016
Today was filled with amazing cultural visits. We began the morning in the hotel lobby, then traveling by the tube to see the changing of the guard and buckingham palace.  The red and black uniforms paired with such elegant horses was a great sight to see.  We even found out the Queen was home!  After this we ate a quick lunch, then traveled back to the tube to reach Tower Hill.  We entered this historic castle and viewed the Crown Jewels and the Ravens.  Kristen, Mackenzie and myself then traveled by taxi to the Making of Harry Potter Studio Tour London.
It is impossible to put this experience into words.  We drove for about an hour and fifteen minutes and finally reached Studio Tour Drive.  We immediately saw the large yellow building with large photos from the films on the buildings exterior.  The two buildings were labeled J and K (a reference to author J. K. Rowling).  The building was an old aircraft location that was used for the filming of all eight Harry Potter films.  We entered the building and waited in line where we layed eyes on the first movie set- the cupboard under the stairs.
We then entered the first room where a film was played.  Film crew and others were interviewed, and the short clip highlighted the huge impact this book and movie series has had on our culture.  It was so overwhelming I teared up!  We then entered a second room which was another theatre.  Danielle Radcliffe, Rupert Grint and Emma Watson gave a presentation on a huge screen that reached from the ceiling to the floor.  Once the film was over, the screen rolled up and revealed the iconic doors to the Great Hall.   The Great Hall is one of the most famous sets of the movies.  The large golden doors opened to show the Hogwart's dining hall.  Original props and costumes were displayed exactly as they were in the films.  Although the ceiling was not bewitched to look like the night sky, like it did in the films, it was a great experience.
We then continued to the rest of the tour which took about four hours.  We were the last people in the tour, which was great for photos!  There were multiple movie sets as well as costumes, props, a special effects and graphic design, original drawings, models and much more.  I could write for days about this experience, but I am off to bed!  This was a dream come true.  We have an early morning.  Until tomorrow!
May 11, 2016
Hello! Today we had the chance to meet some awesome media professionals from both a public relations firm and an advertising agency. We woke up, met Ed of course, and traveled by the tube to London Bridge.
Once we were all safely gathered, we entered Battenhall. This public relations firm was an amazing experience. The first thing I noticed was the young staff and modern office space. It was so cute! Every desk had a plant, and there were no cubicles. Also there was plenty of natural light which made the office very bright.
Drew, the company's founder, was overly welcoming! He was very authentic in everything he spoke about. The company knows how to properly use technology and social media, making it unique. This firm has excellent social media presence! (follow him on Twitter @drewb) Each speaker was a young, hungry professional who showed passion about their work; especially social media. They are only three years old, and have already won seven awards! They work with many high end clients who like to remain confidential. Innovation was a word that kept appearing in each presentation. The company is very focused on developing a new way of operating a public relations firm. They have even seen other companies copying their blue prints!
One of their senior employees actually got his job through Twitter. This is just one example of how social media is truly taking over the media business. Overall, I would love to work for a company that is so welcoming, authentic and enthusiastic!
The second visit was to BMB Advertising. The office was also extremely modern and had an open layout. This is where we met Founder Trevor Beattie who was a fantastic person to listen to. The entire time he spoke I was intrigued. I thought everything he said was interesting, and made me appreciate advertising in a new way. He also taught us that being influenced by others who are outside of your profession can result in good work. He also taught us that a professional in todays age needs to have multiple skills and showcase them well to a company.
There is so much to say about these lovely places. I am so thrilled to have met these people, and can already tell they will influence me in the future!
May 12, 2016
Before I begin my normal blog post, I have to wish my sister a happy birthday! She is turning 20 years old today and I can't wait to celebrate with her when I get home! Today was both a sad and exciting day. We left London and had to say goodbye to Ed, our wonderful tour guide. He could not have been more welcoming or helpful. I must say I'll miss the British accents everywhere!
We then traveled to the white cliffs of Dover which were a beautiful sight. These massive cliffs were extremely tall. Their rare white color made for beautiful pictures. Although we missed our original ferry, we were able to board the next one which was called the Spirit of France. The boat was much bigger than I expected! I was so excited to lay eyes on France because I took six years of French throughout high school and college. Even though we only saw the French town of Calais from the boat and bus, it was beautiful. We met our new tour guide, Summer, who comes from Paris. She is also very knowledgeable about loads of things. We drove through Calais and learned about the immigration problem they are facing. We even saw a camp of illegal immigrants which was shocking to see. The run down buildings were made of thin wood, and the area is commonly known as the jungle.
Once we reached Brugge it was like stepping into a fantasy book. We checked into our hotel, Hotel Jacobs, which was small but very charming. The rooms are so spacious! The cobble stone streets and old buildings were filled with character. The canals provide beautiful reflections of the city at night. We saw many people on bikes, and the city had such a unique charm to it. Buildings and canals were covered in beautiful vines.
We ate dinner at a delicious restaurant where I ate cheese croquettes, fish and potatoes, followed by a delicious assorted desert. We walked past shops filled with things like handmade lace, clothes and antiques. I instantly fell in love with this beautiful city and can't wait for tomorrow!
May 13, 2016
Today we woke up at the Hotel Jacobs in the charming city of Brugge. I couldn't wait to start the day! Our hotel breakfast served delicious crepes that I ate with strawberry jelly. We were also determined to find Belgian waffles later that day!
We met our tour guide, Summer, outside the hotel and began a walking tour of the city. We learned about artists, buildings, and churches. We even visited a church where we saw an original Michael Angelo which was incredible to see! We saw horses and carriages giving tours of the town. We also passed some school children who were painting canvases in the park. It was so cool to see them practicing art, which can be so unappreciated today. We were given free time for lunch, so Mackenzie, Kristen and I found food trucks. They are famous for their French fries and mayonnaise which are fried twice. They were delicious! I also got a vegetarian patty.
We met up with the group in the market square and continued our walking tour with Summer. We entered the Choco-Story museum where we watched a demonstration of chocolate making. Needless to say it was delicious! The woman made chocolate with a walnut flavor inside. I felt like I was watching a cooking show! The lady handed samples on the way out the door, which was amazing. The chocolate and hazelnut were a great pair… they melted in your mouth! It was everything I expected Belgian chocolate to be.
After we left the museum we continued shopping. I got a cute white and blue striped shirt and blue pants! We continued to look for waffles, and found a shop that looked delicious. Most of the store was covered in white marble. The store was quite small, but we were able to talk to the worker. He was very nice and recommended a dinner restaurant that was delicious. Cabrinas served traditional flemish food. I ate a delicious eggplant lasagna and we split bread and beer cheese as an appetizer.
We spent the rest of the night at a hidden bar called De Garre. We were served the house beer, which we found out was 11 percent but delicious! The bar was down an alley way, but we were recommended by the locals and it was a great hidden gem! The house beer was an original brew that you can only find at that bar. We walked back to the hotel after a beer, and are going to sleep! I'm sad to leave tomorrow, but I feel like we've seen so much of this beautiful place.
May 14, 2016
Sadly we left Brugge this morning, however we are officially in Amsterdam! We started the morning with a bus tour where we saw both the old and modern windmills. We made a stop along the way at the Keukenhof which was like a "flower theme park," according to Summer. It really was! We walked through patches of beautiful tulips of all kinds of colors. We later learned that the Kuekenhof is home to more than 2,000 kinds of tulips! Whoever breeds a new kind of tulip has the right to name it. We saw names like Pink Diamond and Lady Gaga! Another fun fact that we learned is that there are no such things as black flowers. They are a deep plum color that is specifically bred.
We left the museum after about an hour and continued on the bus. We reached our hotel, the Meininger, shortly after. The hotel seems very modern, with bright colors. The rooms are also nice! I'm currently sleeping in the bottom of a bunk bed. I like the open space with the four girls! Kristen, Mackenzie, Jacqueline and I are rooming together for the second time since Brugge.
We checked into the hotel and had some time to relax. We transferred photos from our cameras to our computers because we've taken so many pictures! It will be impossible to show my friends and family all the photos I've taken. I currently have almost 700, and we still have another week! I'm so excited to tell my family everything about my trip. I got presents for them, but I can't say what because they may be reading this!
We went to dinner at a restaurant called Brett which was very close and delicious! I got a black bean and quinoa burger with french fries. It was amazing! Their french fries are unreal here. They are fried twice and you can definitely tell! I've seen so many more vegetarian options in Europe than I've ever seen at home. I hope America picks up on this soon.
We're about to go to sleep since we have a long day tomorrow. We actually get to sleep in for a bit which is exciting! Goodnight!
May 15, 2016
Our first official day in Amsterdam is complete! We met in the hotel lobby this morning to meet Summer, then headed towards the much anticipated cheese factory. We watched a demonstration on how to make dutch cheese, which was followed by a tasting. We tasted countless different cheeses, and all were delicious! I'll be coming home with some delicious smoked gouda and aged 2-year-old cheese! Wine and cheese will never be the same. We also saw windmills and a clog demonstration at the same location. They made wooden clogs right in front of our faces! After a lot of cheese and admiring the dutch countryside we made our way back to the bus.
We finally made our way into the city, which was the first time we really got to see it! It's a lot bigger than I expected. The streets are crowded with people; both tourists and locals. I've already seen more bikes than I've ever seen in America! They even have their own bike roads which is efficient for traveling in a city with traffic. We have to watch out though, bikes can be dangerous! They whizz past you making little sound, and most times they don't stop for pedestrians.
The first group activity we did was a canal tour. This was a great way to see the city for the first time! We saw many historic buildings including the Katten Kabinet, which was a cat museum I researched earlier in the semester. We completed the canal tour and continued to the Anne Frank House. We waited in line for nearly two hours, but it was worth the wait. I spent more time reading than I ever have in a museum. It was truly a surreal and emotional feeling to stand in the room where ? people hid from Nazis during the German invasions of Amsterdam.
Following the Anne Frank house we went to dinner with Point Park Alumni where I sat at a table with alumni Matthew and his dutch wife. We mostly talked about cultural differences like healthcare, european sexuality and education.
I'm about to go to bed since we are staying in the city most of the day tomorrow! Goodnight!
May 16, 2016
I feel very rested today! We were able to sleep in until about 10 a.m., then woke up to start our day. After curling my hair and putting on makeup, we walked to the local grocery store to purchase some cheese croissants. They were delicious! Everywhere seems to have great croissants here.
We then met in the lobby with our third tour guide named Yost. We took the metro and traveled to Vrije Universiteit to meet Professor Jolien Arenolsten. She has been teaching at the university for six years, and agreed to take the time to give us a lecture on dutch media. She has her masters degree in journalism, and was very knowledgeable about the current state of the media.
The United States Constitution gives us the right to free press in the first amendment. The Dutch law doesn't state freedom of the press until the seventh amendment! It also states that there should be no prior restraint.
Dutch TV was the first topic of discussion. An interesting point she made was that any program who has enough people gets airtime!
The next topic was how dutch media is used. Dutch people watch an average of 3.36 hours of television a day. Younger people are starting to watch less TV, and older people are more inclined to watch TV and read print newspapers. The future is changing, and who knows where it's going! It is such an uncertain time for journalists. One thing that stuck with me was when the professor said that the next generation will probably be working in jobs that don't yet exist. That's a crazy thought!
Like all other media outlets, she stressed the rising of social media. Their biggest news website is nu.nl.
Tomorrow I am leading questions at the newspaper Het Parool, and I am interested to see how their newspaper is adapting to the current times. I'm excited to see how they operate! Until tomorrow.
May 17, 2016
Today was the day I got to ask questions at the newspaper Het Parool! I was really excited to see how their newspapers operate since I spent time at our student newspaper The Globe.
Het Parool has been in operation for about 75 years. They began as a resistance paper during World War II, which I thought was really cool. The people distributing the paper were arrested and executed by the Germans.
The paper now has 30 journalists alongside freelancers, photographers, foreign correspondents and graphic designers. Their content consists of housing, tourism, food reviews, hard news and more. The company is also beginning to use social media to stay up to date with the digital age. Online subscribers are given a free period of six months before they have to start paying for content. After that, they have people's emails so they can actively reach out online.
The problem young journalists are facing now is that there are not enough jobs. There are more graduates than there are journalists, which is a scary thought!
After Het Parool we ate at the cafeteria where I had a scrumptious goat cheese and pineapple sandwich. We talked of our adventures from the previous day, then went to our next media visit at the newspaper de Volksgrant.
Also known as "the people's paper," de Volksgrant has a catholic background. They now remain objective, and are very proud to say that their paper is neither liberal nor conservative. They believe news should be given, then people can decide how to think. I happen to agree with this point! This paper has been running since around 1941, and their office atmosphere seemed great. People were welcoming, and the work space wasn't boring! They also addressed that they like to have a relaxed feeling because better work comes from it.
After the media visits we took a short walk in the Red Light District to gather some information for my final paper. It was no doubt an interesting walk! After taking some photographs and gathering brochures, we ate burgers for dinner and traveled back to the hotel by tram. Our next morning starts at 8:30, so I'll check back in tomorrow!
May 18, 2016
Rise and Shine!  Our group had an early morning today, beginning at 8:30.  Every day is filled with countless experiences, and although I am exhausted I wouldn't miss this for the world.  We began our day with a visit to a Public Relations firm called Ketchum.  They are one of the top five agencies in the world… lucky us!
The company prides itself on their ability to gain market share.  Our session began with an interactive challenge.  We were presented with a case from the corporate company Nespresso.  Most people have heard this issue by now, but the company is facing scrutiny because their K-cups are filling the world with more garbage.  The cups can be recycled, but not everyone knows that.  Ketchum is responsible for recovering their positive reputation.
One thing I learned about PR is to always have your allies in place before sending out any ad!  I also learned to never accuse the consumer of being wrong.  In this case, even though consumers are not recycling their K-cups, Ketchum had to create an ad to promote Nespresso without accusing consumers of being wasteful.  Ketchum's advice for an ad is to include a call to action, be fully aware of the issue, and reach out to reliable journalists who can provide the consumers with the knowledge they need.
One more piece of advice from Ketchum… be brave, be bold, and contribute!
Our next media visit was to World Press Photo.  There was much hype about this one since the beginning of the trip!  As we arrived we met our guide, Paul, who walked us through the tour with explanations of important photos.
Conflict photography is what they are known for, and they did not disappoint.  Some images were highly disturbing, and others beautiful.  They also had many multimedia installations that enhanced the tour.  I have always been interested in photography, but seeing this was definitely an eye-opener.
After the visits we continued to shop the city!  Until tomorrow…
May 19, 2016
What a day… We finally had our free day in Amsterdam!  It did not disappoint.  Mackenzie, Kristen and I began our day at the Van Gogh museum.  I chose this museum as the topic of my first research paper for the class, so I could not wait!
We entered the museum and began with the exhibition on prostitution on the first floor.  The walls were pink and covered with art from a variety of artists.  The paintings depicted working ladies in their profession.  It was fascinating!
We then continued to the main exhibits.  There were three floors, and I could have spent an hour on each.  We browsed paintings mostly by Van Gogh, and some by other talented artists.  My favorites were Sunflower, Almond Blossom and Van Gogh's self portraits.  His paintings had a beautiful, subtle metallic glow and thick paint.  I would recommend this visit to anyone.
After the museum we got lunch, where I ate an avocado and goat cheese sandwich.  It was delicious!  I also had a classic Coca Cola in a glass bottle.
We continued to wander around the city until about 5:30 p.m..  We went back to the hotel to change for our final farewell dinner cruise.
We boarded the boat in our dresses and were seated at a table covered in a white tablecloth complimented with champagne.  We were served four courses.  I had halibut served with spaghetti and vegetables.  The dessert was the highlight of the meal.  I can't remember the title, but I can only describe it as champagne flavored mousse.  A raspberry sauce was beside it, along with strawberries and a beautifully crafted cone.
As we cruised the canals after the sun went down, all I could think about was the fact that the trip was coming to an end.  After so much anticipation, and two weeks filled with once-in-a-lifetime experiences, it was bittersweet.  I am so thankful for the experiences I gained, and sad to leave.  I will forever remember this beautiful trip, and the people I adventured with.