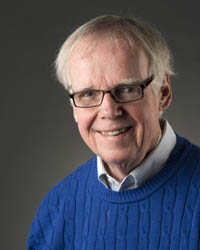 Bob O'Gara joined the University teaching ranks part time in 1983 and became a full-time professor in 1993. His teaching style blends extensive real-world experience with the best of contemporary theory spiced generously with informal professional insights and humor. Because of O'Gara's ties to the Pittsburgh public relations and advertising community, top communications professionals from some of the largest and best communication organizations regularly provide interaction with Point Park University students. O'Gara also serves the University as a member of the budget and finance committee, Honors Program advisors, faculty development committee, and the friends/alumni and scholarship committees of the School of Communication.
Prior to teaching, O'Gara was in corporate public relations and advertising for Pittsburgh Corning Corp. and Koppers Company Inc., where he served as manager of the Communications Services Department and director of public relations. He then joined PNC Financial Corp. as head of its corporate and public affairs department. O'Gara has managed his own communications consulting practice covering employee, financial and marketing communications for a variety of industrial, commercial and nonprofit clients.
O'Gara is a board member of Mainstay Life Services (residential services and support for people with developmental disabilities and their families) and community adviser to Western Pennsylvania Conservancy for its Greenspace and Community Gardens program. O'Gara and his students regularly provide local non-profit organizations with communications counsel ad services.
He lives in Mount Lebanon with his wife, Sally. They have two sons, Brian and Kevin.