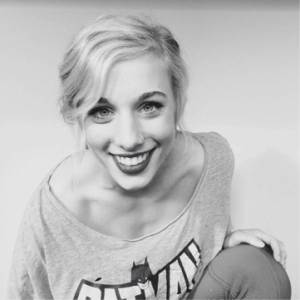 Colleen Loverde is a senior dance major and journalism minor from the northwest suburbs of Chicago who is highly enthusiastic in the dance studio as well as the classroom. Colleen is passionate about discovering connections that exist among people and ideas and acknowledging cohesion and integration as necessities for growth and development. She is an avid learner, curious human, willing collaborator, crazy liberal and a playful weirdo. Any free moment she has is spent researching through reading books (as well as adding copious books to her Amazon cart…) or listening to a multitude of podcasts (aspiring NPR aficionado). She is obsessed with satire and secretly dreams of being adopted by the triumvirate of Jon Stewart, Stephen Colbert and John Oliver and or hosting an episode of SNL. You can find her engaging in silly shenanigans, enlightening discussions or a combination of the two.
Pre-Trip Blog
May 8
Hi readers! It is likely that you have all been made well aware about the excitement of the group. I know that I have been PUMPED for months and I can hardly contain my excitement! ? My desire to travel is overwhelming, and our intended destinations for this trip are perfect introductions to the foreign world. In many cases, people choose to travel in order to escape their normal environments and experience different cultures. However, for me the excitement truthfully comes from finding the similarity and or the humanity within these differences. Whether one examines a given nation's history or contemporaries, culture or economy, society or politics, even the most seemingly disparate factions are rooted in our humanity. London will be a great first stop to ease us into a disparate world. I cannot necessarily say that it won't be my favorite stop, but the progressive and escalating culture shock we will experience along the way excites me. "Shock" implies the notion of being temporary or impermanent. And thus, shock innately wears off and the seemingly disparate can become familiar not by relying on our own biased exclusivities to contain our comfortability. We must first acknowledge the need for extreme discomfort as necessary to foster the inclusivity that one can acquire through the direct acknowledgement and interaction with other cultures. I intend to address this need as best as I can during this trip. I am sure that doing so will teach me a lot. ?
Furthermore, there are certain questions that one is faced while traveling. Perhaps not everyone seeks to answer such questions, but in order to learn from one's travel experiences, consideration of them is key:
How does this society operate? … This question could naturally result in a multitude of answers based on the unlimited potential perspectives available.
How does the traveling group operate? … People may choose to travel alone, with friends, with a spouse, with their family, with a tour group… In my case, I am stepping into a completely new group dynamic. I am  the only student in the class who is not a communications major. Additionally, most of the group is at the very least somewhat familiar with one another on a personal level. Navigating a new place with new people is both potentially nerve-racking or exciting. In my case, I am excited to enhance my potential for culture shock in regards to entering a foreign country and additionally in regards to entering a foreign group. 😀
How am I as an individual effected by these experiences and interactions with other people?…
The common denominator among these (essential…I believe) questions is the importance of the person or the people. Typically when we travel, we often refer only to the place or only the experiences in relation simply to the place.  However, it is more appropriate to say that it is the PEOPLE within the space that dictate their environments  and therefore their experiences. I am traveling to London, Bruges and Amsterdam in order to experience the people, both past and present. I am exhilarated at the thought of the potential connections that have yet to be made. 🙂
Never Underestimate the Power of London
May 9
Full disclosure, I did not sleep at all on the plane ride across the pond. The entire ride, I resided in that state of almost sleep (You know what I'm talking about. It's when you are in a dream state, but still sort of awake. And sometimes your half dream states about tripping over bugs wake you up…Okay maybe the bug thing is just me, but I think you catch my drift…). But no matter! I frolicked right off of that plane as if I were injected with an espresso serum. My state of excitement was akin to that of a playful retriever puppy. My eyes and smile were wide and my hyperactive body was spontaneously bursting into quick little happy dances.
The excitement continued onto the tour bus where we met our tour guide Ed, a lovely man who is a walking Encyclopedia of UK knowledge. We approached the streets of London and Ed provided the narrative along with the scenery. The plethora of experiential information was fascinating. Every country's history has its validity. America's history has its validity of course, but sometimes in America, it can be easy to forget or fail to fully comprehend our historical infancy with respect to the rest of the world. Most of the sites that we noted in London predated the 1700s and thus predated official American history. Of course, it may be fair to say that Americans are most well versed in British history second to our own since we are the direct descendants. That being said, we may only recall British history if it directly relates to US (US and us; either usage applies.) This is a bit narcissistic, no? We are far from the ultimate achievement or accomplishment (or perhaps more aptly, rebellion) of Britain's colonial history. The UK's history traced back hundreds of thousands of years with enough trials, tribulations, accomplishments and achievements to tip, if not throttle, the scales in their favor as the ultimate leader of the free world. Their cultural influence has extended to numerous nations for CENTURIES. To provide some relatable imagery,  we (America) have had our foot in the door, but England has already been in the room getting shit done.
That being said, the rich history is tangible within and around just about every architectural structure. I am electrified by the fact that I am present in the space in which the history of the modern WORLD as we know it stemmed from.
Just take a look!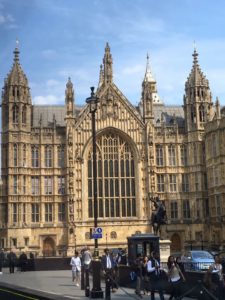 The excitement was there, but the danger of jet lag was creeping up on me. Thank goodness that Ed's knowledge coupled with the breathtaking sights kept me going! There was quite a lot to process as we took a fairly extensive weave through the London streets. My personal favorite sight of the day was St. Paul's Cathedral. Ed referenced the fact that the cathedral had become the center for London news and gossip. New mongers gathered there to pass on the latest gossip and people who came to the church to keep up with the news were known as "Paul's walkers" (What a fitting site on a communications trip). Additionally, the churches history dates back to 604 and the religious (The Reformation!), architectural (The Great Fire burned the original structure and Christopher Wren designed the current building.), cultural, and political (the list goes on) implications of the building fully captured my attention and provoked my fascination. The cathedral's physical and historical immensity had me transfixed. And of course, I would be remiss not the address awe I felt upon observing the attention to detail on every inch of the building (I did get my face quite close… I like to observe from various distances and angles. :)). The artistry of its design is absolutely stunning. What is perhaps most remarkable is that St. Paul's will not be the only place where I will get to experience such visceral connections with art and history.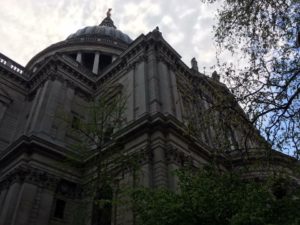 Quite large and in charge. 😀
Wow, lots of touring today! Although it was a task to overpower that creeping jet lag, the tour was a wonderful pep and prep in order to rev us up to tackle London and all its immense glory.
After the tour, we returned to the hotel to rest up a bit before dinner. We attended a dinner reservation as a local authentic British restaurant where we were introduced to British cuisine with a traditional working class man's fish and chips. Whoever said that the Brits don't make good food was a LIAR. I completely underestimated the QUALITY of this classic meal. The fish was massive, tender, flavorful and fried to perfection and the chips were wonderfully warm and crisp (but not too crisp!) and not to mention bottomless. 🙂 The meal paired with a HEAVENLY apple crumble and good company was the ideal way to end day 1 in London. If I weren't so exhausted from the jet lag, my excitement would definitely keep me up all night.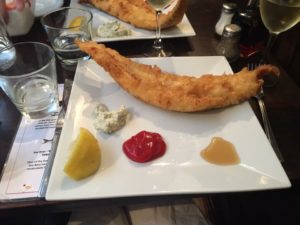 Sightseeing in London
May 10
I shall say, we did a pretty swell job making our way all around London. It is important to note that there is absolutely no way we would've been able to navigate without Ed's guidance. His tall frame, bright red jacket and commanding voice proved to be very useful upon our first encounters with the TUBE!
We rode the tube over to St. James' Garden in the effort make our way towards Buckingham Palace to witness the changing of the guards. It was a rainy day (classic London), but surprisingly, I did not mind as I was enthralled in the foreign scenery around me. We wound our way through the garden and came upon the changing of the guards just in time. The rigor and uniformity of the ceremony is enthralling. It is in equal parts both a beautiful tradition and baffling one. The time and energy expended throughout the day every single day in order to perform this ceremony must become horribly monotonous. I commend the guards for their patience and commitment. I wonder if they do anything to keep it fresh…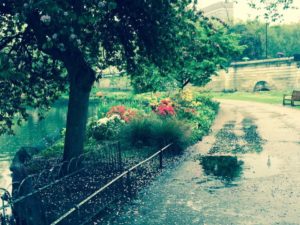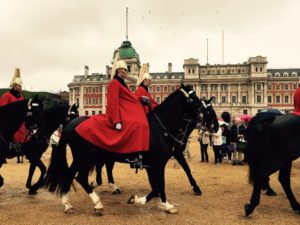 Next, we made our way north of the River Thames to the historic Tower of London. If I were to play a word association game in relation to this building, the word at the forefront of my mind would surely be "torture". The number of deaths and methods of torture that have been performed in this tower throughout history is almost inconceivable. The Tower acted as a protective barrier for royalty, but that being said, it is remarkably ironic that the Tower was a primary location for inflicting pain on prisoners. Additionally, it was fascinating to learn about the various animals that had inhabited the tower. Royals received various animals as gifts including ostriches, monkeys, lions and tigers and bears (yeah yeah, oh my…). Apparently, one year a bear ended up dying from eating too much cake. Oh royal animal problems…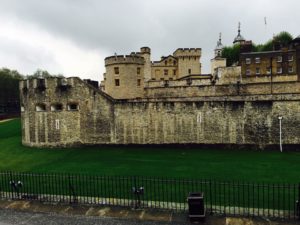 For lunch, a group of us traveled over to the Borough Market which was indeed a food lover's paradise. There were food vendors representing a plethora of different cultures and nationalities. I decided to invest in the Egyptian street food Koshari which primarily consists of rice, lentils and macaroni with a spicy tomato chile sauce. It was delicious. And for dessert, I tried my hand at some pomegranate and pistachio Turkish delight which was quite a unique experience.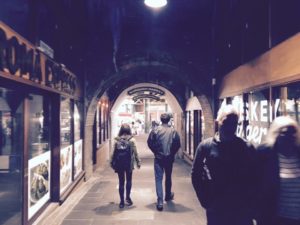 We then made our way to legendary The Globe Theater where Shakespeare's works plays were originally performed in the hopes of catching a performance of A Midsummer's Nights Dream. Unfortunately, the show was sold out, but stepping foot in the legendary space was an invigorating experience all its own.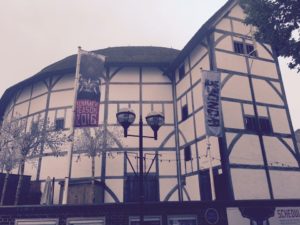 Carnaby Street in Soho was our next stop. Exploring the trendy, artsy and modern shops was a visual feast all its own. Not to mention, the people watching scene is swell.
We finished the day with some excellent Indian food and I of course indulged in the classic dish of Chicken Tikki Masala (one of my all-time favorite meals prior). The food was excellent, the company was excellent and our spirits were high.
I am excited to see what kinds of adventures tomorrow's media visits will bring. 🙂
Head Explosions (The Good Kind!): My First Media Visits
May 11
I will say, I was not quite sure what kinds of experiences to expect on our designated media visits. I have limited experience (Okay, let's be honest, no experience…) interacting and conversing with the top professionals of communications agencies and advertising companies. Any recollection of an ad man includes the image of a stern, serious, middle-aged man in a slick, black business suit…
First stop: Battenhall
Upon entering the Battenhall office, my preconceived notions were knocked straight out of my head. We entered a small, cozy space filled with equally stylishly and casually dressed young folks. The faces were friendly and the welcome was warm. Drew Benvie, the founder and managing director of Battenhall was the first to greet us at the door. He led us to an intimate room set complete with chairs and beanbags to sit upon at our leisure.
Drew was the first one to chat with us. He laid out the game plan for the presentation and let us know who we would be speaking with (We spoke with Drew himself, Tom, Pauline, Joe, Sam and Michelle.) and what they would be talking about (where it all began, what they're all about, workplace culture, technological tools, and content creation). Drew gave us the lowdown on his background, the journey of Battenhall and the company's ultimate mission. Plain and simple, he broke down what Battenhall does and how they go about doing it. This may not seem extraordinary, but what made his breakdown so attractive was his TRANSPARENCY and VULNERABILITY. Essentially, Drew the human conversed with us, not talked at us. He was not fabricating a machismo work persona. He stands for AUTHENTICITY in all aspects of life, especially the workplace, and it easily translates when one is in the room with him.
Drew and the team members disclosed A LOT of valuable information, but to keep it brief, I shall attempt to convey the dynamism of Battenhall in a few key points…
The mission at Battenhall is to ultimately build upon the future of the PR industry. Drew saw the potential for the interdisciplinary relationship between technology and communications. He believed that the future of communications is reliant on a conjunction with technology. Essentially, Battenhall is a social media agency and they are at the forefront of their field.
CREATIVITY & INNOVATION are at the core of their values and they attribute these skills to their success. Therefore, Battenhall hires people with PASSIONS. People with passions are ultimately fueled by a persistent authenticity. It is from this that creativity and innovation breed. 😀
A large portion of their success is contingent upon the unique company culture in which empowerment and personalization are encouraged in order to enrich the minds of the team members and thus the company.
20% of their time is allotted to experimentation!
"Flexi & Remote working" means that team members are able to work in whatever mode or space is most comfortable and or effective for them.
Side projects are encouraged to expand the mind.
Pro Bono work time is allocated for chosen charities and good causes. 🙂
Each team member has an allotted tech fund which he or she may choose to spend how he or she sees fit.
To summate, the proposed company culture seems brilliant, but as are the people working within that culture. Every team member including Drew is personable and generous. They clearly produce great work (Look them up! They're only three years old and they've won quite a few awards.) because they are great people.
Creativity and authenticity are key at Battenhall. I don't know how a workplace could possibly be better. 🙂
Last stop: BMB
BMB Advertising was our second media visit of the day and it was quite an entertaining visit. When we entered the space, I could immediately tell that we were in for some fun. The office space is decorated with quirky, colorful and trendy knick-knacks and furniture. To provide some perspective, I would not just work in this space, I would live in this space.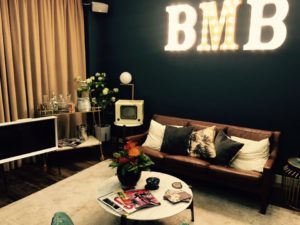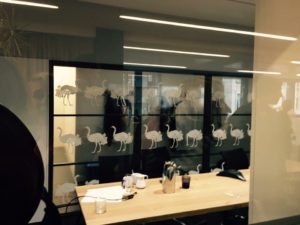 My gut told me: The space is fun. Therefore we within the space will have fun.
My gut was right.
We had so much fun that the visit ended up lasting a whooping 4 HOURS!
That being said, it is essential that I keep my comments limited to the key points that I took away:
David Corfield, the head of project management provided the introduction as well as the facilitation of the entire four hour presentation involving various team members. He was our last minute connection here who set it all up. Yay David, you're swell!
BMB believes in the continuous utilization of creativity, but not just as creativity for the sake of creativity (Yes, a mouthful.)… Creativity should be utilized in processing in order to produce an INTENTIONAL effect.
There are integral values that BMB looks for in its clients:
Populism… BMB is known for taking some of the greatest loved British brands and finding new angle of appeal
Generosity (On both ends!)… BMB believes in collaborating with other agencies and individuals in order to facilitate the best possible process and product.
Candour… The ad industry is traditionally notorious for its failure at transparency. Transparency is key at BMB.
There are three streams of work at BMB:
Thinking
Creating
Marketing
… We were introduced to various teams and individuals each involved in different streams of the process.
We were able to witness some extremely entertaining, innovative and or impactful ads including:
"Miles the Bear" (Thompson) …This ad was created by a young duo who cannot be more than 24!
"There Will Be Haters" (Adidas)… Snappy!
"Woman's Reaction to England World Cup Knockout" (Impromtu addition to Domestic Violence Prevention Campaign)… This was powerful. I was blown away by the fact that a big idea paired with a small budget can produce such a massive impact. If you only plan to watch one of three ads, make it this one!
Final Highlight: Trevor Beattie
Yes, Trevor Beattie. The first B of BMB. He is quite different from the traditional, slick ad exec. He is quite eccentric and definitely all over the map (but in the best way!). He spent the first half hour of his presentation showing us clips of his space (yes, outer space, with rocket ships, etc.) expeditions, revealing a picture of himself being chummy with Buzz Aldrin, and discussing his involvement in Richard Branson's quest to colonize Mars.
He discussed the biggest influences that he has had in his life ranging from Muhammed Ali, to Buzz Aldrin, to David Bowie, to Rudolf Nureyev… the list goes on.
He proceeded to share and share and share and with the range of topics that he covered, we naturally spent the next two hours conversing, but mostly asking SO MANY QUESTIONS (SPACE!!!! was a popular topic of interest…). Trevor's interests know no bounds which is perhaps why he comes off as a bizarre, off the wall character. That is not to say that this is a bad thing by any means. He is wonderfully weird. He is the prime example of the reason why success does not arise from normalcy.
….
WHOA! Information overload! My brain is erupting in colorful, sporadic fireworks! To cool down, I eat from a sushi boat.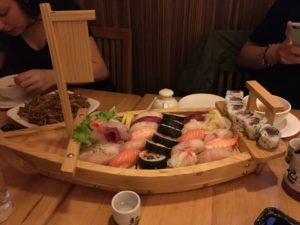 What a delicious end to a flavorful day. 🙂 Let's hope that I can fit one last hoorah in tomorrow morning before we make our final departure from London!
I see London! I see France! I see… Bruges!
May 12
I set foot in three countries today! European life must be amazing. One is simply a short trip away from coming face to face with a completely different culture. That is pretty badass.
With that being said, the day was defined by our forward and onward motion. There wasn't so much stop and go. It was mostly go. But no matter! It was still a lovely day of travel.
Luckily I rose early in the morning to indulge in one last London cultural experience. I figured that my time would best be spent at the historic British Library which was fortunately a ten minute walk away from the hotel. When I arrived, I was informed of a limited time Shakespeare exhibition. Since our plans to bear witness to a classic Shakespearean performance at The Globe fell were foiled, I figured that this would be the perfect way to get my Shakespearean fix. And boy, did I get it! The exhibition dove into the depths of Shakespeare's influence pre and post death and across various cultures worldwide. My personal favorite part was the Women's Rights Portion of the exhibit. The original female parts in plays of the era were played by men. However, on December 8, 1660, the very first female actor to depict Desdemona in Othello took the stage. Her exact identity is unknown, but her presence paved the way for the legitimization of female actors (It was quite a long road…Some may say we have not yet reached the end of the road since female actors are STILL getting paid less than their male counterparts… I am included in that "some".).
The sum of each portion of the exhibit fully disclosed Shakespeare's MASSIVE influence in the perpetuation of cultures spanning various nations, ethnicities, races and genders. It was miraculous to witness. I just had to complete my visit with a purchase of a comprehensive volume of Shakespeare's classic works complete with notes, commentary and special features added by experts and actors at The Globe Theater. It will most likely be the ultimate read of the summer. 🙂
I headed back to the hotel, gathered my things, said my final farewell to London and hopped on the bus bound for the Dover Cliffs with the group. From the cliffs, we made the departure via ferry across the English Channel towards Calais, France.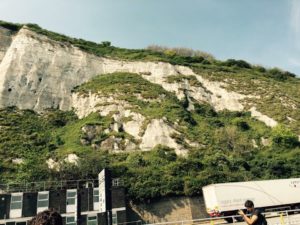 The view of the English Channel from the ferry was stunning.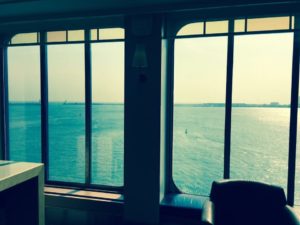 When we arrived on the coast of France, we were greeted by Summer, our next European tour guide. She provided informative and what I feel was quite necessary commentary as we made our way from Calais to Bruges. On the way, we passed loads of refugee camps. Summer informed us that these camps specifically were known as "The Jungle". The migrants live there while they attempt to enter the UK. The living conditions in the camps are poor without proper sanitation or housing and limited food supplies. There are also ongoing dilemmas between French authorities regarding the inhabitants of The Jungle. The struggle to address humanitarian needs without attracting additional migrants has proven to be a conflicting issues.
Prior to our drive through Calais, I had not been a firsthand witness to the migrant conditions in Europe. I have only ever seen the migrants on film. Seeing the actual people in physical reality brought the immensity of their plight into perspective. Thank you Summer for being real with us.
…As we departed Calais, our eyes were wide and our heads had been cracked open. Summer narrated the passing scenery of the French countryside, our entrance into Belgium and our approach into Bruges. I had been pleasantly enjoying the ride, but as soon as we entered Bruges, my face was immediately glued to the window. We entered an enchanted fairy-tale fantasy dream world! 😀 The medieval style buildings, serene canals and quiet cobblestone streets were magnetizing. I had not even walked on Bruges soil, but I was already hooked. When we stepped off the bus, every fiber of my being wanted to break away from the group and aimlessly explore the streets. But alas, that would just have to wait…
We were running a tad late for our dinner reservations, so when we arrived at Hotel Jacobs, we swiftly dropped off our bags and trekked over to Bistro den Huzaar.
I could not resist capturing the beautiful sights along the way and I took way more shots than a 15 minute walk should warrant. Here are a few gems…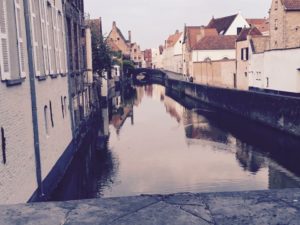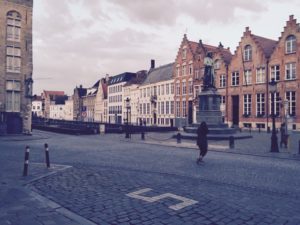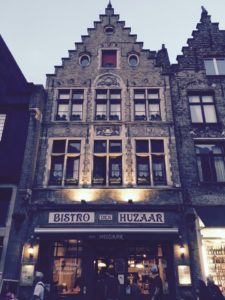 We sat down for our meal at 10 P.M. and the food was absolutely delicious, I had the best beer that I will probably ever have in my life (I did not get the name and I am kicking myself for it) and not to mention, our bartender/waiter was quite a handsome young lad.
After the meal, a few of us were ITCHING to explore. So, after we stopped back at the hotel, a few of us made the journey to the Markt Square (No typo and not Pittsburgh) and absorbed the sights along the way.
I shot a few fancy little night shots…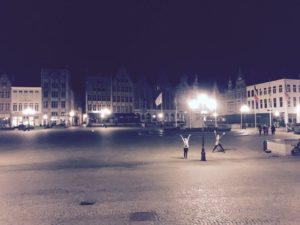 I could stay up and roam all night long, but until tomorrow Bruges! Let's get ready to explore! 😀
"LITTLE TOWN, IT'S A QUIET VILLAGE…"
May 13
Ahhhh Bruges…
The day in Bruges could not have been more splendid! We awoke to the glistening sun at our open window and I had the incessant urge to lean out the window, hum a melody like a Disney princess and becken the birds to perch on my shoulders and take part in my tune.
I would LOVE to live in this quaint little town, but until this is possible, taking too many pictures will have to suffice. (Perhaps I could construct a Bruges themed wallpaper to plaster over every space of my apartment. Hehe :))
With this in mind I will do my best not to post a picture every other word …
The group stepped out into the sunshine donned in adorable sundresses. This includes Chase and Anthony!
…
Just kidding, but everyone was raring to go in their "sunshine attire" (dresses or shorts) and their sunshine smiles! 😀
Summer took us on a brisk little walking tour to end up at our canal boat tour.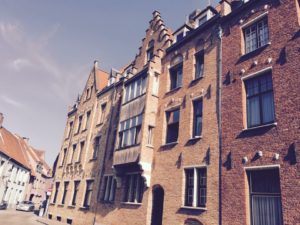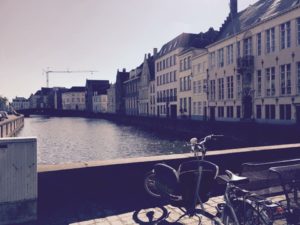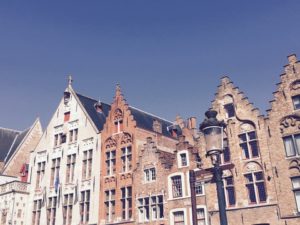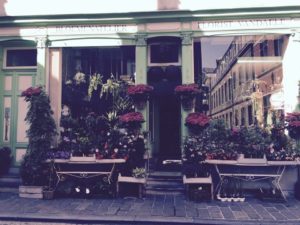 Low and behold, we arrive at the canal boat tour which is led by another handsome young Belgian man.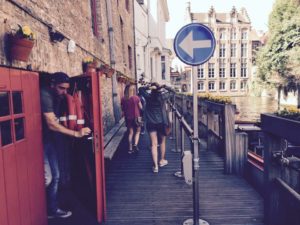 Here is a little peak at the tour!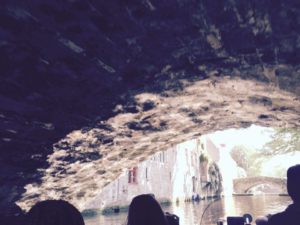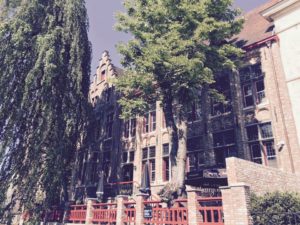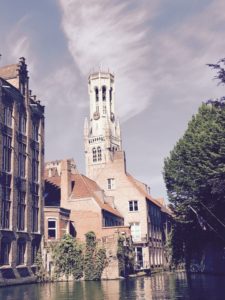 When we departed the lovely canal tour, we were given time before the Chocolate Musuem (YAY!) to find lunch. We were all torn between finding an authentic Flemish meal (Aspargus is in season!) or snacking on a Belgian waffle. For time's sake (and taste's sake), I decided to put my funds towards a Belgian waffle which proved to be the right choice (waffles are always the right choice).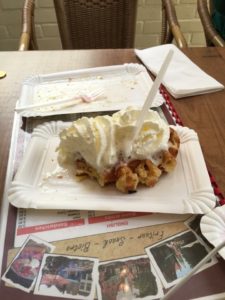 Confession, I ate one and a half waffles and I am proud. My heart wanted twelve, but I had to save some room for the chocolate and the Flemish meal.
After lunch, we reconvened in the Markt Square and walked over to Choco-Story, the Chocolate Museum of Bruges. The tour was informative and delicious. Did you know, "Eating dark chocolate every day reduced the risk of heart disease by ⅓"? Well after finding this out, I chose a large bag of dark chocolate morsels as my complimentary gift at the end of the tour.
The whole rest of the day was ahead of us and there was so much that could be done!
For my first stop, a few of us headed over to the Basillica of the Holy Blood to bear witness to the stunning architectural and artistic interior not to mention the sacred cloth which is allegedly laden with Christ's blood (Sorry, no pictures allowed). The interior of the church is stunning. I am always captivated by the rigorous attention to detail in ancient religious buildings. Additionally, there is a magnificent mural that spanned the entire wall behind the alter. The countless depictions of religious figures and scenes in combination with the bright, chromatic array of colors was awe inducing.
The ultimate sight, Christ's blood, was quite intriguing. Whether one is religious or not, the cloth could very well be the real thing (Jesus is a religious and a historical figure). The power that the small scrap of fabric held (holds) over people is tangible when one observes the priest firmly guarding the small relic which is encased in an elaborately ornate container.
Afterwards, we mosied on out into the sunshine, mulled over the historical significance and implications of the previous sights, double checked our maps and made our way over to the Groeningemusuem. Museums are most often my favorite destinations and the Groeningemuseum showcases Flemish primitives, neoclassical pieces, masterpieces from Flemish expression and post-war modern art. My little sister can tell you that I could spend an entire day in an art museum if it were up to me (Flashback to the June 2014 trip to the Chicago Art Institute…Sorry Grace…).
I got a detailed glimpse into the lives and perspectives of the Flemish people and like any trip I take to an art museum, I came out on the other side with my mind exhilarated. I had to stay until closing. The powerful works in conjunction with the knowledge of Flemish history that I came out with made me one happy lady. The notes section on my phone is loaded with lists of people and topics of interest which I will have the pleasure of researching in my spare time.
That was my idea of the perfect way to end an evening. 😀
Emily and I then strolled about the quaint shops and made our rounds through a few neat places. These included a quirky Victorian inspired store, a soaps shop, a lacemaking shop (a Bruges staple), and of course a Belgian chocolate shop. I of course indulged myself in a few samples and gifts to take home from the chocolate shop.
At each stop we made, we consulted the natives for dinner recommendations. We told them that we wanted to dine on an authentic Flemish meal. Every single person recommended Cambrinus; it was away from the tourist region and the food was excellent. I chose to eat an asparagus dish and I was not disappointed.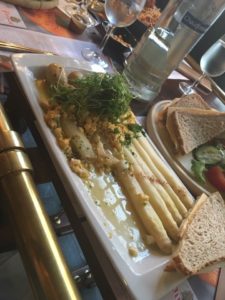 Afterwards, the whole group met up at De Garre, a lovely Belgian cafe tucked away in an ally-way. We each had a beer and shared the space with locals. It was an idyllic way to complete our day in Bruges…
Now it is off to bed and then off to Amsterdam. Bruges is a dream and I will not lie, I am sad to leave. 🙁
Universe willing, I shall return someday!
Dutch Countryside Tour (***EDITED ITINERARY)
May 14
I will not lie, it really breaks my heart to leave Bruges. As we pulled away from the enchanted city, I couldn't help but hum "Little Town" from Beauty and the Beast to myself in a somber fashion. I know that I will adore the Netherlands, but I cannot help but feel as if a rug has been pulled out from under me. The quiet intimacy, the historic architecture and the charming canals are just some of the reasons why Bruges is my ultimate happy place. <3
Well, with that being said, I know I will be back. I felt very much at home in Bruges and I feel comfortable knowing that my connection will ultimately bring me back.
Now on to the Netherlands!
Much of the trip today was spent simply cruising through the Dutch countryside (and snoozing a bit along the way). The itinerary notes that we were to make various Dutch countryside stops. However, in order to maximize our visit time as well as rest time, most of the activities have been postponed until tomorrow morning.
We did end up making a stop at the Kuekenhof Gardens. As we made our way into the entrance, Summer informed us that we just missed the peak of tulip season, but that we may still see a few last bulbs scattered about. Sad yes, but there were still plenty of stunning, colorful, vibrant blossoms of various types as far as the eye could see.
I bore witness to some of the most kaleidoscopic arrangements of flowers that I have ever seen. So, I shall refrain from rambling on with excessive inadequate adjectives and provide you with colorful photographs!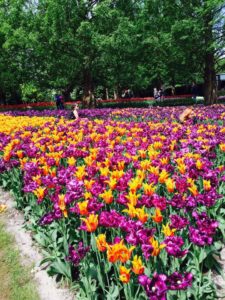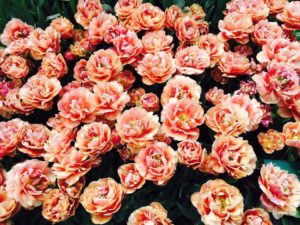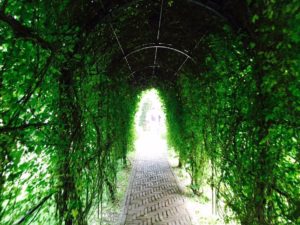 Ugh, sensational. The vibrant colors are beautiful to the eye but also awake the rest of the senses. Imagine walking through all of this; the colors provide a burst of energy that is infectious. Who needs coffee when you could look at dazzling flower arrangements?
Afterwards, we hopped back on the bus and arrived at our hotel which is in the midst of the business district outside of Amsterdam. We unpacked and rested for a spell before heading over to the restaurant "Bret" which formerly functioned as a craft beer factory. We feasted on some delicious asparagus soup (in season here too!) and a yummy quinoa burger. The whole day was rather chill and good for recuperation purposes. Tomorrow shall be loaded with an intense itinerary of Dutch experiences! Prepare for a rant tomorrow readers; it shall be quite a long day!
Jam-Packed Amsterdam Experience Extravaganza!
May 15
Brace yourself friends! The amount of activities that we were able to fit in today is crazy town (Woo!) so this will surely be a novel of a post.
Our Dutch countryside tour continued this morning with stops at the Windmills of Zaanze Schan, a traditional clog makers' workshop and a Dutch cheese factory. This was only part one of our enriching day filled with Dutch culture.
What better way to introduce oneself that with CHEESE! 😀 Hello Holland I love you. I have been dreaming about this day for awhile now. I have yearned for that Dutch gouda for months. We began the cheese filled portion of our day with a quaint demonstration by a young, fresh faced Dutch cheese maker. She was dressed in traditional Dutch garb and she stood before a massive wall of cheeses (AKA my other happy place).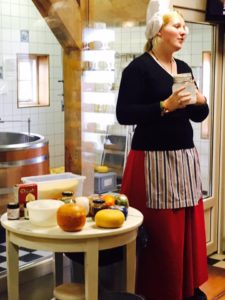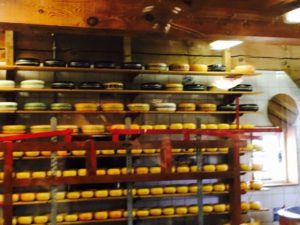 The tightly packed crowd of observers looked on drooling and then with jealousy at the lucky young lady who she shared a sample with. After her warm presentation, she motioned to the entranceway of the cheese shop and encouraged us to make our way through the free samples.
Don't mind if I do! I did my little happy dance and practically frollicked inside. I hit every single sample station (some more than once) and my taste buds danced with delight (cheesey I know…yay puns). The sample sizes were generous and there were no judgey eyes discouraging me from coming back for a second tasting. It was a cheese lover's paradise! I purchased a few gifts and a portable little smoked gouda that I could snack on later. How scrumptious!
We then made our way  to the windmills where we were given an informative presentation by a resident windmill handler (I am sure this is not the technical term, but I am trying to sound fancy). His family has maintained the windmills for generations and thus he had generations of unlimited knowledge at his disposal. In addition to providing power, the windmill grinds up chalk that was used to aid in the creation of paints. It was the primary method of creating paints in holland and to this day most Dutch paint is still created using the same methods. I get excited learning about the lesser known ways in which mechanical structures function and finding out that windmills had their hand in the Dutch art was an added bonus for my senses. 🙂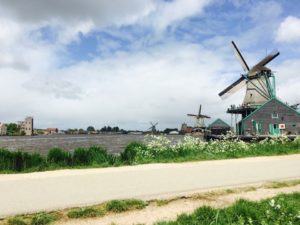 Last, but certainly not least of our Dutch countryside excursion was the clog makers' workshop. Here, we were treated to a clog making demonstration. Clogs were initially carved out by hand with a long tool that simulates an efficient cheese cutter when it cuts through the soft wood. The demonstrator also introduced us to the modern mechanical modes of constructing clogs. These machines essentially utilized a model of another clog and traced its shape in order to replicate it on the slab of wood. In essence, the machines were clog copy machines. 🙂
Aren't they delightful?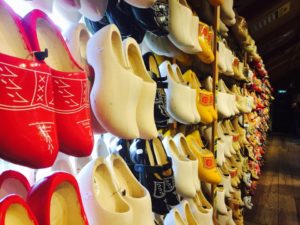 Our Dutch countryside tour was complete which meant that it was finally time to make our way into the heart of Amsterdam where we took a lovely canal tour. Wow this was a sight. I have never seen so many bikes in my life. Apparently, 48% of traffic within the city centre is due to bikes. You could swing a dead cat and hit a bike or a canal. The canals are the veins of the city and they are draped with endless small cobblestone bridges  each more gorgeous than the next.
Additionally, each and every building is tall, narrow and tightly packed (as property tax was originally based on the width of one's home). Many of the buildings also lean in various directions as they are built on wooden columns and bases that sit atop sand foundations (there is some sinkage occuring…)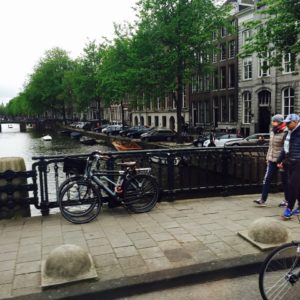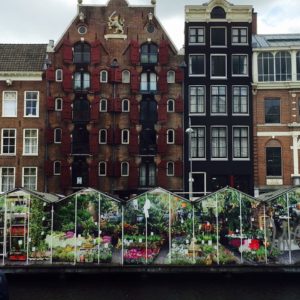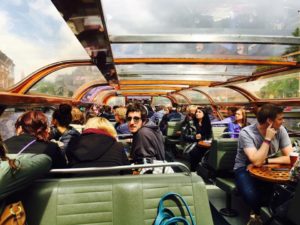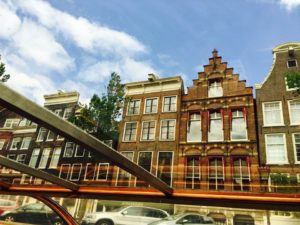 Nevertheless, everything is breathtakingly beautiful and I cannot wait to explore and get lost in the streets.
To complete the sightseeing portion of our day, we made our way to the legendary Anne Frank house. Anne is a miraculously inspiring person. One of the most striking finds of the tour was a statement said by her father (Otto Frank) upon reading her diary: "It was quite a different Anne than I had known as my daughter. She never really showed this kind of inner feeling. She talked about many things. We criticized many things, but what really her feelings were, I could only see from the diary. And my conclusion is, as I had been in very, very good terms with Anne, that most parents don't know, really, their children." The extent and potential of one's greatness is not always felt by people close by unless one actively chooses to reveal it to the world. Anne is a beautiful person and her greatness is recognized because she made the active choice to explore herself through her writing. This is some powerful stuff. I know that everyone says this, but you should really visit the house yourself if you ever get the chance. This is the place where the ultimate possibilities of humankind are fully disclosed to us.
To round out this day, we met the Point Park Alums residing in Amsterdam for dinner. I had the extreme pleasure of sitting next to and chatting it up with Minouk. Minouk was a former dance major at Point Park (Respresent!). We chatted about teachers we've had, her dance career, her world travels and her current career running the PINC conferences that had originally been established by her parents (PINC stands for People, Ideas, Nature and Creativity. Think TED talks, but with the focus on the real time experience within the space rather than the tech savvy presentations intended for film.). She is an extremely personable, silly and intelligent lady and it was quite a joy conversing with her. <3
Okay I am FINALLY done unloading my day. I hope my words didn't bombard you like an avalanche. Until tomorrow friends! The Amsterdam adventures shall continue.
All Over Amsterdam
May 16
We managed to pack a lot of swell Dutch activities into one day again. It is amazing to me that the theme of an ENTIRE day can be "discovery". Today was more than just sightseeing; there were SO MANY "Wow, I did not know this" moments. How could any day get more interesting than that?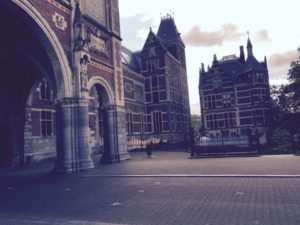 My day began with the journey to the Museum Square to pay a visit to the Rijskmuseum before our group trip to Vrije Universiteit. A few of us made the journey by tram, enjoyed a lovely breakfast at the Blushing cafe, and made our way over. The museum is absolutely GIGANTIC and we of course were not able to make it through the entire thing. Even so, I saw paintings, furniture, clothing, household goods, toys, and so much more dating back centuries of Dutch history. Some highlights were of course Rembrandt's famous Night Watch and an extremely elaborate dollhouse that belonged to a wealthy orphan named Petronolla Dunas. I was completely enthralled and my notes section on my phone is LOADED with research topics of interest. Dutch history is quite rich and extensive and I am happy that we made the journey to the museum to establish cultural empathy and understanding.
Afterwards, the whole group had a lovely and informative visit at Vrije Universiteit where Dr. Joilien Arendsen, a pretty cool communications professor took time out of her day to provide us with a lecture on the nature of Dutch communications. She provided us with some excellent statistical information regarding the ways in which the Dutch use their media. The lecture was wonderfully informative and was surely helpful to have before having our Dutch media visits.
The rest of the day was at our leisure, so we all consulted our new Dutch tour guide Joost for cool places and activities to check out. He recommended taking the ferry to the north NDSM area. It is the site of a former ship warf than has been transformed into a trendy artistic haven complete with restaurants, bars, terraces, skateparks, and generous mix of old and new architecture. We hopped on the ferry made and made our way over and let me tell you, this is one of the coolest places I have ever seen. There is colorful graffiti EVERYWHERE. There are posters, art ads, colorful phrases and people making art all over the place. Anyone has the freedom to weave in and out of any place including the Cafe Nooerlicht, a greenhouse venue turned restaurant where we sat down for a meal, and a massive art warehouse completely packed with art studios constructed from storage boxes. We explored the warehouse a bit and found that the studios belonged to a wide range of artists. We even stumbled upon a group of cloggers having rehearsal.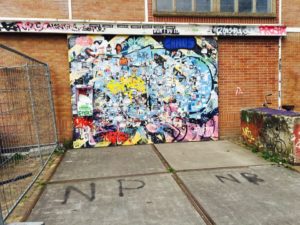 To round out our day, we decided to take a journey through the notorious de Wallen (AKA the Red Light District). We walked through the infamous streets and were faced with red glowing windows highlighting half naked women in small rooms complete with full sized beds. I have never seen anything like it. What is most shocking to me though was not the sight of the prostitutes, but rather the state of the streets that we walked through. The streets were clean, the people we casual, there was hardly a glimpse of any ruckus or chaos… despite the "scandalous" implications of the area, I actually felt rather safe. Of course I had the privilege of weaving these streets with a group, but even still, I fear for my safety much more in the streets of the South Side of Pittsburgh on a weekend than I did in the Red Light District. I don't want to draw conclusions too quickly as I have yet to have spent enough time or gathered enough information about de Wallen, but it is quite striking to me that I felt safer in an area where something that is a crime back home was facilitated rather than criminalized.
Dutch Newsrooms 
May 17
Today was the day that was dominated by our first official Dutch media visits to the newspapers Het Parool (translation, "the motto") and de Volkskrant ("the people's paper").  Today was also my day to lead questions at our visit to Het Parool. I was excited as I had written my media report on the Parool and I felt that I had prepared a good set of questions to ask that go beyond things "googleable".
Each of the papers resided in the same office building as they are owned by the same company making for a very efficient set of visits. Each visit was informative and revealing, but in very different ways.
I would be lying if I failed to mention my feelings of disappointment with our visit to Het Parool. We walked in the room and were told that the technological presentation that was prepared for us would not be included in our visit because someone had to take the computer with the presentation on it to an interview. Additionally, it was mentioned that the company forgot that we were coming. I didn't mind so much until our presenter almost immediately called upon us to ask him questions after providing a very brief overview which I could've easily found out by consulting Wikipedia. Luckily, we all had some good questions to keep the conversation moving, but had we not, the whole visit could've been a complete disaster. Personally, I believe in the notion that the field of communications implies a personal and invested touch… Perhaps I am naive, but the outlets that really, eh hem, COMMUNICATE to me make it a point to establish an evolving CONVERSATION. Through our visit, I felt less like each side was feeding off of one another and more like we were talking at one another. 🙁 Perhaps I am too cruel in my assessment, but I may have been kinder if de Volkskrant had not been so lovely and welcoming just a few minutes later…
We were given an enthusiastic analysis of the paper's background including a play by play of each and every news outlet that they release complete with our own copies in front of us. This was more than a general overview. This was an ENGAGING, continuous conversation. I greatly appreciated the comprehensive preparation, the welcoming vibe, the full transparency and most importantly, the fact that they didn't forget that we were coming… Why would anyone want to work with a communications company who isn't applying values of communicative transparency in their workplace? Communication on all levels is key. Fortunately, I got an idea of the kinds of people I would and would not like to work for.
Communications, Explorations and Conversations <3
May 18
So much engagement today it was lovely! Today I got to converse and engage; I was able to include my perspective in interactions. True conversations were had because nothing was one sided.
We had our very last media visits today to public relations and marketing agency Ketchum (Pittsburgh born!) and World Press Photo. At Ketchum we were fully encouraged and prompted to participate in the creative and brainstorming process that happens on a day to day basis within a PR company. We got our background, yes, our presenters were friendly, yes, we got tasty sandwiches, yes, and not to mention, the CEO took time out of his day to lead the entire presentation and engagement process. It was informative and fun and I am truly touched at the care and respect that was extended to us on our visit. That is truly memorable.
Our journey to World Press photo was definitely a powerful one. We were led through the exhibit and provided with personal narrations of the works and then given time afterwards to look around for ourselves. Cliche as the saying goes, a picture really is worth a thousand words and the emotional impact of photojournalism is truly branded at the forefront of my mind.
The whole rest of the day was at our disposal, and so Emily, Jess and I joined Helen, Bob and Jan on their journey to the Rembrandt House. Some of the highlights included an etching demonstration, an oil paint making demonstration, and a fascinating film on the subject of drawing nude models in the Golden Age. My fascination with Rembrandt has been magnified and I am excited to dive into my purchase of "The Naked Truth" when I return home.
It was dinner time afterwards, so we made our way to Utretchtsestraat where the restaurants came highly recommended. I feasted on a delicious vegetarian Moroccan dish called B'Stilla which consisted of some wonderful flakey dough and vegetables.
Afterwards, I felt the urge to explore, so I set off on my own with no specific destination point in mind. I wanted to get a little lost. After a few hours of roaming, I decided that I should find a place to world on my blogs and papers. I stumbled into Cafe Stevens where the vibe read locals and regulars and I sat at the bar. I ended up spending the entire time chatting with the friendly bartenders. I interviewed them for my paper, I inquired about their business prospects to open their own bar together, I chatted with their hilarious pal who came in for a drink, and I got to converse with one of their girlfriends who just so happened to be a dance movement therapist. By the time all the customers left, the rest of the night consisted of a small group of us huddled around a small table by candlelight. I was delighted to have some authentic conversations with some local people. If one travels and does not chat with the people who live there, is one really allowing herself to be involved? I don't believe so, so I am glad that I was able to get further involved.
One Last Day in Amsterdam
May 19
My final day in Amsterdam could not have been more perfect. We began the day venturing over to the Van Gogh Museum. So there was furious note taking, wide-eyed wonder and many postcard and gift purchases to be made. We opened the day by cracking open our minds so we were open and ready to go. We then made our way towards the Tulip Museum and souvenir shops where we essentially roamed all over the place and went to town with the flower sniffing and gift purchasing. The sun was high in the sky and quite bright and the temperature was just right. After making so many gift purchases, we made our way towards the highly recommended Jordaan District which is free of any touristy vibes and full of cozy, intimate shops run by local artists, calm demeanor and stunning canal views. We made a pit stop at the Cafe d' Smalls which was recommended by Rick Steves as a lovely meal and a lovely view and he did not disappoint!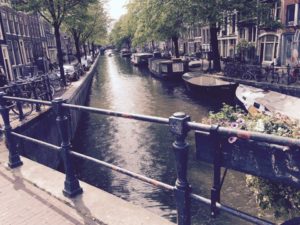 We spent most of the afternoon gazing down the streets and popping in and out of delightfully quirky shops before heading back towards the Anne Frank House. We had an hour or so to kill before we would meet the group to depart on our final canal cruise complete with a four course meal. So, I sat on the edge of the canal, swung my legs off the edge playfully and waved at those passing us by in boats. It was simple, peaceful and beautiful.
To complete our day, the whole group departed on our final canal cruise and enjoyed breathtaking sights and a deliciously filling four course meal. The day was packed with good vibes and good sights and I could not have asked for anything better to complete my first European excursion. 🙂