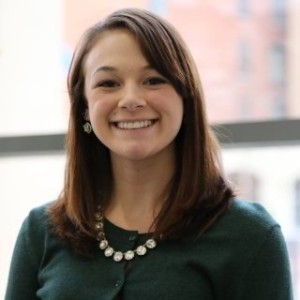 Lauren is a Junior year student at Point Park with a strong interest in Public Relations and Event Planning. She has worked as a part-time teller at PNC Bank for about 3 years. Last summer she worked at Magee-Womens Research Institute and Foundation as an intern for their most major event, Savor Pgh. Lauren recently accepted an internship position at the Pittsburgh Downtown Partnership for this coming summer and fall along with a position at Dickerson Communications. She currently works as a practicum student for Point Park's PRSSA club, planning many of their events on campus. The trip to Amsterdam and Brussels is something that she is extremely looking forward to. Lauren cannot wait to travel to Europe and to explore the different agencies in those cities. It is an experience that she feels so blessed to be a part of.
________________________________________________________________________________________________
"Catch me…in Europe!"
My one and only dream in life is to travel the world; I am finally making that dream a reality. I still cannot believe that in just a few days I will be standing in London, the most historic city in the world. I really do feel that I will come back a changed person.
Traveling makes you much more knowledgeable about people and their cultures. You get to see how others live, love, struggle, and learn. I am thrilled to see how people in London, Bruges, and Amsterdam live differently than me. With the activities and agency visits that we are doing I can observe the differences and then report them back to you! This experience is going to make me even more eager to travel.
I am a junior public relations major with a minor in multimedia. Our visits to Ketchum Amsterdam and Battenhall will teach me how public relations differ from the U.S. I think it is extremely important to understand the working life of people from other places because that is a huge part of how these magnificent countries operate. I can incorporate what I learn from these visits in to what I do during my senior year and with my future career.
This trip is something that I have been looking forward to since I signed up for the International Media class in November of last year. As I am writing this I am realizing that in less than a day, I will be on a plane to Europe! While I really do not enjoy flying, the thought that I am flying 'across the pond' on my first trip abroad, will help me get through my discomfort. I cannot wait to see, explore, and learn about these three beautiful cities. I hope you enjoy the many stories and experiences that I share with you through my blog!
_______________________________________________________________________________________________
Jet Lag is a Real Thing: May 9
I always felt that I could just deal with jet lag. Anytime someone talked about it I thought, "I'll be so excited that I won't even notice it!" Well, I thought wrong.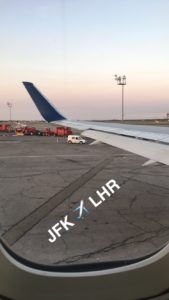 I was super excited when we landed in London, but also extremely tired. I couldn't sleep on the plane so when we jumped on the bus with our tour guide Ed, I had a hard time staying awake. I managed to only nod off a few times; I was so fascinated by the views in London, I didn't want to miss anything!
Ed is such a fascinating, kind, and knowledgable person. Everything we drove by he had a ton of facts to share with us. You could tell that he really loves his job and country. Since it was so beautiful out when we arrived, he felt that it would be a good idea for us to go see the Changing of the Guards. It was on our schedule for tomorrow but he explained that they don't always do it if it is a bad weather day. Unfortunately, it took us a little longer than expected to get there so we ended up missing it. Things like that happen but we learned a lot from Ed during the ride there.
For the rest of the day until we checked into our hotels around 2, we stopped at a few places to site see. We saw the square at Westminster Abbey where we grabbed lunch from a deli in the bottom of a church. Ed also showed us Big Ben and the million red telephone booths surrounding it.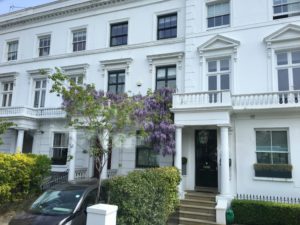 We stopped and looked at many churches, so many that I couldn't name them all if I tried. I do know the name of the most beautiful church I've ever seen, St. Paul's. It was so big and grand that it was almost intimidating to stand under. I walked to the top of the stairs and looked out into the square. In that moment, my breathe was taken away for the first time here. The scene was so beautiful. Europeans eating lunch on the stairs, beautiful statues of important people, and the magnificent architecture were just some of the things that took my breathe away.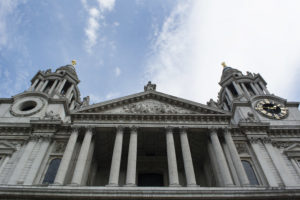 Ed and Lloyd, our amazing bus driver, took us to the hotel to check in. I was planning on taking a nap, but the girls I am with wanted to explore. So I got myself freshened up and went back out. We explored around the streets near our hotel, walked into a local college, and meandered through the St. Pancras train station. I really enjoyed St. Pancras because it is so old but also had new modern features. I've never seen a train station so big; the Wood St. tee station certainly doesn't compare.
To end this amazing day on an even better note, we went to a restaurant called North Sea Fish to get the classic fish & chips for dinner. I can say it was probably the best fish I've ever eaten. ALSO, they served us hot apple crumble with vanilla ice cream!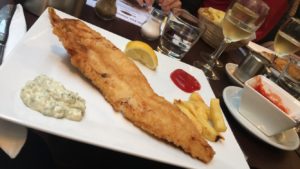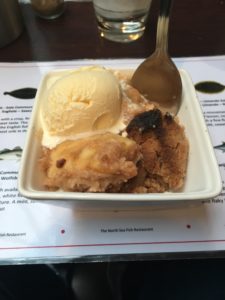 Now that my tummy is happy and I am all showered and clean, I can finally sleep! This has truly been one of the most exciting, exhausting, and adventurous days I've ever had. Good night to my readers and tune in tomorrow to hear more exciting news.
_______________________________________________________________________________________________
I walked 10 miles: May 10
I woke up today with 10 hours of sleep. I can honestly say that I feel like a brand new person! With that much energy I was able to really be excited for the day ahead of me.
What I found really fascinating about the day was that I walked 10 miles, took 25,000 steps and walked about 34 floors. When I saw that I thought to myself, "what did I do today they had me walking that much?" Then I realized that we went all over the city of London AND around it. What did I do today you ask? Let me tell you!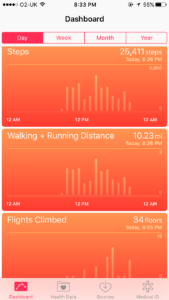 In the morning we walked all around Buckingham palace and the surrounding buildings, seeing the many aspects of the changing of the guards. When it came down to the most important one, the actual palace, the guards didn't do it because it was raining too hard. That was kind of a disappointment but I'm glad we were able to see the changing for some of the other important buildings.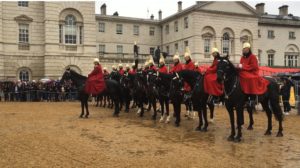 Then we grabbed some lunch, jumped on the tube, and went straight to the Tower of London. The tower is extremely old with two walls surrounding it. It stands in the middle of many modern buildings making it extremely breathtaking. I am always amazed when I see buildings this old because I think about how difficult it must have been to make. I was under the impression we were just looking at it from the outside, but then I was handed a ticket to tour the fortress! It was pretty cool to explore the walls and inside of them. We even got to see all of the Crown Jewels. The coolest thing I saw was an enormous all gold punch bowl from 1829 that holds 144 bottles of wine. I can't even imagine that much wine in one place let alone it all inside of a gold bowl. For a lack of a better phrase, it was wild.

After that we had the rest of the day to ourselves. A group of us got together and decided that we were going to walk to a market, then to The Globe Theatre, and lastly to Soho.
We walked across the London Bridge and found the Borrough Market where we all got really great food to snack on. I decided on a block of comte cheese; I ate the entire thing. I talked to the guy who sold it to me and he said that Tuesday's are the slowest day. Any other day the market is completed packed with venders and customers.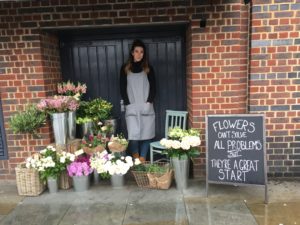 We made our way to The Globe Theatre in hopes to see a show, only to find out that they were completely sold out. I was really upset about that because I thought that would be a really cool thing to see. I'll just have to come back another time!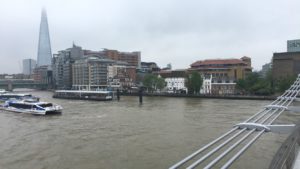 After the Globe, we took a tube to Soho, a popular shopping area. The groups split up into pairs and everyone did their own thing. Jess, my cousin, and I walked around and went into whatever place looked neat. Our feet started to really hurt so we got a juice from a cool cafe and sat down for awhile. Everyone met back up and we all took the tube back to our hotel. I was really starting to get the hang of London's transportation system, which made me really excited.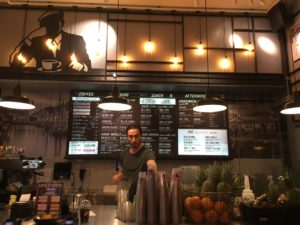 Once at the hotel, we all made a quick change and headed to an Indian place called Drummond Villa. It was my first time getting Indian food; what better place to get it considering England's national dish is curry. I ordered the Chicken Tikki Masala with nan. It was really good! I love trying new things and I'm really glad we explored and went there. We even had some Londoners giving us pointers.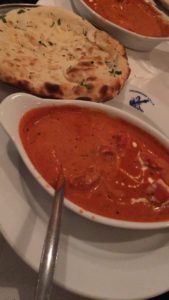 After that a few of us went and had a beer at a nearby pub. I wanted to try some beer from here so I ordered a London Pilsner. I enjoyed it but I don't think I'd order it again. To be honest, I'm really looking forward to the beer in Bruges!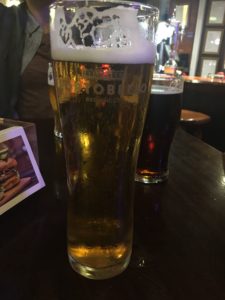 It's pretty late at this point and I need to get up semi early, so that's all for tonight but I would like to say LETS GO PENS, all the way from London.
P.S. Heinz ketchup is everywhere here.
_______________________________________________________________________________________________
I Met a Guy Who's Going to Space: May 11
This has been a really amazing and knowledgable day. We had two media visits that lasted the majority of the day. The first was at Battenhall and the second was BMB Ad Agency.
Battenhall is a small but innovative social media based agency. It was founded 3 years ago by Drew Benvie. Drew first worked at Hotwire and after a long time there he decided to leave. They ended up hiring him back to work on creating a social media department. After some time doing that he realized that he wanted to have his own company to reinvent the way companies worked with clients. He was fortunate enough to have some investors who really saw some potential in him. He hired his first employee a month after starting Battenhall and has continued to hire someone every month.
The office was amazing. It was very minimalistic and showed an atmosphere that people could really be creative in. One thing they had that was cool was a giant light up B sign in their office that is linked to all of their social media. Any time someone posts some thing tagging the company, the light changed colors. I thought it was a cool way to keep your office alive. They have a laid back atmosphere that allows the creative juices to flow. Some of the things they do are remote working, a tech budget of 1200 pounds per person, a well being budget of 300 pounds a year, and unlimited vacation. This was something that was so amazing to me. Drew created a work environment for his employees to be successful.
The other agency we went to was an Ad agency called BMB. I was expecting a plain office that was very uptight and stuffy. I ended up walking into the coolest office I've ever seen. The decor was so fun and exciting. Everyone was dressed in cute but comfortable clothes AND they were all super friendly.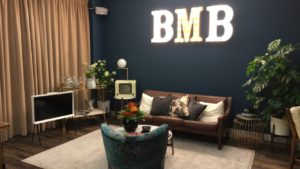 Everyone that spoke to us was so fun and passionate about their work. The first people who spoke were a team of a guy and girl who met in college and started working at BMB a year after they graduated. They were given a big client right off the bat, Thompson, a travel agency who wanted people to understand their newly created logo. This team hit it out of the park with their idea. I won't explain it in detail because I'd be writing for hours, but I will say that they used a teddy bear as their main character for their commercials and ads. I would recommend looking them up!
The founder and owner of BMB is Trevor Beattie. He was the coolest but also most crazy man I've ever met. He is one of the 6 people who have invested in the Virgin Galactic project to send them to space. I really couldn't believe that I just met someone who will be going to space. He has invested his time in so many things like the arts, filmmaking, space travel, and also his magazine called The Drum. This magazine was handed out to all of the students and included a detailed description of all of the people who he feels are the most influential people he knows. Although sometimes he seemed a bit out there, he is probably the coolest person I know. As my friend Colleen said when talking about him after the visit, "You don't become that successful unless you're a little crazy."
The rest of my day consisted of going to get an enormous sushi boat and sake from a really cool Japanese restaurant. It was spectacular and I wanted to keep eating it for hours. Then a few of us walked around to some different pubs to get the feel for London at night. I ended up getting a beer called purple rein. It is a beer that is being put on tap in pubs all over the place in celebration of the Queen's 90th birthday. The day was truly amazing. I learned so many things and shared so many laughs. Now, it's on to BRUGES!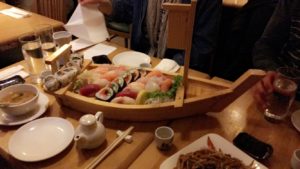 ________________________________________________________________________________________________
Three Countries in One Day: May 12
Today was a very long day of traveling. We went from London to Calais, France by ferry. Then we took a coach from Calais to Bruges. It was a long day of traveling but it was beautiful. Three countries in one day!
In the morning before we left London, a few of us went to see an art gallery. We went for a specific gallery and ended up in a completely different one. The first was about how the human mind and body interact. It had a lot of art relating to mental illness. The other was called This is the Voice. It had different exhibits that related to the senses. The one piece I found really interesting had a screen with moving lips on it. You stood underneath a speaker and you could hear what the woman's lips were saying. I found it really cool because she wasn't saying anything cohesively and she talked very fast. I'm glad we got to see the gallery before we left.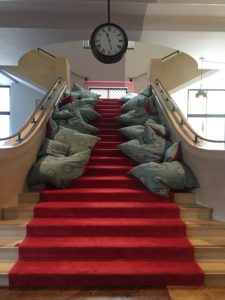 The ride to Dover was so amazing because we got to see how the outside of the city lived and how the English countryside looked. When we got to Dover I was in awe. The White Cliffs of Dover were breathtaking. You could see the castle and overlooking the Channel. What kind of broke my heart was that these historic and beautiful cliffs were right above an ugly port with huge boats, long custom lines, trailers, and other machinery. I think it's good that there is a ferry to take people back and forth but it kind of ruined the view of the cliffs.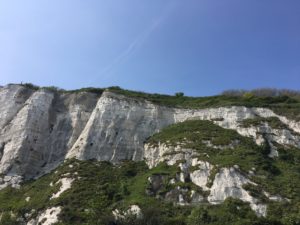 The ferry was like a small cruise ship. I'm not good with motion sickness so I didn't feel too great. I was really excited to get off of the boat and take the coach to Bruges. We met our tour guide, Summer, who talked to us all about the illegal immigrant problem that France is facing right now. We actually drove passed a part of 'The Jungle' which is a place where illegal immigrants and refugees camp out together because they have no other place to go. Their ultimate goal is to get to the UK where they feel they can have the best life. Calais is under so much more control now because a lot of the people are trying to get to the UK through the ferry. These places are a huge problem for France. There are thousands of people living in these camps. They have very few, if any, showers. Almost all of the women in the camps have been raped at least once. They're getting diseases like mange because there is a lack of sanitation and bathrooms. It's a horrible problem and seeing it up front makes me feel so blessed with my life. I feel so badly for these people.
On a much happier note, WE ARRIVED IN BRUGES! I can honestly say this is the most beautiful place I've ever seen. Every house, street, church, door, doorknob, person, food, beer, chocolate, canal, bridge, and even my hotel room is gorgeous. I could go on forever. We had an amazing authentic Belgium dinner along with the best beer I have ever tried.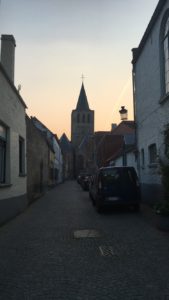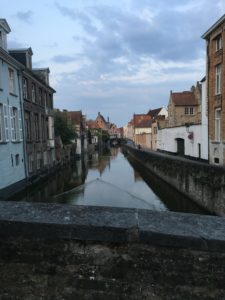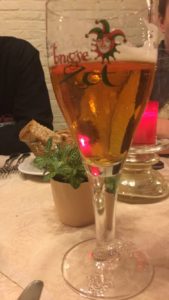 I am so happy right now! I am so lucky to be in this amazing place. I shouldn't be at a loss for words while writing a blog but at the moment I really am. I feel like I am dreaming.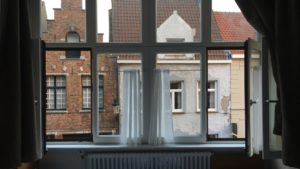 ________________________________________________________________________________________________
I Ate Dinner in a 500 Year Old Bar: May 13
Bruges is the most beautiful place I have ever seen. The streets are old, the people are happy, the food is tasty, and all is good. The day consisted of tons of walking, eating, chocolate and drinking Belgian beer.
We started out the day doing a walking tour with our guide, Summer. She showed us beautiful canals, meaningful statues, old churches, and even took is on a canal boat tour. The boat tour was so extremely beautiful. I still can't believe a place like that exists. Everything is so old and charming. The people were smiling and waving at us from the streets. It's like nothing I've ever experienced. One thing I thought was really interesting was how old everything is. Summer explained to us that the have laws preventing people from renovating their houses unless it is passed by a specific board. They're very strict about keeping their history and old architecture alive. That's something that I really love. You rarely see that anymore and it's refreshing to see people care about history.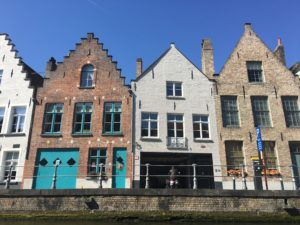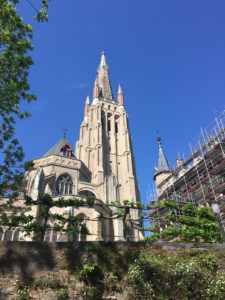 Let me tell you that Belgian waffles are a HUGE deal. They're on every corner and send a delicious aroma through the streets. I of course had to get one; I chose a sugary chocolate covered waffle with strawberries on top. I ate it with a mini fork that had a knife on the side of it. I don't think I can appreciate any other waffle now. We also went on a tour of a chocolate museum. I saw huge sculptures made out of different kinds of chocolate. On the tour you got to watch a chocolate making demonstration AND get a free sample and bag of chocolate. I loved being in a place with so many tasty treats.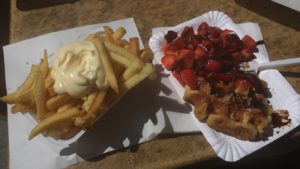 Another really cool thing I did was eat fish soup and drink beer in a 500 year old bar. We got lost trying to get to a brewery and stumbled upon this small bar with a sign that said spaghetti. We were so hungry and decided to eat there. As we are looking at the menu we notice that it says they celebrated their 500 year old anniversary last year. They even had the same chairs. It's mind blowing to me to think that I sat in a chair and ate a meal in the exact spot that someone else ate half a century ago. Living in the United States is so different because we don't have history like that. Our country wasn't even founded at that point. It was such a unique experience. Getting lost in another country really helps you stumble upon hidden treasures.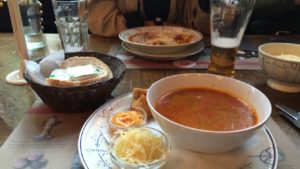 The rest of the night was a lot of wandering and laughs. A group of us found a hostel and drank beer in a bar with kids from all over the place. We then met up with other people in our group and went to go get some beer in a bar that a ton of people suggested. It was located in this tiny little nook that you'd probably never find unless someone told you where to go.
This town is so charming and filled with so many wonderful things. I loved spending some time in a place that I didn't even know existed before this trip!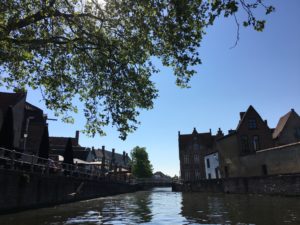 ________________________________________________________________________________________________
There are Tulips Named After Van Gogh: May 14
Another travel day today! We moved from the beautiful Bruges to the lively Amsterdam. We left early in the morning by bus. Summer, our tour guide, talked to us a lot about history along the way.
Our only stop along the way was the amazing tulip garden. Fortunately for us we made it in one of their last weekends open. The only bad thing about that is that the fields of tulips have already been gone so we didn't get to see any enormous fields filled with thousands of tulips. I'm still really glad that the garden was open and that we could walk through it all. I absolutely love flowers so being able to see all of the different kinds of tulips out there was really fascinating. I think my favorite tulip that we saw was a deep purple that looked black. One of these unique strains was named after Van Gogh. Summer explained to us that botanists were allowed to name the tulips themselves if they came up with a new strain. On March 21, 2011 the museum director of the Van Gogh Museum, Alex Rüger, named this unusual flower. I think it's really cool how there are so many different strains of tulips out there and they filled an entire garden full of them.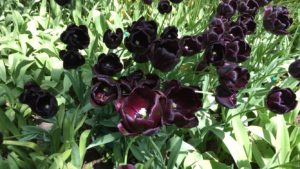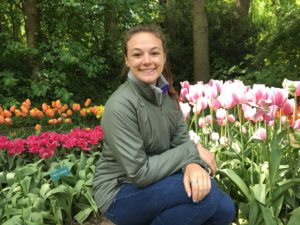 The rest of the day consisted of us getting to the hotel in Amsterdam, settling in, and going to dinner. Our dinner was at a restaurant across the street from the hotel, called Bret. It took us about 3 hours to get through dinner but I must say that it was worth it. The ambiance was really satisfying and not only because there was a large disco ball hanging from the ceiling. What I thought was really cool about the place was that they built a large part of it out of shipping crates. They took some apart and made this big box using other materials to keep it together and stable. We ate an asparagus soup with peppers to start, moved onto a cannelloni stuffed with spinach and ricotta cheese, and ending with a sorbet. It was all so delicious.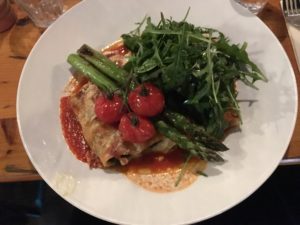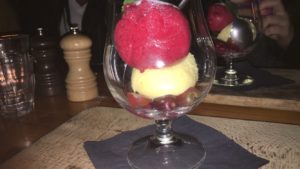 Overall we all had an amazing day and are looking forward to the next few days in Amsterdam!
___________________________________________________________________________________________________
I Stood in Anne Frank's Annex Bedroom: May 15
We got a bit of a late start today so it was really great to catch up on some sleep. I haven't been sleeping the best so it was nice to sleep in even for just an extra hour.
The first thing we did was get on a bus and go to the countryside to explore a small touristy spot. We got to see a cheese shop where they did a small demonstration of how they make their cheese. The best part about that visit was that we got a bunch of free cheese samples. It's probably the best cheese I've ever had. I got a small wheel of baby gouda to bring home for my family to try! After that we went into a windmill that dated back to 1781. We saw how all of the gears worked and how they use limestone to keep the bottom portion of the machine on track. It was very fascinating. We met the owner of the windmill who has been living and working their for 30 years. His son has been working there his entire life. Next went to see how they made wooden clogs. We saw the machine version which took about 5 minutes to create the outline. The wood is extremely wet and needs to dry for a long time to be completely finished. It was very cool to see a bit of Dutch history right up front.
We then went on a canal boat ride in Amsterdam. We were on the boat for around 45 minutes and saw a lot of bridges. It was so awesome to see the city from the historic canals. The guide spoke about the different buildings, bridges, and other history throughout the tour in English, Dutch, and German. I asked Summer most of my other questions; she is so knowledgable about so many things.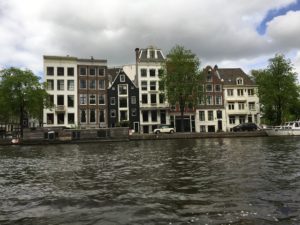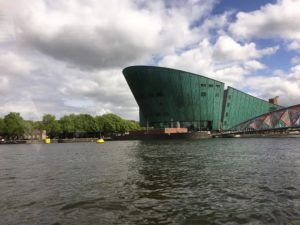 The next portion of the day was going to the Anne Frank house. We waited in line for about an hour and a half. It was very cold out so it seemed to take much longer. During the time I walked around outside of the house and got footage of the building, people waiting in line, and other Important things because I am writing my article on the visit. I won't give too much away in my blog since I will be writing my piece when I get back. Please go to the student articles tab to read my article. I do want to say though that standing in the rooms that the Frank family and friends lived in secret for 2 years was such a moving experience.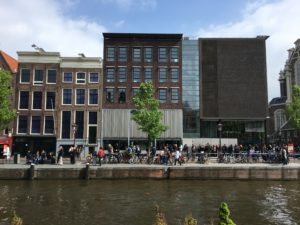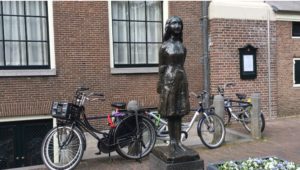 For dinner, we met up with two Point Park Alumni who are currently living in Amsterdam. It was really fascinating to hear different stories. I've been noticing that travel is something that really influences people's life and where they end up. I think it's really great that our teachers set up this dinner with alumni. It's always fascinating to hear where Point Parker's end up in the world.
Tomorrow is a media visit day!
____________________________________________________________________________________________________
I Heard a Clogging Class: May 16
Another long day today, we don't sleep on this trip! A group of us left for the Rijks museum at 7:30. We got there very early so we went to a small breakfast/lunch place to eat before. I ordered a caramel latte and toast that had avocado, salmon, and a sunny side up egg on it. The hotel breakfasts are nice but this one was a much needed change. Plus, I had a long day ahead of me so a good hearty breakfast was necessary. After breakfast we went to the museum. For those of you who don't know, the Rijks museum is a museum dedicated for Dutch history. It's a beautiful building built specifically for the museum. It's also extremely big. It has 4 floors of exhibits. We only had 2 hours because we had to be back at the hotel to do a media visit. I spent about an hour on the top floor and realized I had the rest of the museum to visit. I really wanted to see Waterloo and the pieces from Van Gogh. I found Van Gogh but had a hard time finding my way around.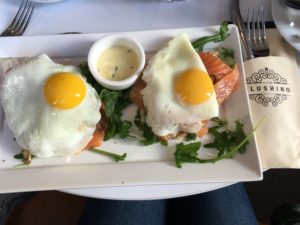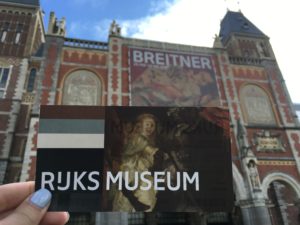 I looked at the 20th century exhibits they had which were really fascinating because they had a few Nazi propaganda stuff. The one thing that stood out was a Nazi chess set. It had war items like people with guns and firearms as the actual chess pieces. Along the side of the set it had engraved the year along with all of the countries they had occupied in that year. I found that really interesting to look at.
I ended up finding a catwalk of Dutch fashion from 1625-1960. This was the coolest exhibit there in my opinion. They had several rooms filled with dresses and men's fashion. The most innovative part of this portion was the actual catwalk. They dressed mannequins up in the dresses, hooked them up to a revolver and then built a runway over it. The mannequins were performing a catwalk for the audience. They had chairs set up around the runway. I really enjoyed this visit. Seeing how attire changes over time is a part of history that really intrigues me.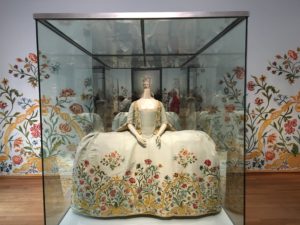 Our group made it back to the hotel on time to get on a tram to go to our visit to Vrije Universiteit. This school translates directly to the free university. It is free to go to the school but students do have to pay a fee of about 2,000 euros a year to go there. It's also a very hard school to get into. You're required to take tests that you have to pass to be accepted. We heard a lecture from Jolien Arendsen. She is a professor in the department of communication science at the university. She talked to us a lot about how the news is changing in The Netherlands along with the world in general. Jolien also talked to us about a topic she is focusing on recently. She discussed citizen journalism and how she has been involved in making it a part of neighborhoods negatively discussed in the media. She told us how citizens are now reporting, with the help of professionals, on topics that the news sources have had trouble covering. From what she told us, the people around those places weren't happy with how the media was portraying them, so they help citizens who want to get involved actually report on important subjects. I found this very fascinating and a great way to solve a common problem. This visit was great and I learned a lot about how the Dutch educational system works.
The rest of the day was free! A few of us went on a free ferry to the north side of Amsterdam to explore and eat dinner. We ended up stumbling upon an open art area with warehouses filled with art spaces. There was graffiti everywhere and cool structures built by artists. It wasn't very busy since it was a holiday but it was very neat to see. We went into the warehouse and heard people taking a clogging class! We found a restaurant there that looked like a greenhouse. We decided to eat and drink there and I ordered a steak onglet with potatoes and asparagus. I am eating some really amazing food over here if you couldn't tell!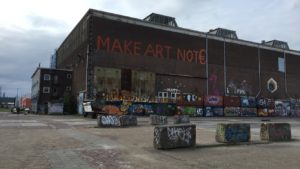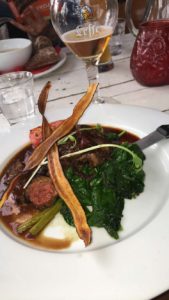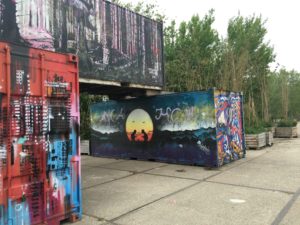 After dinner we took the ferry back over and walked through a street of the red light district. We felt it safe enough to walk through since we were in a group of 6. I think it was something to at least see once since it is a part of their culture. It was very odd to see and I was pretty uncomfortable. I don't think I would go back again.
Overall, another amazing day! I'd like to give a shout out to Helen, Bob, and Jan for all of their amazing work and input for this trip. It's all been so AWESOME
__________________________________________________________________________________________________
Gelato for Dinner is Acceptable in Amsterdam: May 17
News. News. News. We visited two newspapers today, both in the same building. We heard from Het Parool and de Volkskrant. What was interesting about today's visits were that these separate papers are owned by the same person. They share a building with another paper also owned by him. All three of them also share the same printing press. I was curious to see if the owner has any say in what each papers writes about. It was confirmed that he doesn't control the papers and they have complete freedom to write what they'd like. For us we are usually skeptical of one person or entity owning a lot of the same businesses because that leads to one mind having a lot of control. It was nice to hear that's not always the case.
Het Parool started as a resistance paper during World War II. After the war they were the biggest paper in the area. Now they are the paper for the city of Amsterdam. They focus on 3 parts: news, Amsterdam, and City Guide. On our tour we saw these sections desk area's along with other people's places. They work with a lot of freelance journalists and mostly all freelance photographers. At the moment, they're working on revamping their website along with using social media to attract younger viewers. The visit wasn't very long but I think we all got a good understanding of how a smaller city paper runs in the Netherlands.
On a side note, the cafeteria in the building we were in has the freshest food ever! Here is a pic of the meal I had. A salad with tons of veggies and avocado toast with cranberries.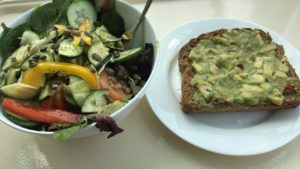 The other paper we visited, de Volkskrant was a bit different. It is a national paper that has a lot of subscriptions and 200 people working in the office. This paper is the exception in my opinion. They don't seem to be struggling as much as other papers. They compared themselves to the NY Times in respect to their smaller country. The title of their paper translates literally to 'the people's paper.' They started out with a Catholic affiliation but dropped that in 1976. It was hard for their subscribers to accept that change along with more recent changes in regards to how they set up their daily's and Saturday editions. At the moment they are working on their social by doing things on Snapchat, whatsapp, Facebook, and Twitter. We did a tour of the office and it was much bigger than Het Parool. It was pretty fun to watch all of the journalists ask their colleagues why there was a group of Americans in their office.
I really enjoyed both of these visits even though I'm not looking to be a journalist in the future. Every agency has been a very big learning experience. After the tours I did a little shopping. I walked passed a gelato place and decided to make gelato my dinner for the night. I ordered chocolate brownie, macaron, and coffee. It was extremely delicious. Of course I was still hungry, so we went to a restaurant that was suggested to us. It's a small authentic Dutch place. We got some of their house brewed beer and fries. The owner worked right at the bar and was such a nice woman. We ran into Helen, Bob, Emily, Jan, and Jess on the way out so we all went back to the hotel together.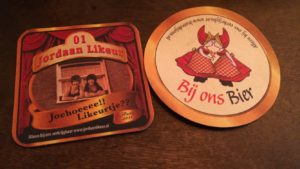 Early bed time for everyone tonight because we start at 8:30 tomorrow.
______________________________________________________________________________________________________
It down poured here: May 18
Today was the last day for media visits; we visited Ketchum and World Press Photo. Ketchum is an all around communications agency that's located all over the world. They work with a lot of really big clients and have a great reputation. We visited the Ketchum in Amsterdam. What was really refreshing about this agency was that they shared with us a new pitch they received from a company called IB. They are an international education program. They want Ketchum to create a campaign about their 50th anniversary. They had us split up into different target audiences and create a message and choose a medium that related to it. Mind ended up being student who is not yet a part of the IB program. I decided that the best medium to use to reach them would be social media. I saw the message being related to how IB can help them get to their future without being worried about what they want their career to be. I saw the campaign looking like a vibrant video that shows how they can help without it looking like the typical educational video. After that a lot of people talked about how the message should be related to the future to highlight the great work done in the past 50 years while still staying relevant today. I thought this activity was really fun and got a lot of us really thinking about what we might be doing in the future. It was also a cool visit because they fed us these really amazing sandwiches for lunch.
The next visit was World Press Photos and it was really amazing as well. We got a tour from their multimedia manager, Paul, for the exhibit. He talked to us a little bit about some of the photos he thought were really important. After he spoke I walked through the entire church and read and saw every picture. I think the two that had the most impact on me was the section about the Syrian refugees and sexual assault on women in the U.S Armed forces. I think that every photo in both of these topics really took my breath away. I am so glad we went to this exhibit.
The rest of the day was a lot of wandering and bopping into art gallery's. We walked past this cute restaurant that looked more like someone's kitchen. There were two Italian guys who worked there. While we looked over the menu they were making pasta from scratch. I was in heaven. Their menu is different every day. They offered this asparagus ravioli, which I thought sounded extremely delicious. Three of us ordered it and I am pretty sure all of our mind's were blown. Then he offered us coffee and tiramisu along with a dessert experiment. It was a dessert made out of vegetables. It actually tasted pretty darn good. The food was so fresh and delicious. It was definitely the best meal I have had so far on this trip! On the way home we got stuck in a down pour. It was raining so hard and thundering and lightening a little. Jess and I stood under an awning until it stopped after five minutes. It was almost refreshing to stand in some rain in Europe, if that even makes sense!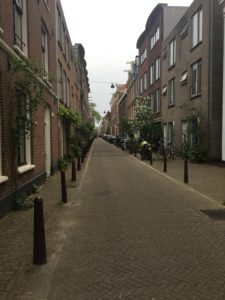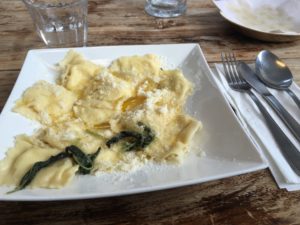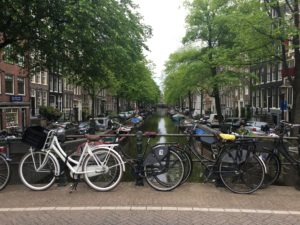 I am really starting to get sad that the trip is almost over. I cannot say though that it feels like we just got here because I am really tired. We have one more day ahead of us and I can't wait to make the best of it!
_____________________________________________________________________________________
It's Over Already?: May 19
It's the last day of the trip and we were all pretty bummed about it, but we had a pretty eventful day planned. It turned out to be a really beautiful weather day which made it all the better.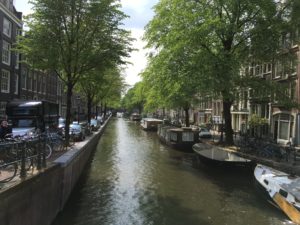 The first thing we did was head to the Van Gogh Museum. It was the one museum that I knew I definitely wanted to go to on my leisure time so I'm really happy I went. It took me about 3 hours to go through the main portion of the museum. A lot of his work is located in this museum but some of the famous ones like Starry Night and The Bedroom weren't there. My favorite painting of his is Almond Blossom and I was really happy to see it in person in the museum. To see Van Gogh's famous detailed brush strokes up close was amazing. While we were there they had a bonus gallery that we got tickets to. This gallery was about prostitution. I only made it to the first floor out of three but the floor I was on was very informative about the ways and works of prostitution during the 1800s. I wasn't expecting to see other artist's work at the gallery but we got to see paintings from other famous artists like Monet along side Van Gogh's work. The gallery did a really nice job of telling the story of his life. They introduced his family and the other artists who influenced him. I learned so much about his life. I was able to see letters he wrote to his family, zoom in close to his paintings, and learn more about his life. I am so happy that I was able to go to this museum to experience Van Gogh's work in person. This is yet another amazing thing that I wouldn't have been able to do if it wasn't for this trip!
After the museum a small group of us went shopping around the Jordaan, a part of Amsterdam that has slightly less tourists than the heart of the city. I really enjoyed strolling through this part of the city because I got to see the side of Amsterdam that's truly authentic. There are cool bookstores, record stores, small boutiques, and fun ice cream places. You still get to see the beautiful canals, the bicyclists, and gorgeous homes just without all of the loud and pushy tourists. We took our time walking through shops and taking weird turns down breathtaking streets. Once we got a little tired of walking we stopped at a cafe by the canal and had some wine and a snack. The weather was perfect and I couldn't have asked for a more relaxing afternoon, plus I got my last minute gift buying done!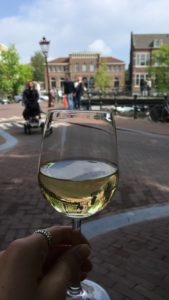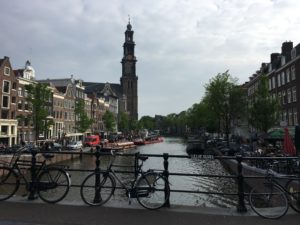 The rest of the night was dedicated to our 4 course canal boat ride dinner. Yes, I did say 4 course. This is yet another thing I would probably never do if I wasn't on this trip. We ate a beautiful meal and enjoyed each other's company at our last group dinner of the trip. The best part was that we got to enjoy the last night looking at the most amazing views of Amsterdam. I don't think we could have had a better last night.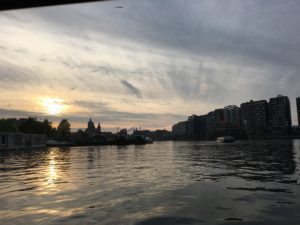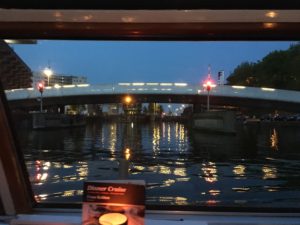 This trip has been so amazing! I met so many successful professionals who are doing the jobs that myself and my peers hope to do in the future. We got to see how other countries work, live, and play. We were able to eat the best food and learn the cultures of other societies. I was able to visit 3 countries and hop into another for a moment. Thanks to Helen, Jan, Bob, Emily and everyone else who made this trip possible, I was able to take the first step to my dream of being a world traveler. I am so grateful to have gone on a trip like this during my education. I can honestly say that this is my best memory of college thus far. Thank you so much to everyone who got me here!
_____________________________________________________________________________________
Back in the USA: May 22
The flight home Friday was surprisingly not as bad as I thought it would be. Any time I come home from a trip, it's always more painful than the way there. I was surprised to have a really great flight home. It was a 9 hour flight that didn't feel that long. I watched 3 movies and slept a lot. The flight to London was much more painful. I barely slept and it felt like it took a lot longer than 6.5 hours.
As much as I was upset about leaving Europe, it was really nice to come home and relax. I hung out with my family, gave them all of the gifts I got them, and watched the Pens game. I forced myself to stay awake until my normal bed time so I could get back into U.S. time. It was super difficult but I managed to do it.
Talking about my trip to my family was really amazing. I loved telling them all about my exciting experiences and sharing the differences between here and there. My parents are really thankful to have me back in the country.
Now that I have relaxed and gotten back into the swing of things, it's time to get all of my work done and prepare for my internships.  I have 2 internships this summer that start this week. Today is a day filled with getting my work done and preparing for the week. Being back in the U.S. is back to reality. This trip was an experience of a lifetime and now I get to apply what I learned to my every day life and my internships.
I would like to say Thank You to everyone who followed my blog during our trip; I appreciate your support and hope you enjoyed it!