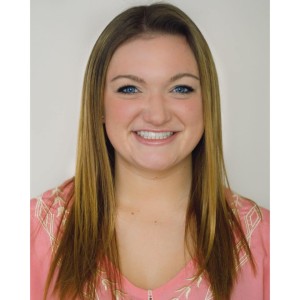 My name is Kristen Musloe and i'm a Pittsburgh based designer. I am a junior at Point Park University and I am in the process of earning a B.A. of Arts in Multimedia, and a B.A. of Arts in Public Relations and Advertising. I'm using my college years to gain experience in the world of communications and design. I am primarily a graphic designer and am in search of internships and other opportunities to expand my knowledge as a designer.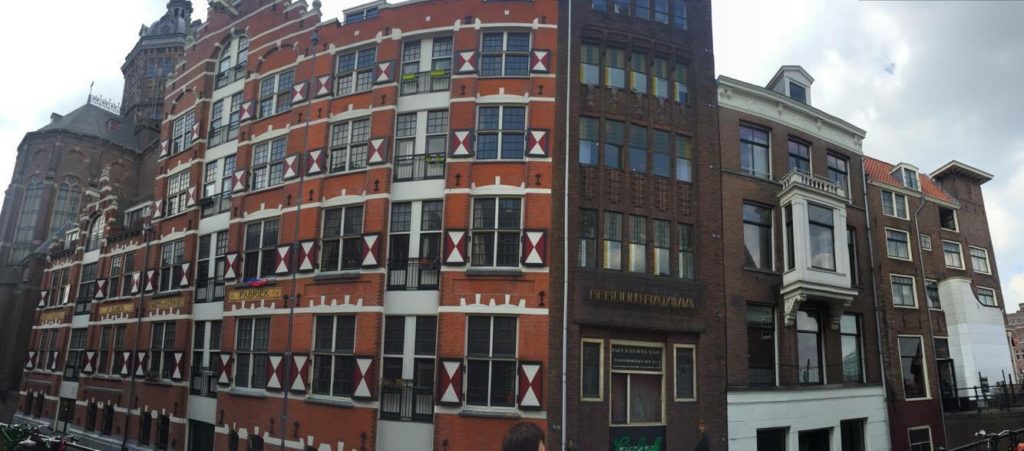 "I can't, I'll be in Europe"
5.5.16
I still haven't wrapped my mind around the fact that in just a few short days I'll be embarking on a journey of a lifetime. I feel as if no amount of preparation or research can get me ready for what's to come. London, Bruges, Amsterdam…places that people can only dream of going will soon be my reality for two short weeks.
My name is Kristen Musloe and as stated above, I'm ad advertising/public relations and multimedia at Point Park University in Pittsburgh, Pennsylvania. Venturing to Pittsburgh is already a feat that most people from my small town of Sarver never achieve. Where I grew up, there were a lot of farms, familiar faces, and Friday night football. While my heart and soul will always be in the country, I always wanted more.
This isn't the first trip I've taken with the School of Communications at Point Park. I also traveled with them to D.C. last year. The short trip to our nation's capital was amazing and got me so excited for the future and where I'm going. I can't even imagine what this two week trip "across the pond" will do to me; I may never come back!
I am looking forward to every second that I get to spend on this trip, but I think I am most looking forward to our time in Amsterdam. The history and culture there fascinates me so much. We are all humans but our brains think and work so differently. I can't wait to hear what professionals in my field oversees have to say about not only their work but also their day to day lives.
I am certain that this trip will be beneficial for my career and also for me as a person. It is so important to see how others live so that you can appreciate what you do have and strive to always be the best you can be. I look forward to blogging this once in a lifetime experience so I can always look back at my time in Europe.

"London, Paris, Tokyo…"
5.9.16
4:00 p.m. London time
We made it! Two flights, two airports, and a time zone later, we finally made it. My day started with a drive to the airport to be there for 12 p.m. We thought traffic would be way worse so we got there an hour early and just wandered around; this is impressive because my mom and I can't be on time for anything– it must be genetic. By we I mean myself and my parents. They've helped me so much with the trip and I couldn't be more grateful.
After some very long goodbyes, I was off. Our first flight was a mere 53 minutes long and it went by in the blink of an eye. We landed in JFK and it was my first time in New York City, even if it was only for a small amount of time. Then, I got the best sandwich from this small café. It had chicken, pesto, fresh mozzarella, and tomato. However, it did make me, Mackenzie, and Maddy a little late to board our flight (oops). The flight from New York to London was the largest plane I have ever been on. It has 7 seats across. The flight was roughly 7 hours and overnight. I ate my airport sandwich so I didn't eat dinner on the plane but I ate breakfast and it was very good. Each seat had a monitor on the seat back in front of it that offered movies, music, games, and you could even track your own flight.
After being in and out of "sleep" for 7 hours, we landed in London. We got our luggage and boarded a huge Mercedes Benz bus. It was a comfortable ride and we had a great tour guide that took us around the city and surrounding areas. We stopped a few times to stretch our legs and get a better look. My favorite spot was St. Paul's Cathedral. It was so massive that I had to stare for a few minutes to take it all in. It was a beautiful day so that helped too. Now, I'm finally back in my room and about to get some rest. Soon, we'll meet for dinner for some authentic fish and chips.
9:30 p.m. London time
We met and had a group meeting about how to travel via the "tubes" and how to pay for transportation outside of the group. This is important because Mackenzie, Maddy, and I will be traveling by ourselves tomorrow after our group activities. We all bought tickets to have a Harry Potter Tour in London! We get to live every Harry Potter Dork's dream. I"ll write all about it tomorrow don't worry. After we had our meeting we finally got dinner and it was so delicious.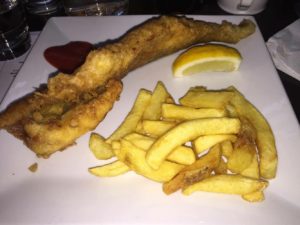 We got the fish and chips, a salad, and an apple crumble desert with ice cream. The salad was good; the vegetables were very fresh and were so crispy. Then, the fish came. I was amazed when I saw how big this fish was. It was easily loinger than my head, probably actually as long as my calf now that I'm looking at it. It was so fresh and flaky. The skin was on it so it was very moist but still dense. We also got unlimited "chips" which is what they call french fries. They were also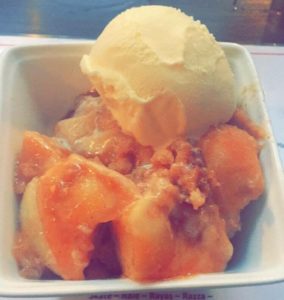 amazing; crunchy on the outside but still so moist and soft on the inside. We all had a hard time sitting still after we ate all that. Just when we thought we were in the clear, then came desert. We obviously couldn't pass it up so we all ate the warm apple crisp and cold vanilla ice cream until our bowls were empty.
We eventually mustered up the courage to waddle back to our apartment. Everyone went their own ways to do their own thing at this point. I got a nice hot shower, wrote this blog, now I'm going to read a little before bed. It is a perfect end to an exhausting, but amazing day.

Expecto Patronum!
5.10.16
11:30 p.m. London Time
Today was one of the greatest days of my life. We started out with a breakfast at our hotel and it was delicious. I had hash browns, yogurt, fruit, apple juice, and mushrooms. After we all had full bellies and regained our energy, we were off. The weather today was unfortunately very rainy and a bit windy. At least we experienced authentic London weather though, right? Our group of umbrellas with legs made our way to the queen! Well, basically. We walked to the Buckingham Palace. It was beautiful, even in the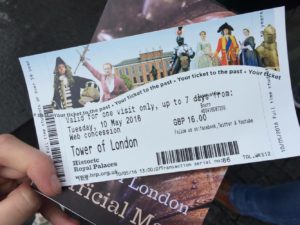 rain. Then, we killed some time by watching a horse parade. Our great tour guide, Ed, knew exactly where to take us, who to talk to, and what to do. We went to watch the changing of the guards, but the weather was a bit of a problem. Ed took us around back to get a better view of the guards since there wouldn't be a traditional change of the guards. We also ate at the same delicious café that we did yesterday, Wesley's. We made our way to the Tower of London. We learned a lot of history and even got to see the crown jewels, which were breathtaking. They even had ravens at the castle. I learned that it's bad luck to let them leave the castle grounds. Maddy, Mackenzie, and I had to cut out castle trip a bit short to make it to the Warner Brothers Harry Potter Studio outside of London.
This is where my next journey of the day began. We flagged down a black cab right outside of the castle. Our cab driver had a heavy accent but was so nice and sincere with us. He even warned us that we had one heck of a ride to get to the studio. He wasn't wrong. Our ride took about an hour and fifteen minutes due to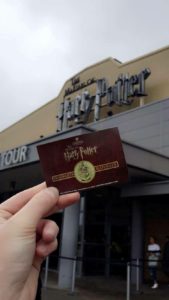 how far away it was and the fact that it was rush hour. He said it was the longest trip he's ever driven. It got a little pricey but was worth it; we were so scared we would miss our 4:00 time slot. We made it in plenty of time then entered the magical world of Harry Potter.
We saw a short film in the beginning of the actors talking to us about what we are about to see. The screen lifted and we were suddenly at the door to Hogwart's Great Hall. It was such a humbling and truly magical experience. I have always been a fan of the Harry Potter movies and seeing them come to life before my eyes was something I never imagined. I had goosebumps the entire time. We saw costumes, props, sets, and commentary. I can't forget the delicous "butterbeer" that we got. It isn't actually beer, it tastes like a buttescotch cream soda with creme on top. I could get used to those.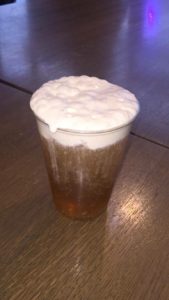 The whole experience  made me appreciate the cultural effect that pop culture and movies such as this have on the world. So much goes into these movies that I never thought of. The details for each set were insane; you would never notice them without literally going up to the set. This tour didn't only have sets, it also showed how they did the insane special effects and characters. At the end we even got to see a huge castle which is what they use for all of the outside scenes of the movies. I learned so much about the Harry Potter films, film making in general, and that taxis are insanely expensive. Luckily, we rode "the tube" back and didn't have to spend any money. I can't wait to see what tomorrow has in store.

A Peek into (Hopefully) My Future
5.11.16
11:30 p.m. London Time
Today we got to visit Battenhall PR Agency and BmB Advertising Agency and they exceeded my expectations x10000. Battenhall isn't like any agency in the United States.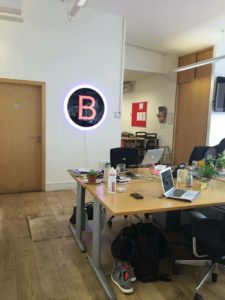 Employees there get unlimited vacation hours, $500 of leisure money, $1,800 for a technical budget, and are told to dedicate 80% of their work week to work and 20% of their work week to a personal project or hobby. They are a smaller, young, agency that is innovating how PR works. They are very progressive and look to the future of technology. They suggested to, "keep one foot in the present and one far in the future." They have a sign in their office that is a large "B" for Battenhall and anytime someone mentions them on Twitter or Instagram, the color changes to the color of the photo. Everyone loved the visit and it inspired so many of us. Seeing places like this make me feel comfort that I'm in the right major(s). I would love to work for a place like that in that kind of environment.
The advertising agency, BmB is where I met the most interesting (and rich) person I've ever met. His name was Trevor Beattie and he was one of the founders of BmB. He is so wealthy that when I googled Trevor Beattie, the second result to come up was Trevor Beattie net worth. He came in with his long black and grey curly hair that was half in a hat and half down to his shoulders. He was very wacky but you could tell he was a complete genius. He has so much money that he doesn't even know what to do with it, so he's going to the moon. He paid $1.2 million to be one of the first people to sign up for a trip to space (I looked up the cost).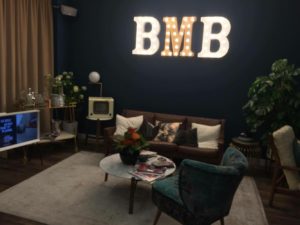 Next year he should be on his way, living his last life dream that he has left to fulfill. Even though he is so wealthy, he does it all because he truly loves it. Or as he says, he does it because it's "fun". We got to talk to a lot of their staff and design teams. One of the women we got to talk to was Louise Sloper and she was the head of art. She said she is the only women in that position in all of Europe. That is so crazy to me. She gave us such great advice; she told us to never give up and that we are going to hear "no" 100 times before we catch a break, and even then it still might not work out. She was such an inspiration to women and designers everywhere. I loved this agency because they were all so kind, helpful, and inspiring.
After the agency visits we were starving so Mackenzie, Maddy, and I decided to visit a local pub that we walked past everyday. It is called The Rocket. They had a burger and drink combo so we decided to give that a shot. Unfortunately, the burger was very gross and the wine tasted like church wine but worse. It didn't matter though because we were still in a pub in London. After that we wanted to try real London beer. We found one of their historical pubs, the Royal George. It was such a cool atmosphere; there was a soccer (futball) game and people were going crazy. It was one of those places that you could tell the locals loved it. Everyone was so kind. Other than other rude tourists pushing their way through the city, the people I have encountered have been so genuinely nice and helpful. After had our one beer, we returned to the hotel, packed our bags, and got ready to explore London one last time in the morning and head off to Bruges.

Goodbye London, Hello Bruges!
5.12.16
Today was a very long, long day of traveling. The start of the day was hectic and wonderful. We had a free day until we left our hotel at noon. Maddy, Mackenzie, and I decided to go get a better look at the London Eye and Big Ben. I had to get a picture of myself in my Pittsburgh Penguins shirt in front of Big Ben (since they won the series!!!) to show my mom.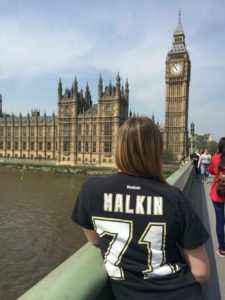 We conquered the London "tube" and made it there all on our own which was an adventure in and of itself. We got to see some great sights and get amazing pictures of these historical London buildings. We then had to figure out our way back which actually wasn't as hard as we thought. We hopped into the hotel for a few minutes to get our stuff then we all piled onto a very nice bus and made our way to the next step of our journey, the ferry.
Before boarding the boat, we sang our amazing tour guide happy birthday and said our goodbyes. We had a little bit of trouble actually getting on the boat. They made us go through a lot of security and checked our passports three separate times. The ferry wasn't't what I expected at all. In my head, I pictured a small ferry boat with a little roof and benches where we couldn't move and half of the class would end up getting sea sick.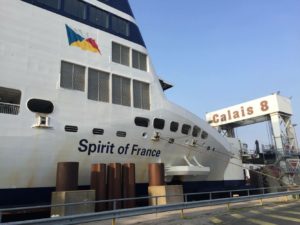 Boy, what I wrong; it wasn't a ferry, it was more like a cruise. There was a casino, food court, bathrooms, decks, and music. We got some food and watched out the window as the faint image of France started to become closer and clearer. We docked and got on another bus and drove to Bruges. We weren't in the bus too long; I read my book and typed some of the blog.
We got to Bruges and everyone was completely speechless. It didn't seem real, it looked more like a storybook than a real place. It was also so quiet and we barely saw any people. We got there relatively late but when I say it looked like a ghost town, that's not an exaggeration. It was so eerie in the most beautiful way.

Our hotel was the Hotel Jakobs. It was cozy and quaint and the rooms were really nice. I really liked the windows because you could open them the entire way and really breathe it all in. We threw our stuff in the rooms and went to a really nice dinner with the whole group. We ate at Bistro Den Huzaar; we got a salad, chicken, potatoes, and the best desert. The whole meal was great but the desert was my favorite. I've never had strawberries with pop rocks before and now I never want to eat them without them. After dinner, a big group of us went on a walk to their market square. It was dark and we all just sat there in silence and stared. It was so beautiful and comfortable. We got back to our room, now we are all showering and getting ready for bed. We have a big day tomorrow.

So Much Bruges, So Little Time
5.13.16
Today, we went on a walking tour and got to see the most beautiful places. We didn't have much time so we packed a lot into our short day.Our new tour guide, Summer, showed us all around the city and we went on a canal ride.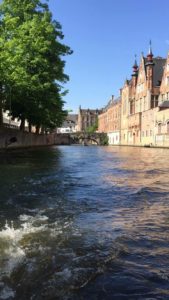 I think the canal ride was my favorite part of the day; it's so hard to describe it without actually being there. It was a tiny boat that we all gathered on and our boat tour guide took us in a big circle. It was awesome to see the city from a perspective like that.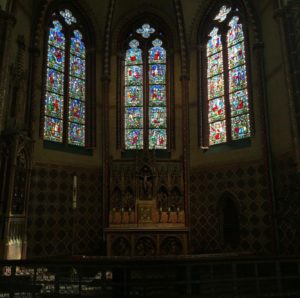 After the boat ride we saw other sites and the one that really stuck with me is the church. The original Madonna and child by Michelangelo was there; it was so humbling to see such a historic piece of art that has so much history and talent behind it. There were also beautiful stained glass windows.
I got some really nice presents here as well. I can't put just yet what I got everyone because I don't want to spoil the surprise (hi mom!). I can say that I got a cute necklace and I got myself a small piece of hand made lace. I figure maybe when I get married, I can incorporate my Bruges hand made lace.
As far as food goes, we wanted to experience a food truck there…it wasn't a great idea. I got a burger, fries, and coke. The fries were delicious and cooked to perfection.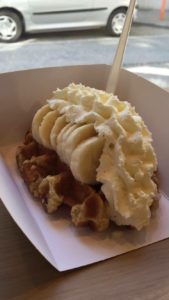 However, the burger tasted more like sausage than beef… this is because I googled what a Bicky Burger actually is and it is a mixture of pork, chicken, and horse meat. Yes, I said horse meat; I really wish I hadn't googled that. We did end up getting the best waffle I've ever had at a little corner store. I got bananas and whipped cream on my waffle that had sugar mixed into the batter. Does it get any better than that? The shop worker also suggested a local dinner place to us too called Cambrina's. It turned out that the 3 local people we asked, suggested the same place.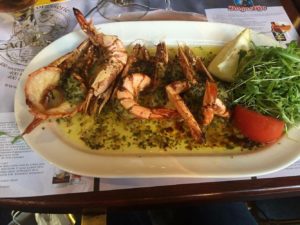 We got pretty lost on the way there and froze our butts off so that was unfortunate but it was worth it. We got great food and I tried my first house beer (fancy fancy). I was a little weirded out that my shrimp was a full shrimp with a face, but it was so good and fresh. I saw some amazing places and ate some great food so I would say today was a success.

Final Destination: Amsterdam
5.14.16
We had our last breakfast at Bruges and got on the bus bright and early to start our journey to our final destination, Amsterdam. It was a 3 hour drive and I slept the whole entire way. It was so nice, I needed to catch up on rest so badly. When I woke we were at the beautiful Kukenhof Gardens.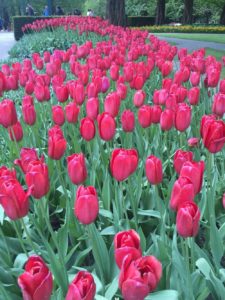 We didn't have long but we saw so many beautiful flowers and I got fish nuggets which were interesting. We were supposed to go to the cheese factory, windmills, and clogs today too but we switched that to tomorrow which will still work out perfectly. After we got our flower fix, we got back on the hotel to get ready for dinner.
The restaurant we ate at was called Bret and it was right by our hotel which was nice. For my first course/appetizer I had asparagus soup. When I heard that I immediately made the "lemon" face like a little kid. Little did I know that I would almost lick my bowl. It had really cooked red peppers and I even ate all of those. Mom, if you're reading this, please learn to make this soup! It reminded me of my moms potato soup, which is one of my favorites. For the main course, Mackenzie and I each got something different and split it half and half. We got cannelloni that was stuffed with ricotta cheese and spinach with a red sauce on the outside. We also got a burger with bacon. The cannelloni was so delicious that we ate the whole thing. The burger was extremely undercooked because they gave us the wrong burger and it was medium-rare; in this country medium-rare to them is rare to us. We really politely asked them to cook it a bit more and they were extremely nice and accommodating. Lastly, we got desert and I got a brownie with pecans and vanilla ice cream. The food was pretty good but the wait was not. For the 3 course meal, we were there for 3 full hours.

After we were nice and full, we went outside and looked around at our surroundings to see what was going on close to our hotel. There isn't much directly outside of it but that's okay because the city is so crazy that it's nice to have a calm place to come back to. I forgot to mention that our hotel is so nice. There are 4 of us to a room so you would think that It would be so crowded but they separate the toilet, sink, and shower to make it easy to get a lot done at once. I'm tired but I get to sleep in tomorrow so I'm going to have a nice nights rest and prepare for the rest of my time here in Amsterdam!

Smoked Goat Cheese
5.15.16
I feel like I did so many things today! We finally got the cheese we have all been waiting for and it was totally worth the wait. I got a smoked goat cheese that will go so perfectly with deer bologna. We saw a demonstration on how to make cheese and I'm in awe of how they really only put the necessary ingredients. It is so simple, it's literally milk. We also got to taste the cheese which was dangerous because everything was so delicious. I even had vanilla cheese which was pretty gross but at least I can say I tried it. I'm not that optimistic about the horse meat I ate a few days ago; I could have went without ever trying that.
Then, we got to go into a real windmill, it was so crazy. It has been a pretty chilly day and it was even colder on top of that windmill. It was a family owned windmill and they lived right by it in the vicinity. After the windmill, we saw a demonstrating on how to make clogs and it was so cool. It literally took about 5 minutes with a machine and 3 hours without a machine. Then, we didn't have long so we walked around a little, got pictures in oversized clogs, and got back on the bus.

We then went to the Anne Frank House but we weren't able to purchase the tickets until 3:30 so we went on a canal ride first. The canal ride was nice and there was glass over us so we got to heat up for a little bit. It was so crazy to see the city from the water and houseboat culture. We even got info about the places that we saw in English. While I was on the boat I got a Kit Kat and it tasted so strange! I wish America would adopt some of their ideas on GMO's, processed food, and preservatives. I truly feel like it makes a world of difference.
After the boat ride we finally went to the Anne Frank House and waited in line for almost 2 hours in the cold. I didn't mind because I've waited longer than that for the Top Thrill Dragster at Cedar Point and Anne Frank's house was definitely more important that that. It was such a cold, eerie environment. We got to go up the stairwell that they went up and almost everything was the same. It made me so happy that I got to see it but so sad that something like that actually happened. Humans have done such horrible things to each other and I really just can't understand it. Everyone loved the house and we wanted to stay all evening but we were also starving and we had an alumni dinner to get to.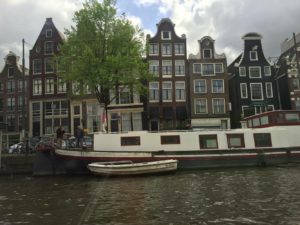 We rushed to the restaurant where we went to meet people who went to Point Park but now live over there. Our table got Matthew and his wonderful wife who was so fun to talk to. The things they were saying were so crazy and truly foreign to me. He works 11 hours a week and she works 12 and they make more than enough to live comfortably with their son. They are really free spirits and so happy. We talked about everything from politics to work to school to raising children. We could have really talked to him and her for hours. It was also cool because Matt is from Butler and lived in Saxonburgh which is so close to my hometown. The food was also so delicious; our main course was salmon and it was the best salmon I have ever had in my entire life. I didn't even think I liked salmon!
We headed back to our hotel after dinner and gathered as a group to discuss what we've done so far. We all talked a little about how much we loved all of the visits so far and how they compare and contrast to one another. That didn't last long and we were all exhausted so we went into our rooms. We all talked and showered before bed then everyone went to sleep…except me of course. I had a hard time sleeping so I worked on this blog a little more and read and now I'm finally tired so I'm going to try to sleep. Be back tomorrow!

Pizza and Gelato
5.16.16
Today we visited the Vrije University where Dr. Jolien Arendsen gave us a lecture on campus about the current landscape of the Netherlands media. Translated, Vrije University means Free University. It was founded in 1880 and is one of the two large, publicly funded research universities in Amsterdam. I really liked the campus, it wasn't too huge but there was still so much there. There were volleyball courts, basketball courts, a food truck, and a place to get coffee right in the middle square where there was also seating.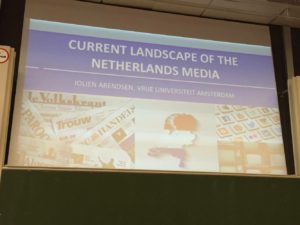 We had a really nice talk about the media and all of the changes she has seen in it and also the changes she has seen in the schooling for it. She said what others have said, it is hard to be a journalist but you can make it if your passionate enough. That isn't really my thing but I liked that she was honest about it's difficulty but still genuine when she said it is possible for the right kind of people.
After the university, we split off into groups and went out to explore the city. A few of us were hungry and got off near an old record store. I didn't buy anything there but Chase, Anthony, and Jane did. We then walked around and found an artist pop up tent. It was so cool; there were painted records and texturized paintings and photography.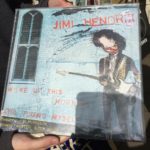 The artists were so friendly and their work was amazing, but it was a little out of my price range so I had to pass it up. Finally after more walking we found pizza. It was a cute little place with pretty good food. The only cons were that the waitress had a hard time understanding Maddy and they gave her the wrong pizza, oh and I stepped in someones puke ( I think) outside of the bathroom. I swear the weirdest things happen to me.
We were in the mood for something sweet so we found a place that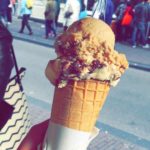 sells sweets and gelato. I'm a sucker for ice cream so I got two scoops, one cookie and one dulce de leche. Maddy, Mackenzie, and I parted from the others and went shopping again. We mostly stuck to cheesy, dirty tourist souvenir shops but it was still fun. We headed home decently early. We would have been back even earlier if we didn't get on the #12 Tram going the opposite way of our hotel, oops. We made it back in one piece and I got the best, hot shower now it's time for bed.

Het Parool and De Volkskrant
5.17.16

Today, we toured two very well known newspapers in Amsterdam. I really didn't know what to expect but I was very pleased. Hep Parool was first and we had the manager, Vincent Smits, to talk to us about the company. Something I thought was so interesting about the company is that it was founded in 1941 as a resistance paper during the German occupation of the Netherlands.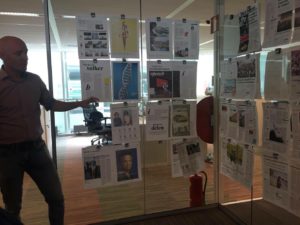 It was very professional and he talked a lot about history and journalism in general. The building was really cool as well. The other newspaper we visited was actually in the same building because they are all under the same owner which is strange because they are competitors.
We took a short break in between the two newspapers to grab some lunch in their café. They have so many healthy options here. It blows my mind to be in a place that actually still values fresh, authentic ingredients at a price that is affordable. I got a melted panini with "new cheese" and yellow peppers. That's another thing, I learned that I like red and yellow peppers which is pretty cool.
Melle Drenthe talked to us at The Volkskrant; he is the Assistant to the head chief.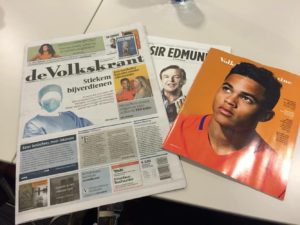 He was just one of those people who are easy to listen to. He was kind of quirky but he was nice and very funny. They even provided us all with water bottles and copies of their paper and magazine. He did basically the same thing as the other paper. He told us about their history and what they're up to today. They just redid their business model not too long ago in the hopes of becoming more transparent. They used to be considered a very left-wing paper; they have even been called the socialists' paper. They now try to be as "in the middle" as they can which I think is very cool. In my media law and ethics class I took at Point Park University, Dr. Tim Hudson stressed that being transparent is one of the responsibilities you have as a journalist. I completely agree.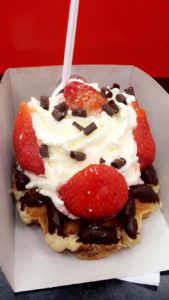 After the newspaper tours were over, we (surprise, surprise) went shopping. I got my boyfriend a pretty neat Amsterdam hat that hopefully he will like. For dinner we found this really, really awesome burger place. This burger was actually beef too! It was kind of like Burgatory in the way that you built your own burger.
I figured I may as well make mine awesome and I got burger, cheese, bacon, and a dippy egg. It was probably the best burger I have ever had. Then, we finished off the day with desert, as usual. We got the BEST waffles; they gave the Bruges waffles a run for their money. They had a really thick whipped cream, strawberries, and sugar on them. Now that I'm so full I can barely move, it's time for bed. Goodnight Amsterdam!


Ketchup…I Mean Ketchum
5.18.16
Today was a pretty cool day.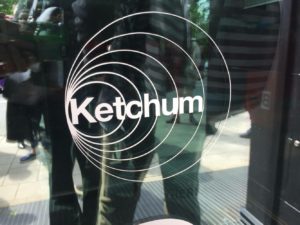 We got to go to Ketchum agencies first thing in the morning. Ketchup is an ad agency that was actually founded in Pittsburgh which I thought was so cool. They also have an office in New York and all over the world. We learned about their company, got to help them with a brief, and got really good lunch. The brief was one the got a few days ago about International Baccalaureate (IB) educational program and how to celebrate
their 50th anniversary. Then they brought us so many sa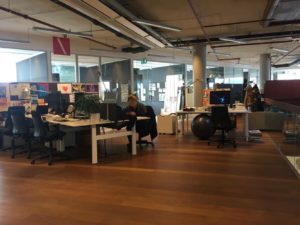 ndwiches; I had a pretty boring one with just cheese but it was still so good and fresh. They were so kind and also offered us many other refreshments. One thing that I thought was really cool that they showed us was a campaign they ran that helped younger people, such as millennials, buy stamps again. They put popular DJ's from the Netherlands on the stamps and if you scanned them, you could hear a song by them. While I thought that this was really cool and informative, I definitely liked Battenhall and BmB a little but better. They were just more my style.
After Ketchum we made our way to World Press photo which was absolutely amazing. We had a short guided tour where we got a little extra background on some of the photos, then we went off to explore more in depth and to watch the multimedia elements at our own pace. The photos were so humbling. Seeing what the world goes through and has gone through in history is so sad. The hardships we put each other through and the pain we cause ourselves is just so heartbreaking.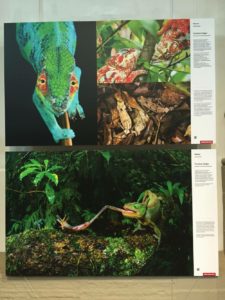 There were cool, positive pictures like the one of the iguana. The multimedia elements. Mackenzie and Hanna also got photo-books from the tour guide too that were originally 25 Euros which was awesome.
After World Press Photo, we needed coffee. Everything was so cool but it was still an early morning. I got a really good iced latte from Dam Good Coffee right outside World Press Photo..and I only had to put 3 packs of sugar in it. We mostly just walked around and shopped after that…I got more cheese. Then, for dinner we had pasta at this local place and gelato (again) for desert. The pasta was a 4-cheese sauce with really good homemade noodles. We walked off our delicious dinner and headed back to the hotel pretty early. I just got a shower and now I'm eating some mango before bed.

"Farewell, Amsterdam"
5.19.16
Michelangelo, Warhol, Picasso, these are all people who have made such an impact on the world in general and the world of art. Today, I was lucky enough to experience one of the best in a way that many people never get to. I visited the Van Gogh Museum in Amsterdam and it was truly amazing.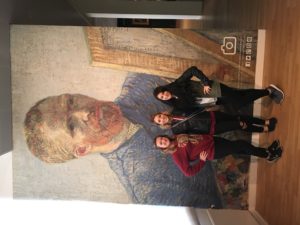 We had a free day today so we got up early, got some breakfast, and headed to the museum. We finally (kind of) figured out the tram system…it only took the entire trip. We got there and waited in line for a bit, paid 17 euros, and saw how it all began.
I feel like I could write an entire website on Van Gogh, but I'll condense it for blog purposes. One of my favorite parts of the exhibit were his self portraits.They are all so different but also similar simultaneously. He only painted for a short part of his life but the amount of work he did was truly amazing. There was even a 70-day stretch where he produced about 75 paintings. That is so completely insane. This was shortly before he shot himself in the chest and died two days later. I learned so much about his art and him as a person. He was a very sweet person, and he wrote his family letters constantly. Even though he was in such despair and so upset, he rarely showed it. His confidant was his brother, Theo. They had a lot of his letters up for display with translations, which I thought was pretty cool.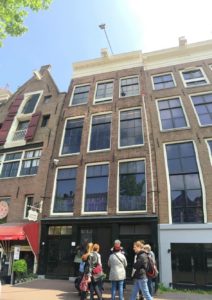 In the gift shop I just got two postcards that I thought were really neat for my scrapbook. Mackenzie and I also ran into two really kind ladies that we were able to talk to and get some quotes and insights for our articles. Mine is on houseboats and life on the canal and hers is on the Van Gogh Museum. Then, we decided to get another look at the Anne Frank house from the front. It was strange because it looks just like any other house. It just has a plaque that says, Anne Frank House. The things that happened on the very streets that I walked on just blows my mind. I feel like I'm using a lot of "fluff" words like really, very, extremely, and so, but I just don't know how else to explain my feelings on these things and these places.
We were starving afterwards so we found a local sandwich shop and got a bite to eat. They weren't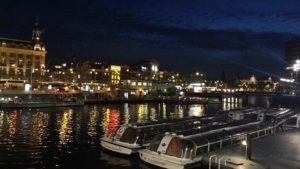 the best things I have eaten and it took about 30 minutes for some sandwiches but hey I was still on a canal in Amsterdam so I have no complaints. We shopped around and realized it got pretty late so we headed back to the hotel to change for our late night dinner cruise. We got there in time and had a great meal. I had veal, green beans, sweet pepper soup, brisket, potatoes, and some kind of champagne mouse desert. The best part was that I got to see the beautiful city come alive in the night in the process. We got off the boat, on the tram and just got back. It's going to be a late night with packing and an early morning with the flight so I better get started. Goodnight, Amsterdam!

"A Day in the Sky"
5.2.16
5:45 a.m. Amsterdam Time (11:45 p.m. Pittsburgh Time)
On the shuttle to the airport.
That's what time I started my day today. I am a walking zombie at the moment. I slept in my airplane clothes, had everything packed, woke up, and walked out the door. We are on the shuttle now, on our way to the airport once again. I swear two weeks haven't gone by.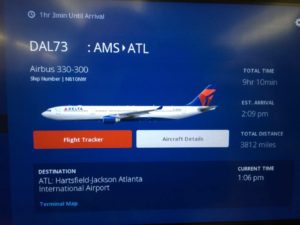 It is the strangest feeling; I feel like it has only been a few days but that London was a month ago. It doesn't make sense in my head and it still doesn't make sense when I type it out so I'm just going to go with it. It's a pretty rainy day which is good because walking around in this is no fun anyway. I mean, it's Amsterdam so it would still be fun in a tornado but I'm just going to keep telling myself that. I'll write more once we get settled in the airport. p.s. my luggage wasn't overweight!
Sometime between 8:00-10:00 a.m. Amsterdam Time (2:00-4:00 Pittsburgh Time)
Airport
We are at our terminal and about to board. Getting checked in was crazy. I didn't have a problem but a few people from our group got thoroughly searched. No one had anything bad but it's still nerve racking. I got some fruit and some last minute souvenirs.
2:20 p.m. Amsterdam Time (8:20 a.m. Pittsburgh Time)
Flight
This flight is like the last one. Nice but still pretty cramped. I'm in the middle row which has 4 seats, so it's a bit snug. The seating on this one is two seats, four seats, two seats. It's a pretty big airplane; sometimes I wonder how they keep these things up here so high.This flight is NINE hours.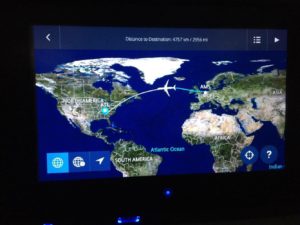 So far I've watched two movies and wrote my blog post. First, I watched yet another Paranormal Activity movie, then I watched Sisters. The horror movie was actually pretty good! I've seen all 937 of them, and this one wasn't too shabby. They are usually pretty cheesy and have no real story line but I was impressed but this one. Sisters was absolutely hilarious. It was the one with Tina Fey and Amy Poeler. I was trying to be quiet because everyone around me was sleeping but it was so funny that I had a hard time trying not to laugh so I ended up snorting instead. Now, I'm going to read a little bit of my book to pass the time. It's called Taken and I actually think it might be about aliens which is weird but I promise it's good.
p.s. we have about 2,705 miles until we reach Atlanta which is about 5 and a half hours.
7:00 p.m. Amsterdam Time (1:00 p.m. Pittsburgh Time)
Well these past 4 hours and 40 minutes actually went pretty fast. I read a lot and ended up sleeping for about 15 minutes at a time. I didn't want to sleep too much though. Our plane lands at about 5:00 p.m. in Pittsburgh so I won't get home probably until about 6:45-7:00. I am hoping to stay up for a bit and talk to my family then go to bed at a "normal time" in Pittsburgh. If I go to bed at 10:00 p.m. in Pittsburgh, it will feel like 4:00 p.m. to me…so that might be a little rough. I'm thinking that melatonin will end up being my best friend tonight. I have tomorrow off of work too, thank God. We have 426 more miles until Atlanta so that is about 1 hour and 9 minutes. Almost there.
5:30 p.m. Pittsburgh time!!!
Well that was an adventure. It took a little longer than anticipated to get through the Atlanta airport and we had to take a flight that was slightly later than the one we originally planned for. That was fine though because we had a second to breathe, use the restroom, and get some food.
Finally Home
Well, we did it. My mom and grandma picked me up at the airport and i'm now snuggling with my cat looking at photos. Luckily my family read this blog of mine so I didn't have too many stories to tell them.
Thank you so much to Helen, Bob, Jan, Emily, and my amazing classmates that helped to make this experience one of the best of my life. We did it!