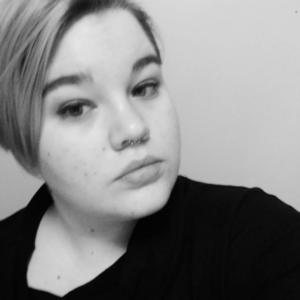 Hi, I'm Jane McAnallen. I'm a senior advertising major. In my free time I like seeing live music, eating Instagram-worthy dishes and growing herbs and sunflowers. My passions are social justice, acts of kindness and cupcake recipes with puns in the name. I'm a writer, designer, baker and gardener. This will be my first time leaving the country, and I'm most excited to try local dishes, visit as many museums as possible and buy tons of tulip bulbs. You can find me online @BoldlyJane or at jane.red.
---
May 7: Pre-Trip
This is my first time leaving the country. There's a nervous anticipation lingering as I finish up packing and organizing, planning for media visits and free time. The oft touted but intangible benefits of travel, widening my perspective, opening my mind, experiencing another culture are sitting in front of me like a fog. I know I'm putting a lot of pressure on this trip because it's a first and because the build up has been so long. Going from sitting in a classroom talking about unfamiliar places to being there feels weighty, and the dualism of this ephemeral idea of Travel and the sterile procedure of packing with some mildly frantic googling about whether or not I can have dry shampoo in my checked luggage is unsettling. But as a typically heavy packer, I feel some pride about having two weeks in a suitcase and a backpack.
It doesn't quite feel real yet, between the extended anticipation and the weird limbo of an empty week between moving back home and leaving the country. I've been to Walmart four times, seen three movies at a theater and gotten a haircut in that time. I keep forgetting to do the important things, like calling my service provider or bank, or printing out copies of my information. The gap feels oddly endless and I'm almost looking forward to the physical certaining of being extremely uncomfortable on an airplane.
My article for this trip is about outdoor advertising in London. I'm going to compare it to America's OOH (out of home) and try to ask as many professionals as possible about it. I think overall there will be less of it, it will be less aggressive, physically smaller and possibly there are more restrictions on what you're allowed to do. I just hope I see enough to really get a good overview on what OOH looks like inside of London and maybe be able to wax a little on the commodity of public space when it comes to American versus European sensibilities.
In the coming two weeks I really hope to preserve and showcase my experiences abroad through reflections, photography and maybe some video. I'm also going to be building a travel playlist, picking a song every day of the trip and including it in the blog entry with a brief explanation of why I picked it. You can subscribe to the playlist here. Today's track is Dramamine by Modest Mouse because it's about traveling and probably one of my favorite songs from the band. They're very good at capturing melancholy and introspection, and this song in particular is about change, trying to communicate and being unable to focus. It also helped that I get motion sickness and we will be doing a lot of moving on this trip that I'm not particularly looking forward. 
---
May 9: First Day in London
I managed to sleep on both flights, which was absolutely a blessing with five hours of sightseeing first thing. Our tour guide, Ed, is incredible. London is so old, and having him tell us the historical context for buildings and their namesake and original purpose is so gives the city so much depth. I particularly enjoyed learning about how convoluted the English language and aristocracy is.
On the way in I was documenting all the advertising I saw for my article, and London has very few billboards and an abundance of transit ads. The majority of billboards are digital, which is very interesting to me. I'm really looking forward to the media visits on Wednesday to ask how London agencies manage limited space and leverage digital OOH. Ed also told us about a butcher shop that managed to work around the rule that you're not allowed to advertise on the Thames because it's a royal highway. I might use that story in the article if I decide to focus on how agencies work with and around restrictions.
One of my favorite things about Pittsburgh is the mix in styles of architecture, and London has the same thing: gorgeous Gothic churches next to aggressively bland modern buildings. Here's a slideshow with some of my favorite buildings and statues I saw today.
Something I was not expecting was how aggressive drivers are. Maybe it was just because the coach was so high, but I was constantly expecting us to hit or be hit by another car. Walking around later in the day I also learned that pedestrians do not always have the right of way, and it's very easy to walk into traffic because of how their traffic lights operate. I'm sure people become accustom to it, but I don't think I'd ever feel safe in the streets.
My favorite thing about London so far is all the green spaces. There are flower shops all over the place, dozens of parks, trees everywhere and almost every building has some sort of window box or hedge decorating it. It really helps a city with such close housing open up.
The song selection for today is Ultralight Beam from Kayne's new album The Life of Pablo. I chose this because of a conversation it spurred today. I had listened to the album on the flight here, and throughout the day I found myself singing it. This somehow turned into a conversation about the Kardashians and how people obsess over them, and Ed brought up the point that all the monuments around Greater London are like a historical version of celebrity worship. Also the lyrics "you can never go too far when can't come back home again," while not about physically traveling still felt appropriate.
---
May 10: Foot Trauma
Today Ed took us to see the changing of the guards. We did not end up seeing the changing of the guards. We took the tube up to Buckingham Palace and saw the band march out, and the watch the Calvary change with The Tin Bellies and Donkey Wallopers in the rain. It was interesting to see how different rulers from hundreds of years ago created traditions that still exist. Ed once again was amazing for giving historical context to everything we were seeings, and making sure we had the best opportunity to see everything.
Afterwards we headed to the Tower of London, where there's a wall that is from around 200. The Year Two Hundred. It's still mind blowing to me how old things are here, and how the Roman influence can still be felt. The tower was a cool piece of strategic architecture, and remains a fortress that world need modern artillery to be breached. America is so young I think we're a bit arrogant about modern accomplishments and forget that there are places where people interact with the past on a daily basis. It was a humbling day in that regard.
In the afternoon we headed to Shakespeare's Globe where I bought some seeds for flowers mentioned in Hamlet and A Midsummer's Night Dream. We didn't get to go in, but after we ate some amazing food at Bourgh Market and did some shopping in SoHo. I was so pumped to be inside the Oxford Street Lush, the largest Lush store in the world. I even bought a bunch of Oxford Exclusive stuff, as well as grabbing some things my younger sister, Katy, had asked I try to get from Marcs and Spencer. Emily and I hung out in a cool coffee shop, Curator's Coffee, and planned out our tube route for the rest of the day and our plans for Thursday. It was fun navigating using only a tube map and a map of London, since neither of us had wifi. I may try this again in the future intentionally.
Today's track is inspired by this wonderfully exhausting and rainy day, Mr. Blue Sky by ELO. This is one of my all time favorites and helped me perk up after an extensive amount of walking that may have permanently damaged my feet.
---
May 11: Floating in the Most Peculiar Way
Today I was at my dream jobs.
Our first visit was at Battenhall. It's a very young company and it's only existed for three years, but they do really incredible work and have a great company culture. It's a tech focused social media public relations agency. They're all about word of mouth and don't advertise for themselves at all. The founder, Drew Benvie, told us their strategy was "do great work, get talked about."
Hires at Battenhall have deep social media skills and a breadth of PR skills, and I really like that. I feel like it's a much better take on the modern idea that you have to be able to do everything. Rather than jack of all trades, master of none you're familiar with a trades and a master of one.
Their company culture is really interesting too. They operate more like a Santa Monica tech company than a public relations agency. Employees are given a stipend to buy their own equipment and 20% of their company time is spent on passion projects. They also have unlimited vacation time. It's a small company steadily growing and everyone seems really close and passionate about what they do. It seems like a place where people have the opportunity to do their best work. I love how progressive the atmosphere is and how diverse the employees are, and I am definitely going to apply here next time there's an opening. Or maybe I'll just DM @drewb.
Then we went to BMB and I now have a personal hero, Trevor Beattie. The agency's philosophy was really cool and their work was some of my all time favorite. But then Trevor Beattie came out to talk to us and I realized he was the coolest person I'll ever meet.
First off, he's going to space. As in, all-around-us most-of-the-universe where-Star-Trek-takes-place space. He's going (speculatively) next year with Virgin Galactic, and he's met Neil Armstrong. I also loved how he said he was using advertising as a means to get to space.
Trevor also talked about how we have to "be many things." He runs an ad agency, produces movies and is training to go to space. He guest edited a issue of The Drum where he talked about his influences and interviewed people about all the things they are and gave us all a copy. I really recommend it, especially his interview with Holly Brockwell. This goes back to what we were told at Battenhall; you have to have a breadth of knowledge and skills to be hired now. What I really liked was when Trevor said "we don't have spare time anymore, we have life." It very much changed the way I view my hobbies. I hadn't been considering my interest in baking or gardening or twitter bots as more than fun activities for my space time, but my interests are on the way to becoming skills and those skills could, in fact, one day take me to space.
So basically, I now know where I want to work and who I want to be when I grow up.
Today's song is Major Tom by David Bowie because Bowie is one of Trevor's influences and it's about being lonely in space, which reminds me of one of my favorite movies, Moon. Which, naturally, Trevor Beattie produced.
---
May 12: Leaving London
Today was our last day in London. Emily and I went up to Camden for some shopping. It was a really cool neighborhood. We got there about an hour before the market opened so we took a walk up Primrose Hill because I had heard that there was an incredible panorama of London at the top. It was a hard climb but the view did not disappoint.
Then we walked along the Regent's Park canal back into Camden just as it was opening. There were a lot of different shops, but I ended up spending most of my time in a vintage shop. They had a ton of different stuff, from deerstalkers to silk scarves to Soviet officer hats. I'm actually pretty surprised by the amount of communist apparel I've seen in London.
Then we had to hurry back to motor coach to our ferry. Ed told us all about the neighborhoods we drove through, and continued the conversation he'd been having with us about the social housing problems in London. It's so easy for tourists like us to kind of distance ourselves from the realness of the city we're trying to experience, and I'm really glad Ed gave us that perspective on the city. He also compared The Tower of London and "The Shard," saying "there's the scourge of imperialism, and there's the scourge of capitalism," while we were at the Tower, so he's definitely my kinda guy.
I can really see myself living in London. It felt right being there, and it felt more progressive and diverse than the places I'm used to. Plus, their public transportation is incredibly well designed, maintained and understandable. I know I keep talking about the tube but it's probably the best system in the world and I can't get over how they haven't changed their logo since 1908. It such a clean classic design, I'm a little disappointed I didn't get to see the design in transportation expo advertised on the back of our tube maps.
Then, with a little delay, we bid a tearful farewell to Ed (who's birthday was slightly ruined by us), took the ferry to Calais and met our tour guide, Summer. On the ride into Brugge she told us about the immigration problems this area of France in particular were experiencing, which continues our streak of tour guides giving us a much clearer perspective on current social issues.
That night in Brugge we had an absolutely incredible meal and some great beer, Brugse Zot, which translates to Fool of Brugge. I'm very excited for this city. It's very different from anywhere I've been. London felt familiar because of the similar language and culture, but Brugge feels acutely foreign.
Since this is our last day in the UK, I picked one of my favorite songs from here, Chelsea Dagger by The Fratellis. It's their biggest hit, and such an upbeat fun tune it's little wonder why. Plus, it'll lift the mood the my playlist a little.
---
May 13: The Best Beer In The World
Brugge is a city of great food and better beer, and they aren't shy about either. Today we went to the Chocolate Museum of Brugge, and learned, among other things, why the Belgians have the best chocolate. The museum was set up as a walk through history, starting with the origins of the cocoa bean, moving into the European adoption of it and how the Belgian's superior standards and ingredients made them the chocolate experts.
After that food museum, I went to another food museum set up by the same man, Fritemuseum, or fry museum. It was a monument to Belgian fries, also the best in the world, and going so far as to tell us how to make the perfect fries, complete walk-through kitchen and video instruction. The format was very similar to the Chocolate Museum, starting with history and movie into modernity and trivia. I really enjoyed that format, a structured experience rather than just an archive or collection of memorabilia you wander around through.
That night we went to De Garre, an unassuming hole-in-the-wall bar with allegedly the best beer in the world. They certainly delivered. We ordered their famous house beer, a Belgian-style triple, and they came with a bowl of cheese cubes, naturally. The beer was incredible, a dynamic flavor experience that unfolded across several seconds. Alternating sips and cubes, it was a near-religious experience for the beer-lovers on the trip.
Brugge is absolutely amazing and I'm going to miss this little city. It was a really interesting city to experience, especially as Summer explained to us, it was completely reborn and re-branded to attract tourists. I can definitely see myself returning for a weekend again in the future.
As we also went on a canal tour today I'm using Chase's suggestion of Under the Bridge by The Red Hot Chile Peppers.
---
May 14: Gardens and Good Food
This morning we left Belgium and headed into the Dutch countryside. It was a lot of driving, but it was very cool to see modern windmills alongside the traditional ones. We got into Holland and made a stop at the Keukenhof, the dutch tulip gardens.
The Keukenhod was amazing. We only had an hour to walk around and a lot of the flowers had been beheaded, but I could have spent hours there. They had some very touristy areas, like the Walk of Fame with flowers named after celebrities, and I was a little disappointed by the historical gardens. At least, I'm pretty sure what I found was the historical garden. Their system of labeling left much to be desired.
However, I saw some incredible flower displays and some truly gorgeous flowers. Some of the most interesting stuff was about the history of the dutch flower market and cross-breeding. I didn't know that you had to plant the bulbs before the freeze. And that they harvested the bulbs in the fall, just like food crops.
I ended up in their gift shop and information area looking for a information on buying bulbs, and a very nice dutch woman working there told me that the bulbs I'd be buying now would be no good and that I should wait until August. Then another very nice dutch woman working there made me a little flower corsage. I also bought one of their five opening tulip vases, partially because it was very adorable and equally baffling.
Finally, we boarded the bus and drove into Amsterdam. Our hotel is outside of the city center, but really close to the tram station so not too bad of a location. We went to a very good nearby restaurant and I had some really fabulous asparagus soup and a quinoa and black bean burger that, and I'm absolutely not exaggerating here, was quite possibly the greatest human invention since Belgian beer. The texture and taste was incredibly close to a real hamburger and the flavor was just amazing. I'm going to really miss the food abroad and this burger in particular when I have to go back to the U.S.
Today's song is Nothing Really Ends from a Belgian band called dEUS. As it's our last day in Belgium I thought it'd be appropriate, plus they have a really interesting samba sound that I'm enjoying.
---
May 15: Man Bites Dog
The canal ride in Amsterdam was a little less intimate than the one in Brugge, and told place on a covered boat, but nonetheless it was a cool view of the city. The canal-side houses are gorgeous, and coming from a city impacted shaped by river commerce it was interested to see a city shaped by canals. Amsterdam makes a lot of sense as a port and I think it's impacted the culture quite a bit, from the multiculturalism to the legalized taboos.
I got a list of Belgian movie recommendations from Summer before she left and learned that she used to work at the Cannes Film Festival. Tour guides are such interesting people. I've included the list here for my own reference and in case anyone else on the trip wants to check it out.
Bullhead
The Alzheimer Case
Alabama Monroe
Dikkenek
Moscow, Belgium
C'est Arrivé Près de Chez Vous
Émotifs Anonymes
She also suggested looking at Benoît Poelvoorde's work. I was kind of surprised with the amount of comedies she suggested. I kind of assumed most foreign films were dramatic, probably because the dramas are what end up in the United States and nominated for Academy Awards. I think I'm going to start with Émotifs Anonymes because I know it's on Netflix.
After the boat ride, we stood in line for several years at the Anne Frank House. I'll be honest, it was a really weird experience. It's such a solemn subject and the museum is designed for that, but the tourist pushing past you and crowding around everything gives the experience a sour note. Maybe we just went on a particularly busy day, but it felt a little like people were treating it like a tourist attraction rather than a monument to an enormous tragedy. I may try going again on a slower day.
And because of the museum, today's song is Holland, 1945 by Neutral Milk Hotel, also suggested by Chase. The album as a whole works really well as a WWII concept album, although I've never listened to it with that in mind in it's entirety.
---
May 16: The Other Side
Today was our first Amsterdam media visit! We went to Vrije Universiteit to meet with Dr. Jolien Arendsen. It was very different talking to someone who views media from an academic perspective versus the professional perspective. Based on this talk, the Dutch seem like they're miles ahead of the United States when it comes to methods of reaching younger audiences. According to Dr. Arendsen, younger audiences pay less attention to hard news and more attention to soft news and non-news. These trends are present in all audiences, but stronger in young ones. They have an ambivalent relationship with the news.
It was also interesting to hear about the history of Dutch media, and a concept I've never really heard of before, pillarization, where society was separated into "pillars". If you were Catholic, you went to the catholic school, hung out with other Catholics and read the catholic newspapers. If you were socialist, you went to socialist schools, hung out with socialists and read the socialist paper. Same for protestants. That was a huge cultural difference to what I know about American cultural sects. Sure there's left and right leaning media and higher education, but the extreme division that used to exist in the Netherlands was unbelievable.
As someone who works in news, it was also interesting to hear about new methods of reaching views, especially Blendle, a news kiosk where you can buy single articles. They found their success in selling the background stories people were willing to pay for not the "new" news that anyone could get through social media.
After leaving VU, a few of us headed into the city and found an amazing record and book store. I was very concerned about my ability to bring vinyl record on an airplane, but ultimately couldn't resist the call of a limited edition colored vinyl of The Rise and Fall of Ziggy Stardust and the Spiders from Mars. The man working there even gave me a discount because "of the wonderful music your country gave us." The selection there was mostly jazz and rock, so I get where he's coming from. We managed to stumble into the art district of Amsterdam with an outdoor art market, all kinds of galleries, a clothing store with my exact aesthetic and quite possibly the most perfect store in the world, The Otherist. I wanted to own everything in that shop, but managed to walk out with just an adorable set of notebooks.
As a play on the name of my new favorite store and because Anthony bought a record featuring Jim Morrison, here's Break On Through by The Doors.
---
May 17: Better Read Than Dead
More media visits! Today we visited two newspapers, one focused on Amsterdam and one national paper. I thought I would like Het Parool, the Amsterdam paper, but they seemed very liberal for the sake of liberalism and like they were trying really hard to be cool. Its history was interesting, how they started as an anti-German paper during WWII and that's how they gained their popularity after the war. There was a big focus on how to draw in younger readers, which they do by making some of their articles free online and having an additional online section. Also, they addressed that their newsroom is primarily Dutch and white, but they try to have diversity through their subject matter to appeal to Amsterdam's diversity. I don't buy it. I still think that if you want to represent a population in your content, that population has to be represented behind the scenes.
De Volkskrant was our next stop, in the same building. There were several newspapers under one roof, which was strange to me. But when you're also owned by the same person, I guess proximity is a secondary consideration. I did like de Volkskrant much more, and not just because that translates to the People's Paper. They transitioned very recently from a socialist paper to a neutral paper, and I really like their news philosophy, that you have to be objective, represent all points of view, ensure that you – as a paper – aren't being used to created publicity and that you as detailed and come from as many viewpoints as possible.
De Volkskrant was also interesting because they had just introduced some new sections. Their Saturday paper now has a "Vonk" section. In America, reporters often write themselves into the story, describing the scene and how they interacted with their interviewees. That's not a thing in the Netherlands, but de Volkskrant is introducing it in Vonk. Reporters take a role in their story and often have a person connection. I like that separation, it makes the rest of the paper more objective because you have a place for the personal. They also introduced a new section called Sir Edmund, after the first (European) man who climbed Everest. It's an alternative to the multitude of inserts they used to have. That was also a big transition for readers because it forced them out of their comfort zone. Instead of just grabbing the science section, now they have the "peaks of human thought" in their hands.
That's the other thing I really liked about de Volkskrant. They weren't afraid to push their readers with new things, giving them a whole new paper on top of a complete change in perspective. That's something I don't think an American national daily paper could get away with because it would be too scared of the fallout. De Volkskrant is forcing people to get used to innovation and surviving storms of criticism to bring them about.
Today's song is Amerika by Rammstein because today as we were walking down the street talking loudly, as Americans abroad do, someone yelled "Donald Trump!" at us and it was a little sobering. So, a band of East Germans yelling about America seemed appropriate.
---
May 18: POTUS
Ketchum was an awesome media visit. We did two interesting case studies. The first was hosted by Tim de Boer, the CEO, about Nespresso and their recycling problem. Nespresso (and bottled water) had been banned in government buildings in Germany because of waste. But Nespresso pods are completley recyclable, it's just no one knows that. So an awareness problem turned into an image problem. A big takeaway was that most crises are self imposed.
Their first step was setting up round tables. This built their profile as a green leader and gained them allies among opinion leaders. Next they expanded instructions on the website to better showcase the recylability and created a newspaper campaign with the headline, "if you are aware, aluminum is the most sustainable material." According to Tim, "you have to know your PR theory and be able to present it in such a way to guide your client."
The next session was with Yuting Pan, who was very cool. The first thing she asked was to write down the first thing we ever wanted to be when we grew up. Then we talked about some potential campaigns for IB's 50th anniversary and each put ourselves in the position of one of IB's audiences to consider the best messages and media to reach them. That was really cool to experience a real problem in a real agency, and I can definitely see myself working at a place like Ketchum Amsterdam in the future.
Up next was World Press Photo. It was not at all what I was expecting. There was all kinds of multimedia, and even VR. It's great to see an important organization like World Press to keep up with technology and the different forms storytelling can take. I was most affected by the short film Raising Zay and the long form multimedia project Welcome To Parkersburg, West Virginia. That was a pretty emotional experience and I'm really glad we all spent the time we did there. It's definitely the number one thing I would tell people to visit in Amsterdam.
Today's song is a Run The Jewels' remix of Miike Snow's Heart Is Full because this has been my jam this week.
---
May 19: Janthony Will Rise Again
Today was our last day in Amsterdam and also our last day! First thing in the morning I headed to the Van Gogh museum. I ended up spending about three hours there. The Van Gogh was really cool because it was like taking a walk through Van Gogh's life. They talked about his influences and artist friends and had samples of all their work. They also had an enormous collection of his letters.
The top level, representing the last year of his life, was the most interesting to me. I probably spent a 20 minutes staring at Almond Blossoms. His work is fascinating because it looks so free and spontaneous, but he was a dedicated student of art and put so much effort into his craft. The time he spent on color alone is awe inspiring.
I bought the museum's book about his relationship with sunflowers and prints of Sunflowers and Almond Blossoms. I also bought cupcake sets for Butterflies and Poppies and Seascape just for fun.
After the Van Gogh I met up with someone I knew who moved to Amsterdam. It was nice to just sit and talk at a cafe. She was very excited to learn I was considering moving to Amsterdam. It's just such a nice city, everyone is so nice here.
From there I headed to the Bloemenmarkt, or Flower Market, which is just a street that sells flowers. I couldn't resist buying some tulip bulbs even though I am aware that these ones will be dry and I should be buying them in August. I also bought a gift for my friend's birthday and a duffle bag for the sheer amount of souvenirs I have bought on this trip.
Today's song is Coconut Record's West Coast since we're going back home tomorrow. And now you can listen to the complete playlist right here! This has been a fun trip and I definitely don't want this to be the last time I'm in London, Brugge or Amsterdam.