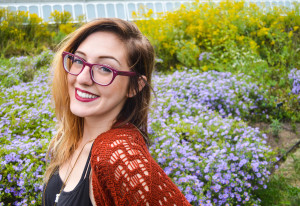 Harley Skibicki is a 21-year-old junior studying Multimedia and Advertising & Public Relations at Point Park University. This background has allowed her to design this year's T-Shirt and help run this Website! Harley loves to travel and throughout the years she has been lucky enough to visit Australia, London, Amsterdam, and (although still within the U.S.), Hawaii. She is excited to travel back to Amsterdam to see the beautiful architecture and use of waterways. She also loves food and can't wait to revisit London for their amazing curry. Harley is also very interested in Art and is excited to soak up some inspiration from Amsterdam's creative environment.

May 6, 2016
I have been so busy; it's hard to believe that our trip is only two days away. Between my Barista Shifts, Freelance Designing, and obtaining this website I have had enough to keep my mind off of vacationing. Now it is time to pack!
Based on my previous International journeys, I have learned that it is so important to pack as light as possible. I am the one who will be lugging this suitcase from London, to Bruges, to Amsterdam, to America; and I know I'm going to fill it up with fun trinkets that I find along the way. It's important to have extra space in your suitcase when you're on your way out!
Right now I'm focusing on my carry-on. I packed up the two books I'm reading, my notebooks, pens, pencils, and markers, my MacBook Pro, portable charger, and a nice comfy neck pillow to help me through the flight. Along with my gallon sized bag of 3oz or less liquids, and some cough drops and melatonin, I am so set for the journey! I also couldn't forget about the chewing gum so my ears don't pop as we ascend into the sky!
Though getting there will feel like forever, I cannot wait to be in Europe!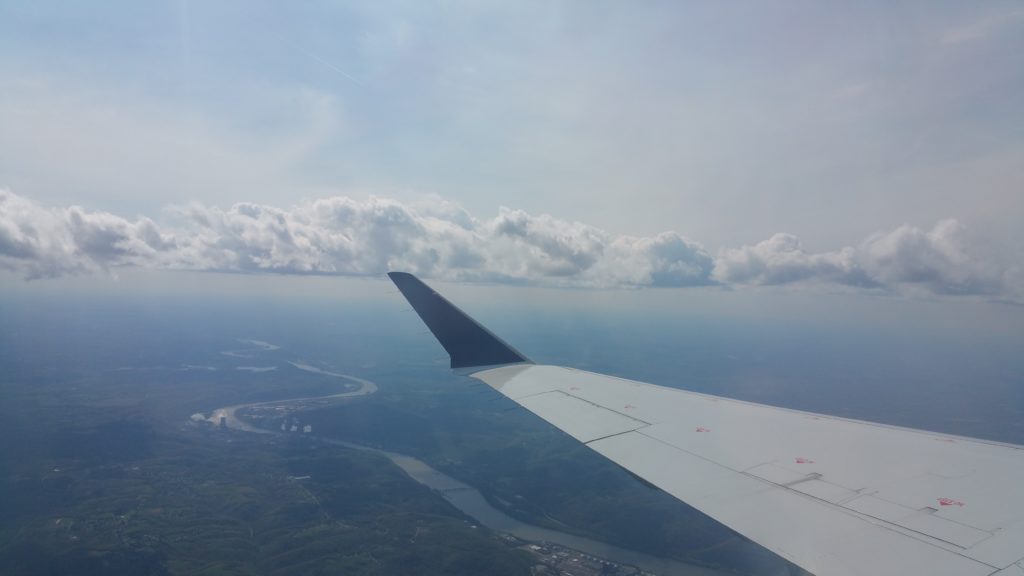 May 9, 2016
Today was very long. We arrived at Heathrow International airport at 8 AM and immediately began our day. Luckily I got about 4 or 5 hours of sleep on the plane. I don't have trouble sleeping while traveling, and taking some melatonin surely helped. Some of us were not able to fall asleep on the plane ride and as the day progressed, it was easy to see who didn't. As we were sightseeing on the coach bus I watched as my fellow travelers dozed in and out throughout the city of London. This tour gave us a great chance to grab photos if we were paying close enough attention and could duck the glare from the windows. I would have enjoied it more if I could have walked around and had more time at each place. Also, that bus ride was making me fall asleep!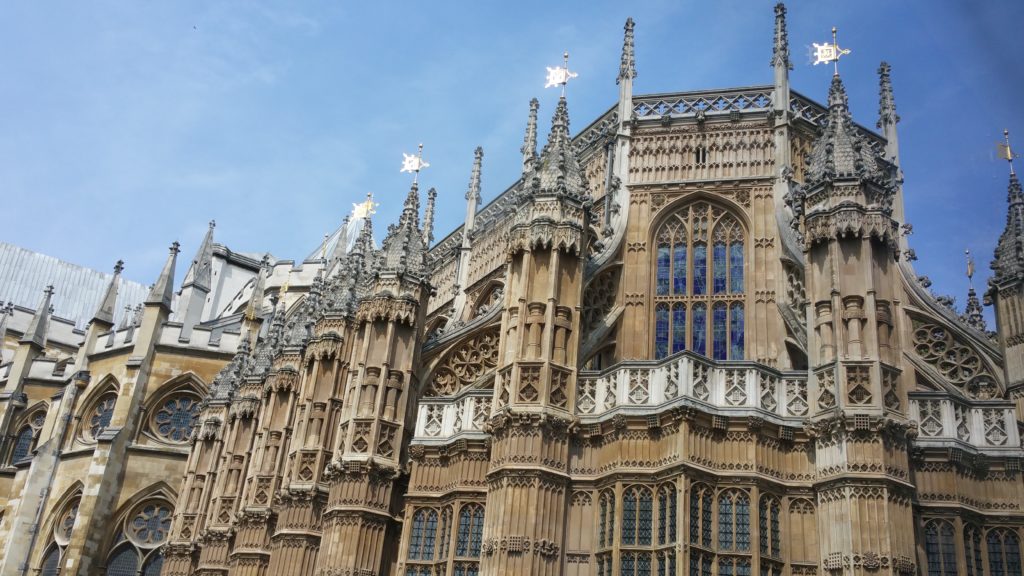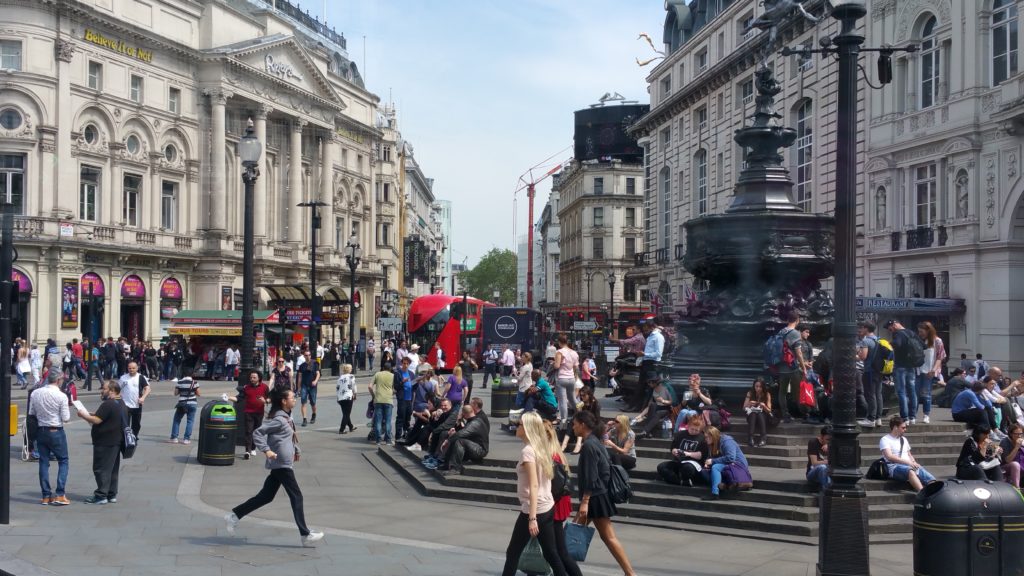 I have been so busy; it's hard to believe that our trip is only two days away. Between my Barista Shifts, Freelance Designing, and obtaining this website I have had enough to keep my mind off of vacationing. Now it is time to pack!
After the tour we had some free time, so my lassies Jess, Lauren, Hannah and I went exploring. We made our way to into the University College London Union, (I've never heard of it either, but we were curious). Next we moseyed our way to St. Pancras Station and Renaissance Hotel. The whole reason why we decided to sneak our way into this place was based on its extravagance. I almost thought we weren't able to get near it because there was security all around and the cars parked outside were so exorbitant. But that didn't stop these misfits from giving ourselves a tour.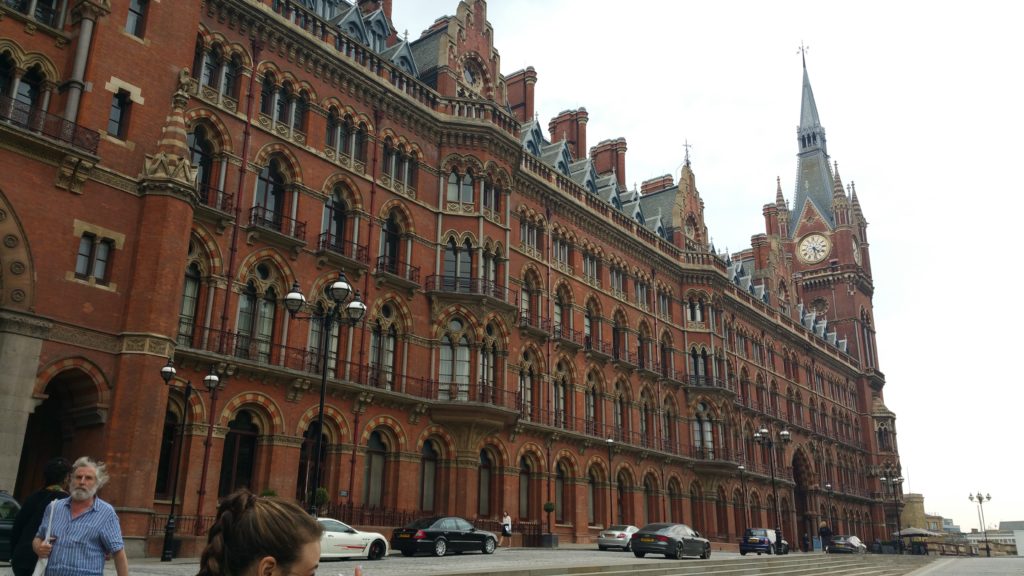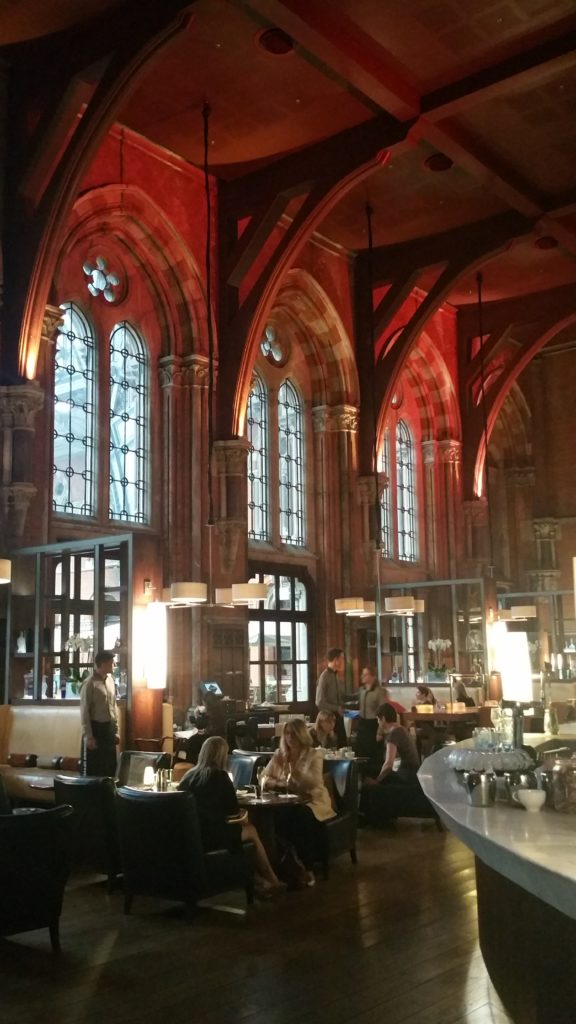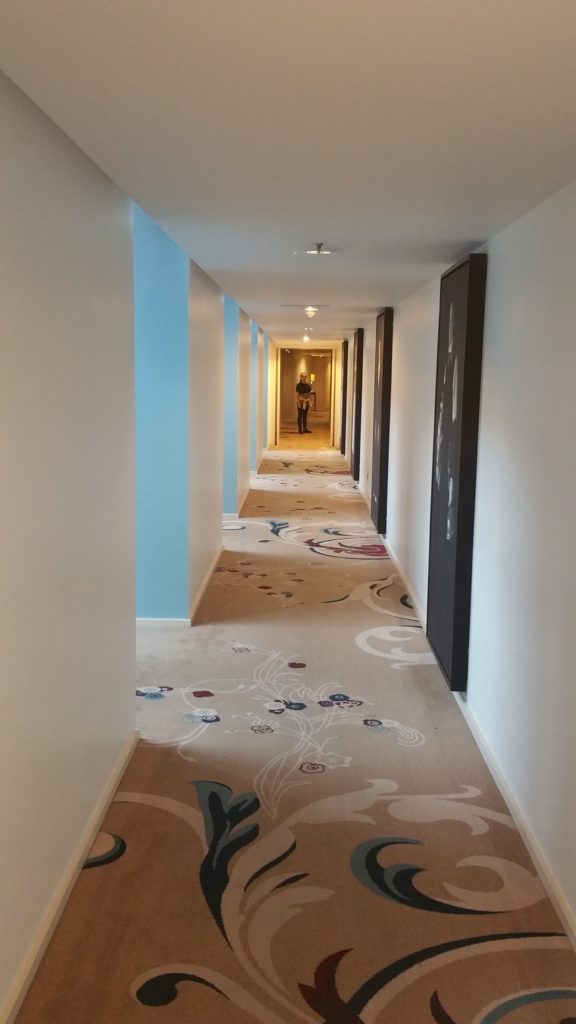 For dinner we all met up and had some EXCELLENT fish and chips. This was my second time eating this classic English dish, but this was definitely the best. As said by my good friend Lauren, "If fish falls apart like that you KNOW it's good."
We had expectations to go out for a drink after dinner, but once we got to the hotel room to put some things down we couldn't resist sleep. We had a long day and did so much. We deserved those 10 hours of sleep.

May 10, 2016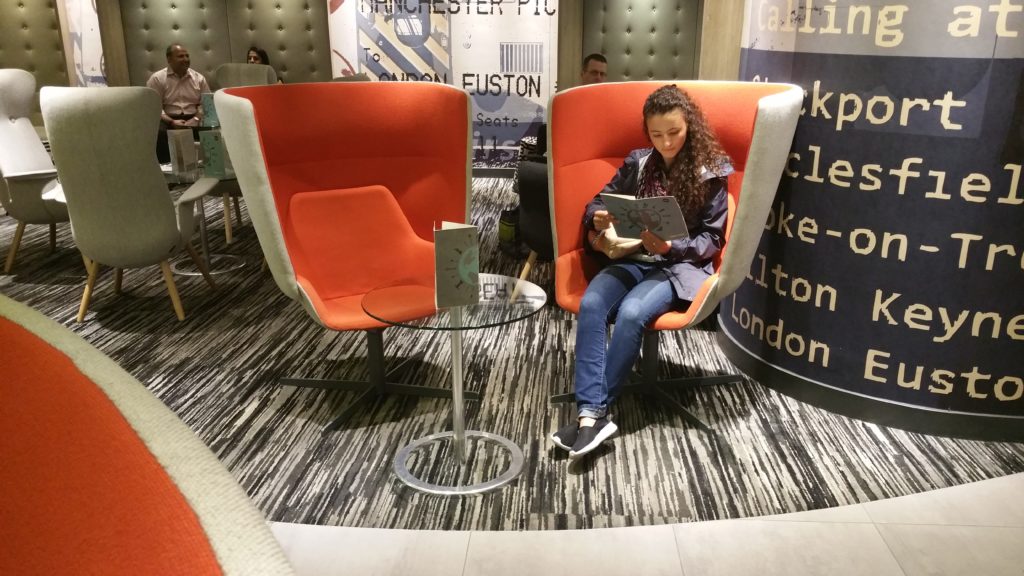 We started our day in the lobby which included a huge array of different breakfast things. The traditional English breakfast was offered, (beans, ham, cooked mushrooms, sausage), but I did not take part. When I was here previously, I didn't really like it and it was too filling. Normally I eat a very light breakfast, like a banana and breakfast bar, not beans and meat! So I ate some fruit and some fluffy croissants.
Next we took the tube to St. James Park, there we took a lovely group walk to the Horse Guard Parade. This  whole changing of the Guard thing is a little weird to me. Why does London need a ceremony like this that lasts 30-40 min when this is basically just like a royal shift change?! At the same time, I must remember that everyplace has their own traditions. Its hard to think about because the history of America is not as old and rich as history is here in Europe. When comparing the two, many Americans really enjoy watching fast cars circle a track 500 times (NASCAR).
Next we walked back through St. James Park and made our way to the London Tower Bridge. We learned
from our tour guide Ed that the London Bridge is actually the less flashy main road bridge across from the London Tower Bridge, (the fun flashy one we all took pictures with). Of course, Fergie's hit London Bridge was stuck in my head and I sang it aloud for my group…. Then they joined me and it was much more fun.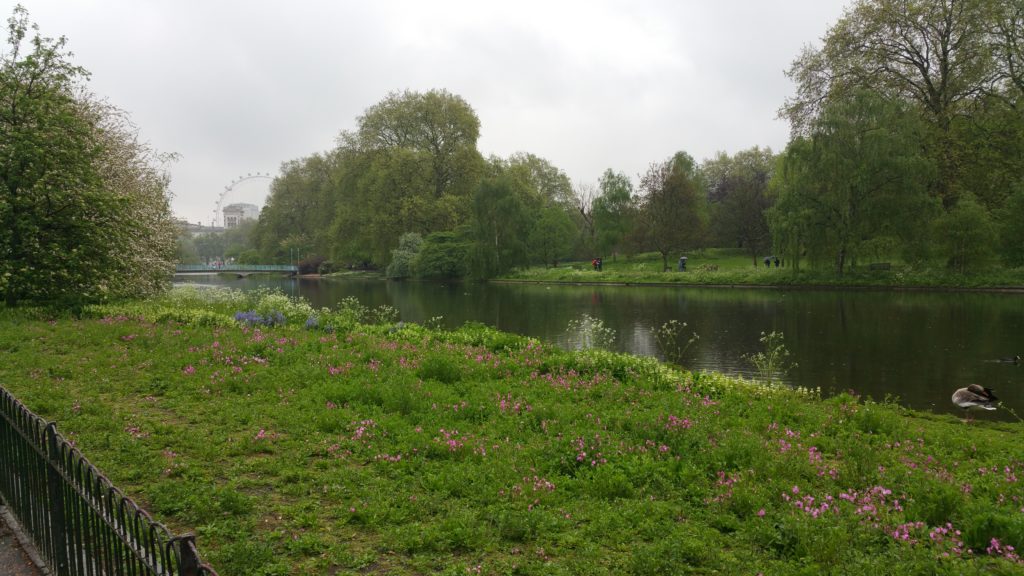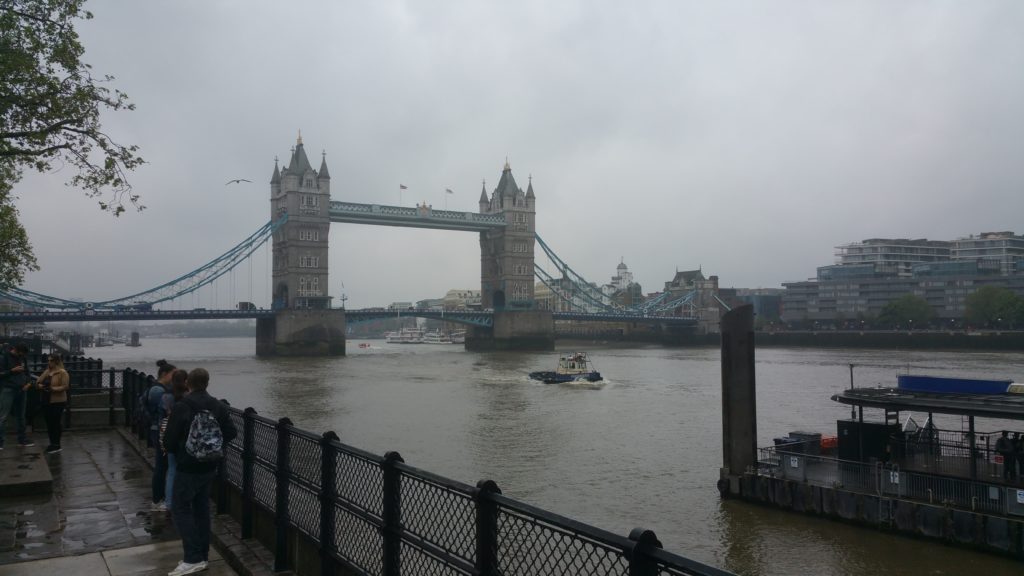 From there we went to the very old and historic Tower of London. This is where I got to see the royal jewels! I've never seen anything this expensive before in person. I have seen The Hope Diamond, but all of these were much more extravagant. The jewels were huge and everything was gold. The whole kitchen set was gold plus a huge Punch Bowl large enough for 144 Bottles of wine along with a 4ft long gold ladle. The London Tower was also home to Royal Beasts that were acquired as the British discovered land further and further away. There was a Baboon that once killed a boy by throwing a cannon ball at him and also smoked from a tobacco pipe.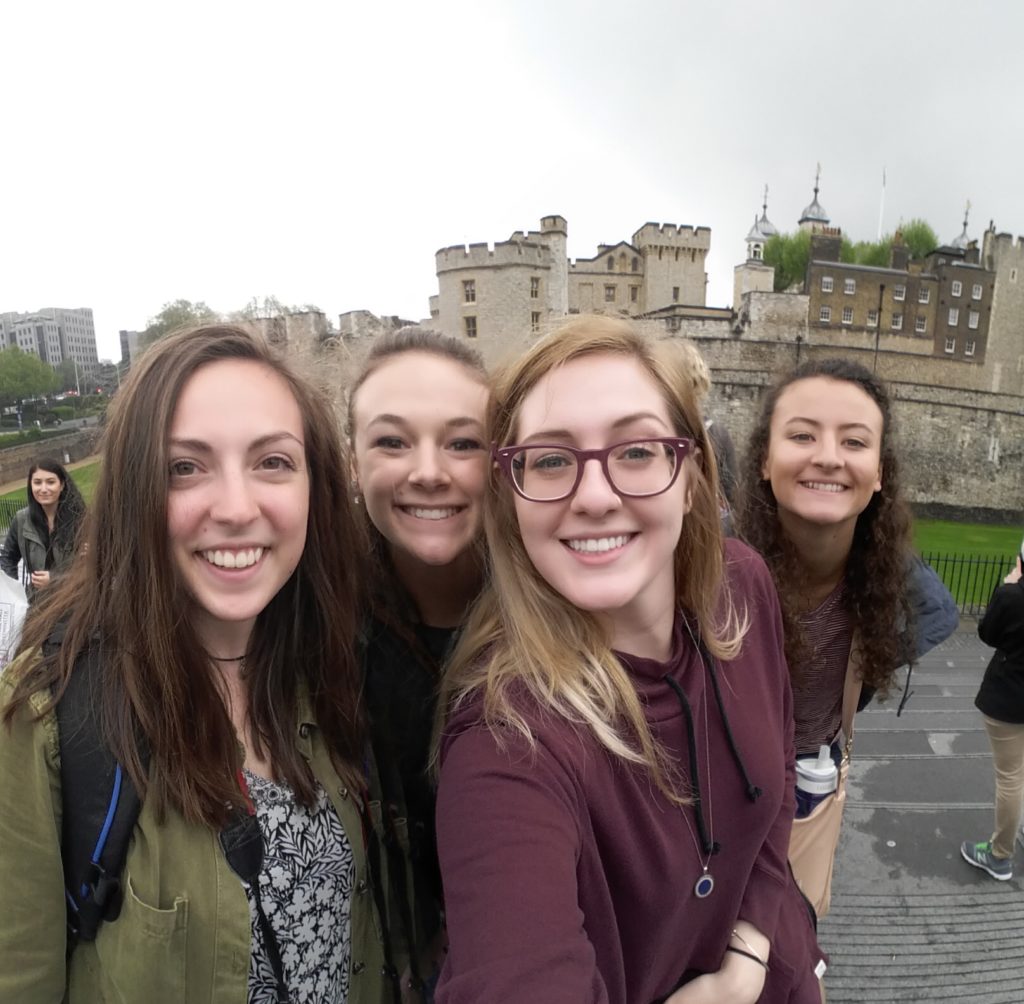 I also made sure to tour the torture chamber which was very small, but powerful. There was a device that hung prisoners by their wrists. Another wrapped around someone who as curled up into a ball and adjusted to crush them. Then of course, there was the table that held their hands on one side, feet on the other, and pulled the prisoner apart. This place has seen some crazy things throughout history.
Next, after grabbing some food at an outside market we went to the globe where Shakespeare directed and performed plays. I'm going to say it again… SO MUCH HISTORY WOW!!!!
We then took the short walk to SOHO for some shopping. From my last visit, I remembered this really cool shoe place with crazy ridiculous heels. I went to check it out again, still just as cool, but what was more interesting was this place called Beyond Retro. This Vintage clothing store is very popular here in Europe. They collect fashionable old clothing and either resell it or alter it into something more stylish. It's like a Salvation Army, but way more fashionable and expensive. I got a great black hat there that seems like a mixture between a Broner, and a Betmar Darcy…. AKA, just very awesome and I can't wait to wear it this winter.
I thought yesterday was long… Today was longer!

May 11, 2016
Today was our first Media Visit; we traveled to BattenHall, an Ad Agency located in London. This agency provides companies with social media, Public Relations, and video. This benefits these organizations by providing them with an agency that can do it all. Created by Drew; a guy who has experienced the corporate world, didn't agree with it, and has decided to build the future of PR. They don't need an AD Agency for each platform of work because they can handle all platforms. They have about 40 clients and claim that they are a people business.
Next we went to BMB Advertising who have clients that include Microsoft, Bic, Linkedin, New Balance and much more. Immediately, I fell in love with the workspace. Everything was designed in such a cool way and there was open room for creativity.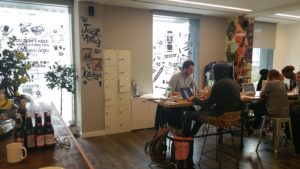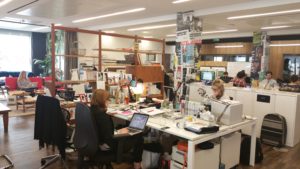 David Corfield, the Creative Designer opened our meeting with some great words, "Creativity has a key role in making communication effective."
He also said some other things like; Make sure your message is clear, but creative and interesting. Find interesting ways to share to the masses. Be candid, talk openly about what you're working on.
The next speaker who really stood out to me was Louise Sloper who is in charge of all Output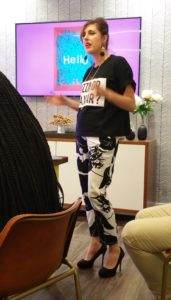 Design for BMB. She has her Masters in Typography and began designing after schooling. She gave me so much inspiration to be as colorful and creative as I want to be. She talked about designing with a purpose, you won't always get your way, and that its okay to say no. That helped me right away, I have had experiences in which clients really don't understand how design works, and they think on a scale that isn't consistent with my abilities. Saying no is okay, but giving them other great options is crucial. Louise also said to constantly engage in the world around you and look at other countries work to get inspired. She told us to STOP PEOPLE IN THEIR TRACKS and make them look at your design. Then she really hit home when she told us to believe in WANT IT, and ourselves and we must force ourselves to do it. I really loved everything about Louise's presentation, so I sat down and chatted with her for as long as possible after our meeting was through. I got her email and will try my hardest to keep in touch and continue to learn from her!
"Be a lot of things. Be many things. Keep reinventing yourself." – Louise Sloper

May 12, 2016
Today I saw the White Cliffs of Dover, but only for a second or two before hopping on the Pride of Kent Ferry to cross the English Channel to France. It was a beautiful day for a ferry ride and I tried to stay outside as much as possible. There was a little shopping area that felt like a mall showroom where I got some last minute gifts for my brother and niece. We arrived in Calais France, met our new tour guide Summer and got on a coach bus that would take us to Bruges, Belgium.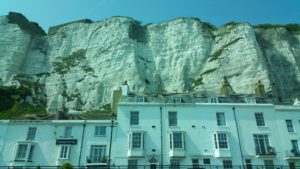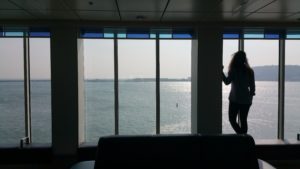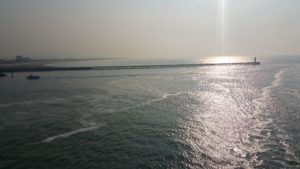 Along the way Summer informed us about these places called The Jungle. Here is a link from BBC News to inform you about them. http://www.bbc.com/news/uk-29074736
And click here to see a more recent article from the Guardian
We drove past one of these small camps.
After about a two-hour drive we arrived and checked into our hotel. This hotel was my favorite; even though the elevators could only hold two people and I had to carry my luggage up a flight of stairs. The walls facing out towards the street were filled with large windows that we could open all the way and everything just felt perfect. Next we went to dinner with the group and had some amazing chicken. Anthony, (the butcher), told me where to cut and my small town roots made me bite the meat off the bone. Then there was the dessert, a fruity trail of a strawberry mousse with POP ROCKS and other little goodies. It was delicious. When coming home from dinner we came across an abandoned building where locals come and plant flowers, trees, or vegetables. It was dark by this time so we didn't get to see it in its full glory, but I was still such an awesome idea and fun to go through.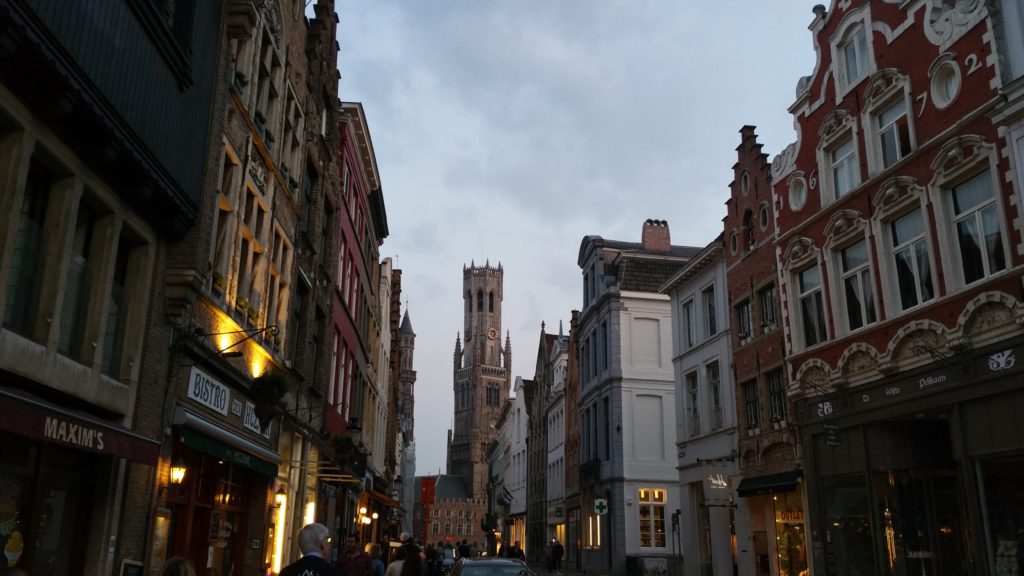 May 13, 2016
It's FRIDAY THE 13th!!! And they don't really celebrate that here. Anyway. . . This morning I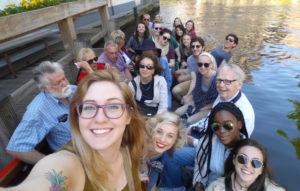 had an onion heart for breakfast… that was the first and last time I think I'll ever eat one of those. We all went on a canal ride and, oh my goodness, this place is even more beautiful from the canals! Words really can't describe how beautiful everything here in Bruges is. The architecture is so amazing, you can't tell if the building was built last year or 100 years ago because they keep the original styles consistent.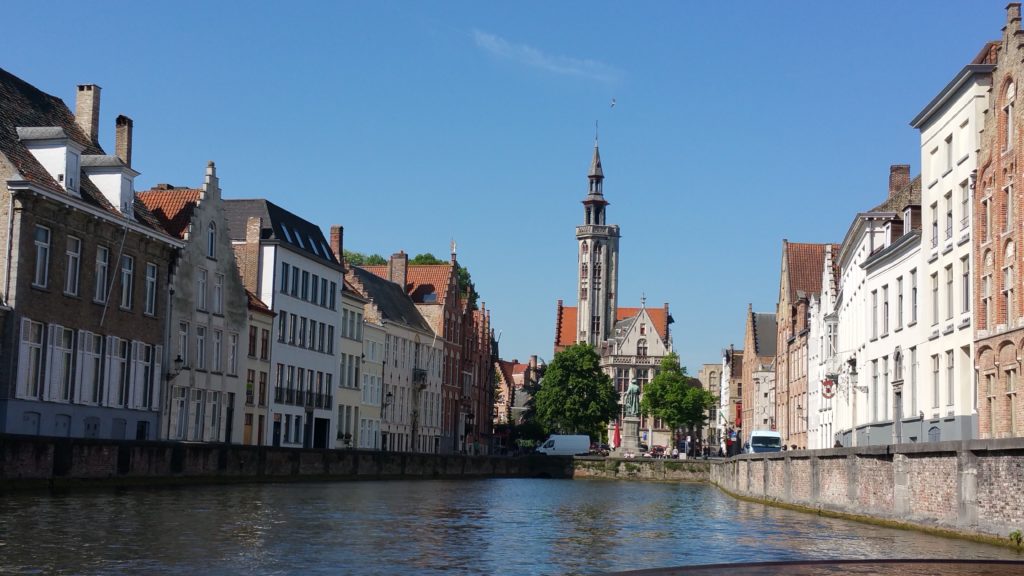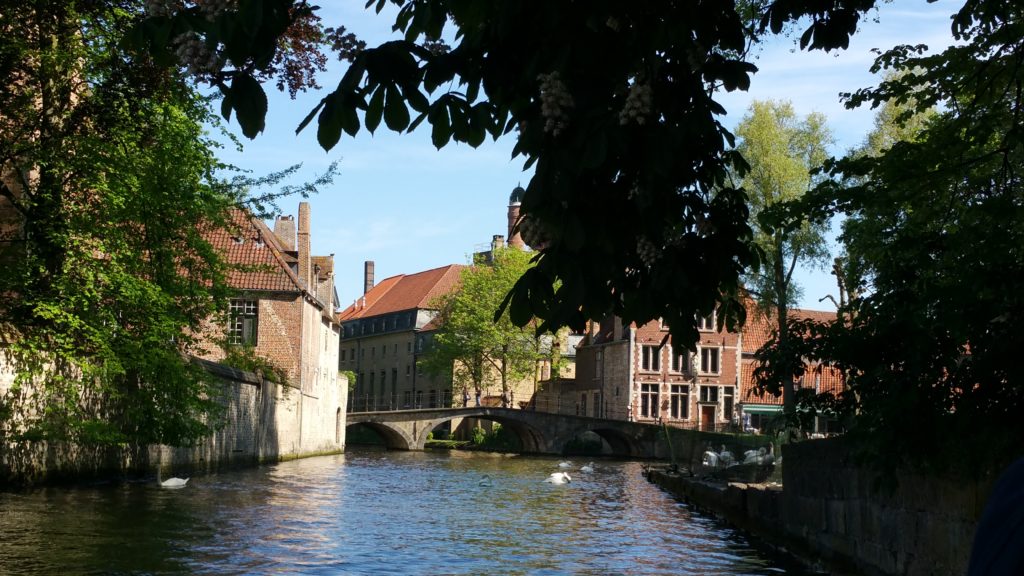 We then toured the Church of Our Lady and saw the Madonna and Child. This was the holiest place I have ever been, and I was overwhelmed with a spiritual feeling when inside. I felt the need to kneel down and pray! The stained glass here really caught my attention. How did they do it!?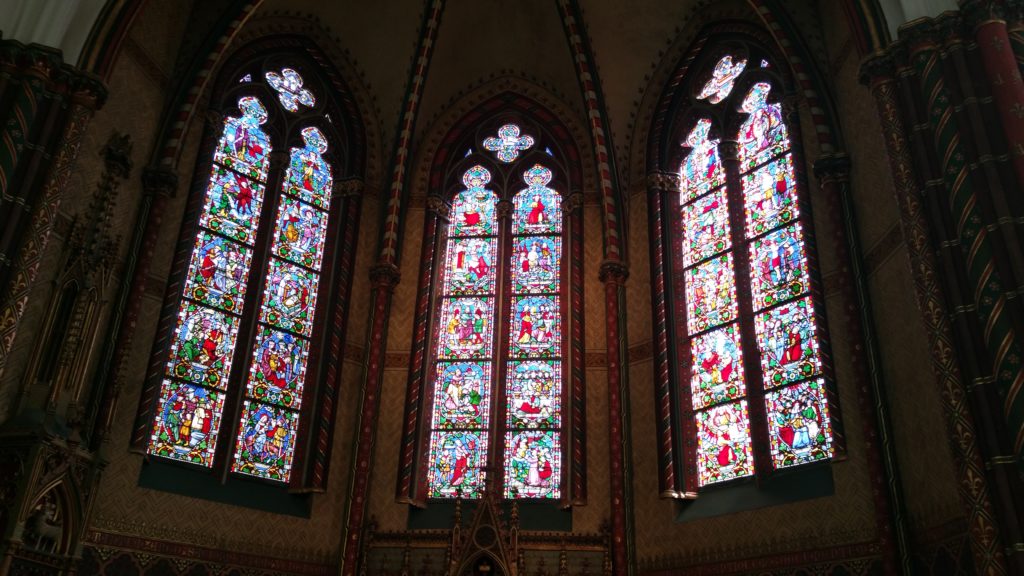 Next we went to the chocolate museum and yet again, I was in awe in Bruges. I saw three-foot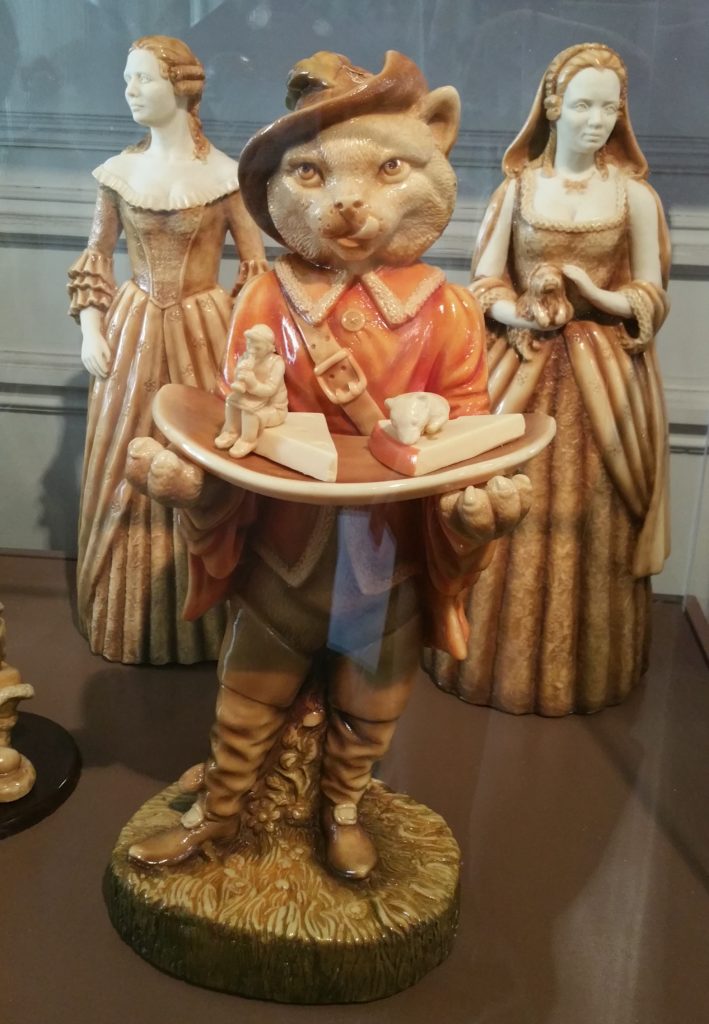 -tall chocolate sculptures that looked like porcelain but were 100% chocolate. With our tour we were given a nice big bag of chocolate, but this is also where I did some shopping for my loved ones and myself. Who wouldn't love a chocolate present? I got a little chicken chocolate mold to remember this experience, a raspberry crumble piece of chocolate, and a box of assorted chocolates, I can't wait to eat them!!
After the tour of the Chocolate Museum we had some free time. Hannah and I went to this small, quiet, fancy art shop. We soon realized that these pieces were way out of our price range, but were too enthralled to leave. The pieces included illustrations and paintings. We were in there for such a long time and we still didn't get to see everything. Next we went on the hunt for awesome hand made trinkets, and we came across a store with twirling teddy bears and toys in the window. When we went in there was an older lady knitting at the cash register desk, this was her store. She then pointed out to me everything she makes by hand. I had to have one of these teddy bears, she made them with her bare hands and I'm sure she has put so much time and love into this shoppe. I walked out with a turquoise knit teddy bear with "BRUGES" on its chest and I was happy to support this wonderful business owner.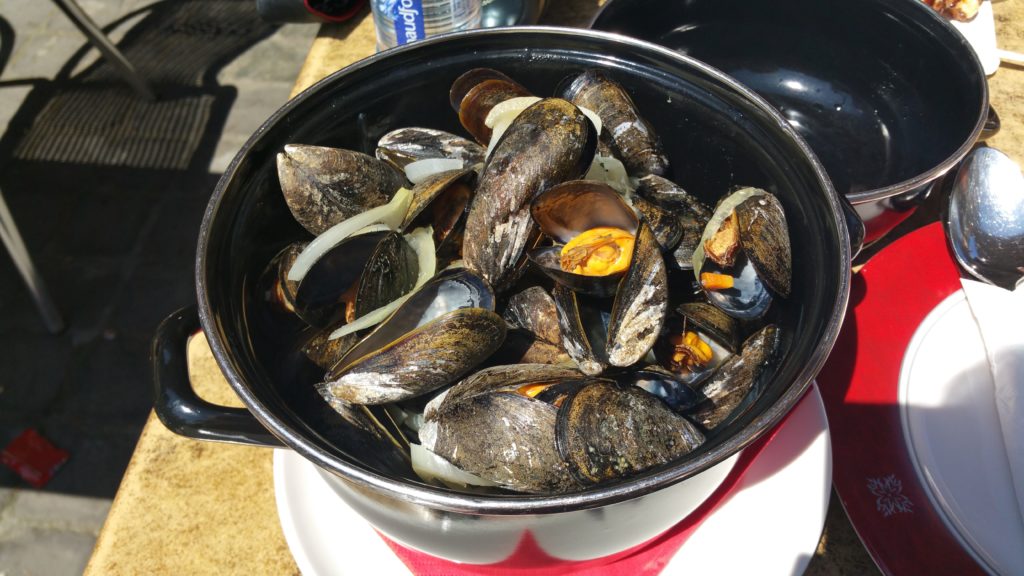 For lunch I splurged and got some mussels, which were bright orange and huge, but weren't as good as the ones at Il Pizzaiolo where I work in Pittsburgh. After dinner we walked around some more and tried to soak up as much of the beautiful views as possible.
For dinner I had spaghetti in a 500 year old bar. The food was okay, (Lauren's fish soup was amazing), but what really got me was the history of this place. We were sitting in chairs that have supported probably thousands of people's bottoms spread across hundreds of years. I can't compare that to anything in the US.
Next we met up with most of the group in a hidden and tucked away brewery/bar. This bar, like many here in Bruges, brews its own house beer that is only served at this bar. I don't really like beer, but this stuff was amazing, and STRONG! Strong enough to help me forget my cell phone there. FRIDAY THE 13th CURSE!!!

May 14, 2016
This morning started out very stressful.  I, (of course), was without my cell phone and was on a mission to find it. We went to the brewery where we had been the night before and it was not yet open. I was so frazzled, more because of all of the photos I had just taken in London and here in Bruges were one in a lifetime. Yesterday, on our way to the hotel we noticed a lady looking rather lost and we saw she had a map from the same hotel as us. We offered to help her find her way since we were both headed to the same place. We chatted a bit and we found that she is from a town about an hour outside of Amsterdam. Today, my friendly and outgoing traits paid off. The same lady just happened to be at the front desk the same moment as me, she offered to bring my cellphone to the Hostel we were going to be staying at in Amsterdam. I still cannot believe how lucky I am for that woman. My photos and cellphone are safe and my thoughts about the humans of this world have changed a bit.
We then took a coach bus to the Keukenhof Gardens. As we entered we were presented with a map, which was much needed; this place was HUGE. I have never before seen this many flowers, and for most of them to be tulips was hard to wrap my mind around. If you come to Keukenhof, mess around with some tulip bulbs, and create a new type of tulip you can name it and have a section in this garden. I saw tulips that were black, spikey, super tiny, super tall and so much more. Another thing I really enjoied while in these gardens was how happy everyone was. Who can be upset when you're surrounded by millions of flowers?
After we frolicked through flowers we took the rest of the day to settle into our new home for the next six days. We are staying in a hostel and this will be my first time ever staying in something like this. We have roommates from the group so it isn't anything like I imagined a hostel would be like.
Next we went to dinner at Bret, which is very close to our hotel. Here is where I realized how different service is in the US compared to Europe. We had already ordered our dishes prior to arriving, but it still took us nearly three and a half hours to get through our food. Coming from the service industry, this was very hard for me. I understand how long it should/ shouldn't take for a party of 20 to finish a meal and I am used to getting through all courses within two hours. We were sitting and waiting for service most of the time, we all ate very quickly so it wasn't because of that. Honestly, I'm probably reading too much into it because I have recently been a server at a high quality restaurant, but still… three and a half hours?
After dinner then took a short adventure and tried to get comfortable with our surroundings.  My cough and congestion have been getting worse, so I checked in early tonight to see if it gets any better for tomorrow.
Sorry I don't have any photos for today, it was a sight I really wish I could have captured. That's what happens when you don't keep track of your phone!

May 15, 2016
Today we got some much needed sleep and started much later then we are used to. We began by taking a Coach Bus to the Dutch countryside. Here we got to tour a windmill, which was CRAZY! I haven't ever thought about what goes on inside a windmill, but after the great explanation by a guy who has been working with them for most of his life, it makes sense. There is a huge rock wheel that rolls around on a flat rock surface, this is where, (in this case), limestone is placed and then ground up into dust. The rolling rock is connected to a whole bunch of gears that are connected to the outside blades. When the wind blows, the blades turn, the gears turn, and the rock rolls and grinds up whatever is placed beneath it. Its very windy here and as I climbed up this windmill I could feel the structure shaking. I was scared to be up so high on a rickety old landing, but I am so happy I went out and saw this thing up close and personal. The view from the windmill was beautiful and just seeing how these structures began was a great learning experience. Also, this is how they made pigments for paint, not just any paint, THE paint used by the very famous Vincent Van Gogh. Around this area is where he created his masterpieces. Here is also where we saw a demonstration of how cheese is made and were able to try a variety of cheeses. I made sure to pack extra lactate pills so I could enjoy this day fully. I left with some Garlic and Herb Gouda and yet again, Belgium has me excited to come home so I can eat the purchases I made. Next we watched a clog demonstration and I have never wanted a pair of wooden shoes so much. I didn't buy myself a full sized pair, but I did leave with a tiny, keychain sized pair with a letter H on them.
After we frolicked around the Dutch Countryside and played with some old fashioned toys, we hopped back on the Coach Bus. We ended up on a boat tour through the canals of Amsterdam, and discovered how large these canals were compared to the ones in Bruges. It was very cold and windy, so I was happy that our boat was inclosed so I could really enjoy the sights. While on this tour I had a KitKat Bar that tasted very strange compared to the ones in the US. This one wasn't as good, I'm sure it's because everything that makes US KitKats good is really bad for you and Europe wants nothing to do with them.
Next we went to the Anne Frank house. While standing in a SUPER long line we came across an artist who made little wire handheld games. They reminded me of a visual rubixcube; you can make it into 100 shapes if you can find them. He made them there on the spot and our group probably made his day because we bought so many. I talked to him about his other art and was lucky enough to take a look through his sketch book. This expirence was very cool and I'm glad he helped the line feel less long.
I remember thinking about the Anne Frank house when I read the book in high school. I wondered what it would look and feel like, but I never thought I would be going through it. Today, I went through history, walked through the house where more than seven people were hiding, learned more about the Jewish history in Amsterdam, and became even more thankful for the time period I was placed into this world. I have the power to have my voice heard, and Anne has inspired me to do so. She was thirteen and she had such complex and amazing thoughts. She had beautiful handwriting and her grammar and word choice was so advanced. I hope to have gained even just a tiny bit of her brightness; only a small amount would go so far.
For dinner we met up with some Point Park Alumni who live here in Amsterdam. It was interesting to see how and where these former students ended up. It helped me see that yes, graduating is scary, but the world is your oyster and it's up to you how great you make it.
After getting back to the hostel, I feel asleep as soon as I hit the pillow. We are staying very busy and this sickness is not helping with my drowsiness.
(Again, sorry for the photoless post, I just received my phone from the front desk today)!

May 16, 2016
I was very lucky to be able to sleep in today, this cold is definitely getting much worse before it gets better.
We had another Media visit today. We toured Vrije Universiteit Amsterdam (VU University) and got a really insightful lecture from Dr. Jollen Arendsen. Her students call her Dr. Eagle and I prefer that name; it's more fun.  We toured the campus which was pretty nice; it was still under construction in a lot of spots, but its on its way to being great.  Most of the buildings were closed because of Pentecost, so the tour was very short and to the point. Next we sat down in a lovely lecture hall with fantastic chair/desk contraptions. We went through a timeline of Journalism based on Amsterdam's history. I learned that today, the people of Amsterdam spend 14% of their day on media and most of that time is spent watching. Not reading but watching! Also, people in our parent's generation; or Generation X (birth dates ranging from the early 1960s to the early 1980s),have been watching TV their whole lives and are going to keep doing that forever. Our generation as The Millennials have had our phones forever, our laptops, and all of those other handheld devices and will probably uses them and be used to similar things forever. This leads me to believe that if I ever have children, they are going to have something completely different from us, and I'm sure it will be hard for me to adapt, maybe even to the point that its very hard for me to understand. But learning and seeing this now is really cool, and I'm glad Dr. Eagle talked about that with us. Next we got into the nitty gritty about US politics. So far, my experience with being an American here in Europe is that others see us as EXTRA stupid because we are about to have Donald Trump as our next president. I don't want to get too deep into this subject right now, my word limit for each day is supposed to be around 300 words… (oopsie). But I have seen that there are other issues these countries could be talking about, but it's fun when the most successful country in the world fails, especially to smaller onlookers.
After this visit we explored a little, and had a quiet night in the Hostel's lobby. I still feeling pretty sick and we are scheduled to be at our next media visit very early tomorrow. Turing in early is a good idea for me for sure.
(I'm learning a lot about how to take care of yourself with this cold. I need to eat right, drink lots of water, relax and get sleep. I'm also seeing things that make it worse… Regardless, traveling while sick isn't fun. Take care of yourselves friends!)

May 17, 2016
Today was all about news!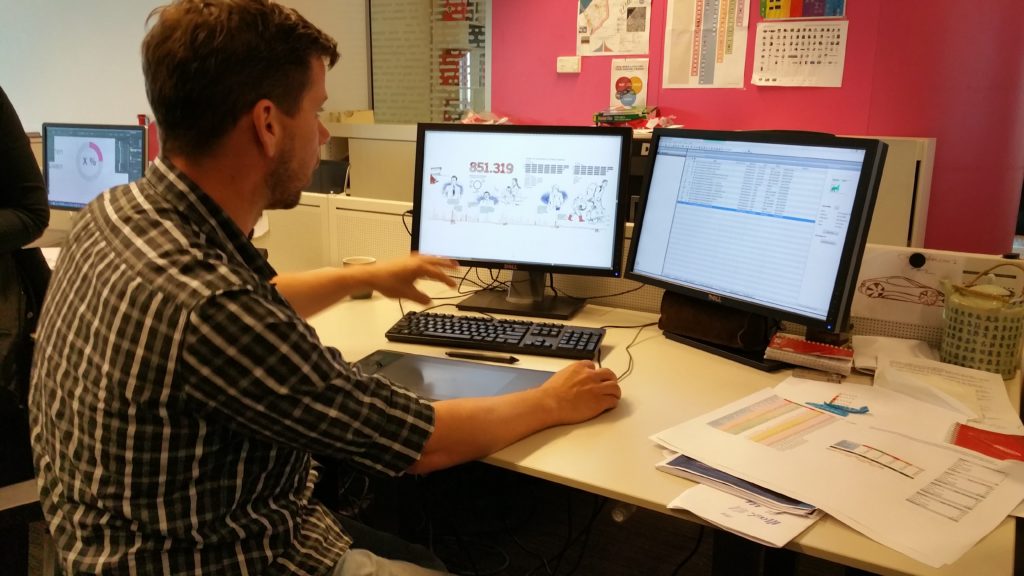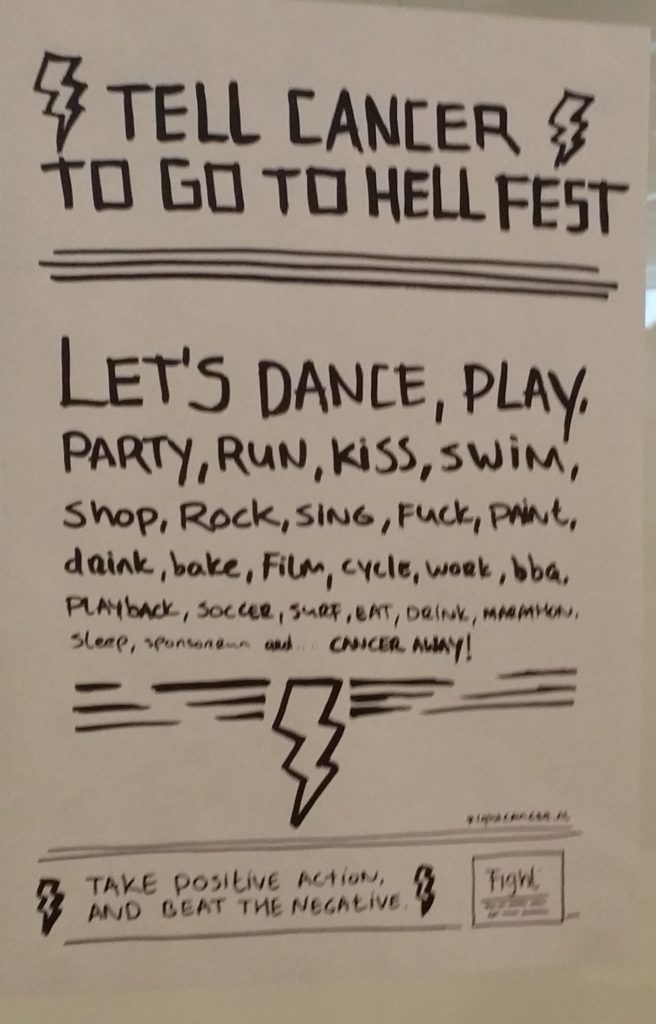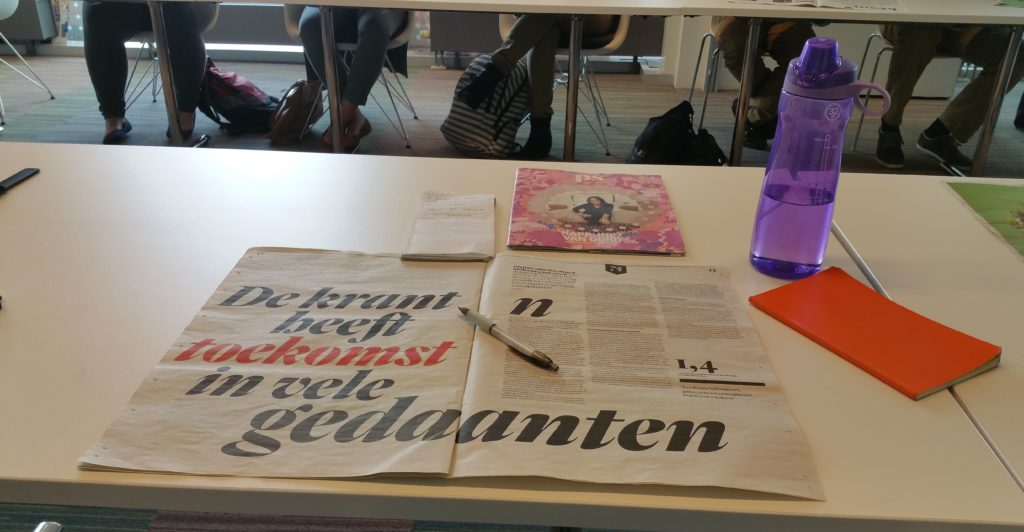 (to be continued)

May 18, 2016
Wow time is moving very fast, yet very slowly. I'm learning so much and I feel like my brain is overflowing. I don't want to go back, but I miss the easiness of my routines. It's hard interacting with all of these people and figuring out who likes talking about what, and who likes doing this, or that. It's an expirence that is helping me realize a lot about myself: how I interact with people, what I say as opposed to what I think. This trip is really helping me find myself, and I am very thankful for that.
Today we woke up bright and early and headed to our last media visit to Ketchum.
(to be continued)

May 19, 2016
Last day in Amsterdam.
(to be continued)