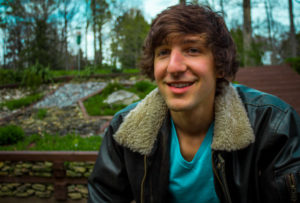 Chase Barron is a Multimedia student at Point Park University who was born and raised just 2 hours northeast of Pittsburgh in rural DuBois, Pennsylvania.  He has grown to enjoy the outdoors and organic lifestyles and he aims to utilize media and technology to promote environmental awareness.  Chase passes his spare time with photography, board-sports, books, food, and frisbees.  His biggest passion, other than education of course, is pursuing music with his poorly named rock band "Chase and the Barons."
---
MY INTERNATIONAL MEDIA BLOG PLAYLIST
Don't read in silence.  Reading is boring!  This playlist accompanies my blog posts.  Every day I shared a song that reflected what we did.  I totally stole this idea from Jane… but hey, just look what Edison did with Tesla's electricity.
Allow me to justify my theft and add some tunes to your stay at my blog.  Sync up your reading to this playlist.
---
Sunday, May 8th – Pre-Trip Blog
LONDON CALLING – THE CLASH
When you announce to your friends and family that you're packing up for a trip to London, Bruges, and Amsterdam, you're quite likely to receive an obscure look in return.  They will be intrigued.  They will be incredulous.  Whatever the expression on their face appears to be, it is doubtlessly tainted with the cockeyed suspicion that you will take total advantage of Amsterdam's "live and let live" social tolerance policy.
I am not in this just to experience some pleasant contrast in justice legislation, however.  I believe that a proper college education is not complete without some culturing.  I have never been to Europe.  Though Pittsburgh is a great place for a photographer, student, and musician like myself, a change of pace is much needed after 20 years in Pennsylvania.  Goodbye Pittsburgh.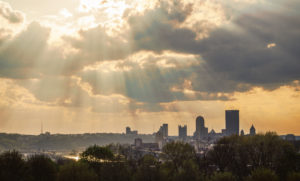 Checking the big, accent-ridden, landmass off of my bucket-list is long overdue.  In fact, there are several items that need checked off my bucket-list that might be achieved during our travels…
Recreate The Beatles' famous picture at 

Abbey Road

 (I've got dibs on George).

Visit an authentic late-night blues club in Soho.

Visit 

Shakespeare's Globe Theater

 (they're showing 

Midsummer Night's Dream

 on May 10

th

).

I never expected to like Shakespeare… but I had to take a class on him last semester. Take my word for it – Shakespeare was definitely an alright dude.

Drink an authentic Belgian beer at the legendary 

Bruges Beertje

 and/or 

De Garre

 where the House Triple is apparently a brew to cross the Atlantic for.

Cycle the streets of Amsterdam and row the canals.
Well… There may be more on that list.  But that's all that I can think of off the top of my head…
In my preparations, I have made a point to binge-watch all of Anthony Bourdain's televised visits to the countries we will be exploring.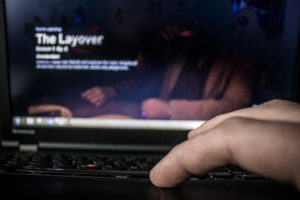 I trust that man with my life as well as my dinner plans.  Being a shameless 'foodie' of sorts, I must admit that I am excited to explore European food culture.  Their locavore movement has allowed great farmer's markets to spring up near urban centers.
I am now going to attempt to stuff everything I might need (and a Frisbee) into a carry-on sized bag.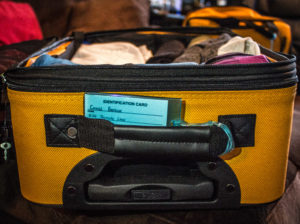 ---
Monday, May 9th – London Arrival & Orientation
LEAVING, ON A JET PLANE – JOHN DENVER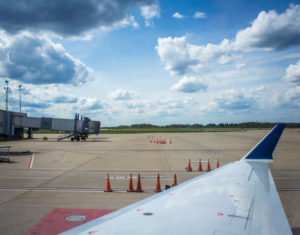 We left New York at 8pm.  We arrived in London at 3am…  Unfortunately, clocks work a bit different here and 3am is referred to as 7am.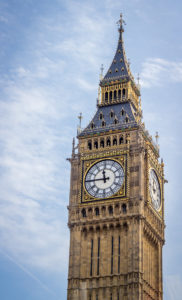 Red-eyed and groggy, we endured a line longer than the Spartan army to get our passports stamped.  "The air-conditioning hasn't worked in years," reported a security guard.  "Except during the winter."  Fortunately, passports double as personal handheld fans.After being confined to airplane seats for over 7 hours we were welcomed to London by bus seats as we stayed awake for a several-hour tour of the city.  Unfortunately, red busses double as monument blockers.

The U.K. has earned itself a reputation for wind and rain.  Fortunately, the weather was abnormally adequate today and the sightseeing was spectacular (especially when we got out of the bus!).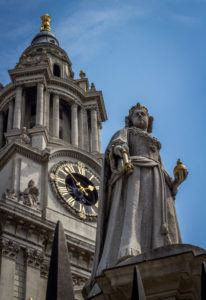 English people love to form long lines (or "queues" as our tour guide Ed would say).  Unfortunately, so do their cars.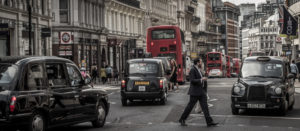 After lunch, and after Visa Travel Cash cards were declined in exchange for proper snacks and crumpets of sorts, we were brought to our comfortable hotel which proved superior to public bathrooms in accommodating our needs of self-maintenance.  Fortunately, for the young adults on this trip, we're just a short walk from Soho.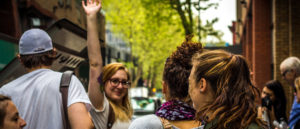 Four cups of self-medicating coffee later and in shameless anticipation of proper fish n' chips, I can safely to say this – "London rules".
---
Tuesday, May 10th – London Sightseeing
UNDER THE BRIDGE – THE RED HOT CHILI PEPPERS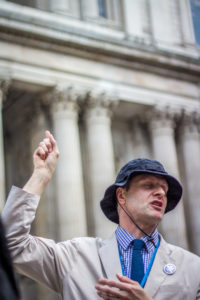 "It's Ah-dee-dahhs," says our tour guide Ed.  I'm not sure I believe him.  I have been wearing Adidas sneakers since I could walk.  Ed also calls sneakers "trainers."  He also insists that an aluminum can is actually an "aluminium" can.  A "cheerio" is a gesture of farewell rather than a carb-y breakfast cereal.  A "queue" is a waiting line, not a letter between P and R.  At our media visits we watched "ad-vert-ise-ments" rather than "ad-ver-tise-ments."
Despite the everspreading fire of cultural homogenization running rampant throughout the world, London is still London.
It's still got loads of Englishmen on horses outside the Queen's house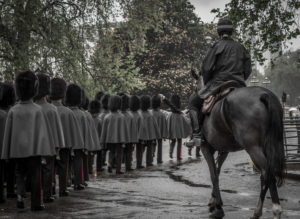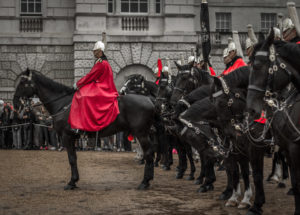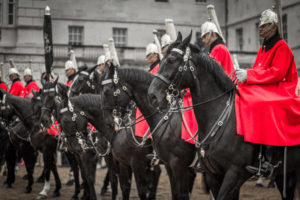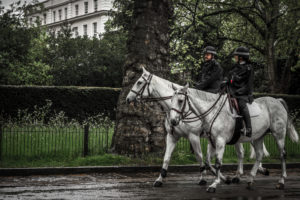 (and some of the Englishmen are not on horses)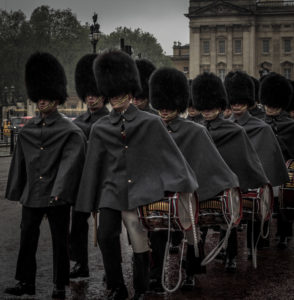 (and some of the Englishmen stay in when it rains).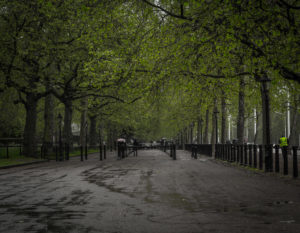 Their bars look like cozy, rustic, studies.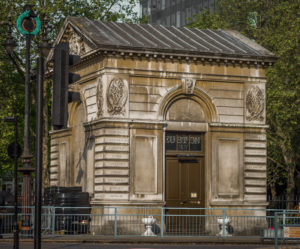 And the people in them are surprisingly polite and friendly… they're very good at helping you rack up a drink bill that exceeds all preconceived expectations.
In fact, everybody is polite.  Even the voice on the Tube (metro-system) is polite.  "Mind your step," she reminds us as we exit to Euston station  (I was expecting "Houston" station but you've got to remember – I'm American).
Transportation is different.  Their cars are all built backwards.  They drive on the wrong side of the road.  The roads are small.  The buses are tall.  When the little walking man starts blinking, you do NOT proceed with speed.  There are FEW road signs.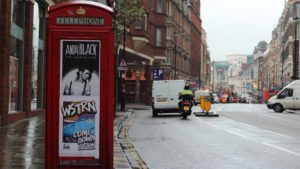 Look right.
Walk left.
Look left.
Walk right.
The bridges are not falling apart (from what I've seen).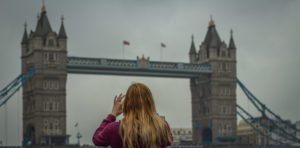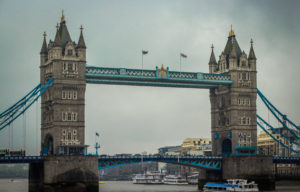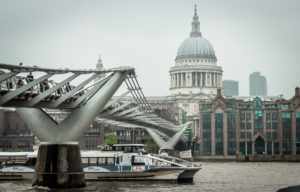 Everything is older, smaller, and shorter.  The newspapers are free.  The Cider is alcoholic by default.  The food is real good.  The food is real.
"Does America just try to load food with as many chemicals as possible?" asks our tour guide Ed.  This question is posed just minutes after he asked Hannah "what is a Cheez-It?"
Ed's got a point.  I can pronounce every ingredient on the back of the Heinz ketchup here.  It's the same Heinz company that makes ketchup in Pittsburgh.  Yet, they've made a point to avoid the preservatives and high-fructose corn syrup here.  The ingredient list on the back of packaged cheese is "Cheese."  I've eaten quite a bit of 100% local meals from the Borough Market located just underneath a the London Bridge.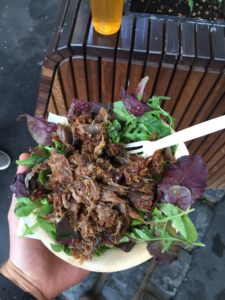 I reckon it's not hard to get all of your vitamins and minerals here even though they call vitamins "vitt-ah-mins."
The sushi rules.  It comes on boats.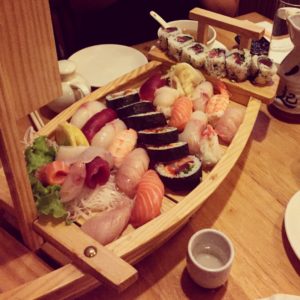 We're about to leave on a boat to Bruges… and I'm just on schedule… though Ed would say "shed-u-all."  And he would expect our bus to pull out of the "gare-idge" – not the garage.  He's got a fully functioning "Mo-Bile" phone.
We agree on one thing however.
"Cheers."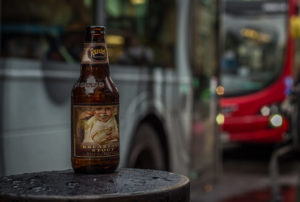 ---
Wednesday, May 11th – Battenhall & BMB Advertising
MY GENERATION – THE WHO
"Advertising is your most powerful tool there is for social change," says founder of BMB advertising, film producer, and apprentice-spaceman Trevor Beattie.
I believe him.
"Considering the current state of advertising as a corporate-profit-driven landscape," I ask him, "is that a good or bad thing?"
We determine that one could argue either way.  Regardless of what I like to believe, I simply cannot deny the fact that the modern media landscape is driving us towards a not-so-pretty state of cultural homogenization.  The internet has allowed a complex blend of world cultures to boil and churn together in a witch's cauldron…  and the witch is Ronald McDonald… and she's a nasty one.  The resulting concoction is one we find tasty yet artificial.  Inviting yet unhealthy.
The fact that cultures blend is great.  The fact that this blend is overseen by a corporate hand – not so much.
Don't get me wrong.  London is still London.  It's beautiful that this is here and cultures are mixing beautifully here.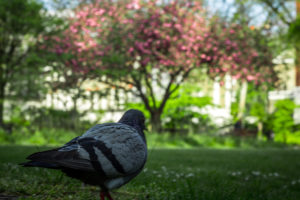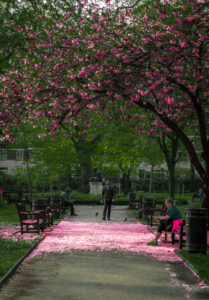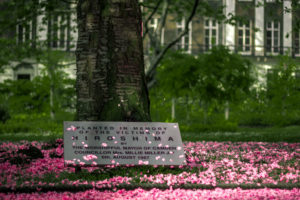 The Himalayan cherry blossom perfectly in bloom.  A commemoration to Hiroshima.  A recognition of our global community.  This is a beautiful example of cultural blending.
And it's also beautiful that I've had some of the best Asian food I've had in my life here in Europe.  I've had the best Italian blend of coffee I can remember at Bar Italia… but Bar Italia is just a few steps from this: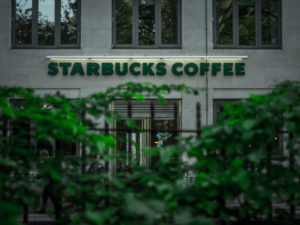 The royal family used to have a golden-plated tea set.  Do you think they've now got a golden Kuerig that presses Sumatra in seconds?  Convenient corporations pop up everywhere and their advertising power is incomparable to that of mom n' pop's mash kitchen from up the street.  Our tour guide Ed is not very hopeful about the future of cultural homogenization.  "It's pretty sad really.  But people want their Burger King whether they're here or there."


Or at least they think they do.  Advertising is not the only thing to blame for cultural homogenization but it is a factor.  The landscape can also be used for the power of good though.
What do you think Gandhi?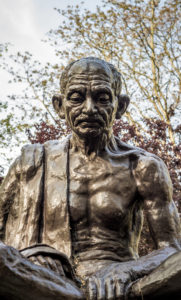 What do you think Gene Wilder (I know that's not really Willy Wonka, but the book was written by an Englishman)?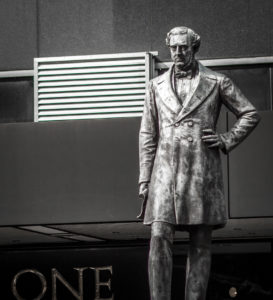 What do you think?
---
Thursday, May 12th – Travel from London to Bruges, Belgium
MISSED THE BOAT – MODEST MOUSE
Whoever said that British food is crap has lied to you.  I promise.
e passed out after this: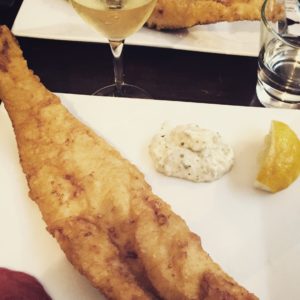 Wait…  no.  We passed out after this: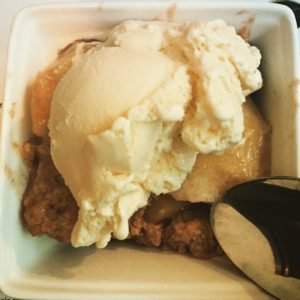 And today we woke up to this: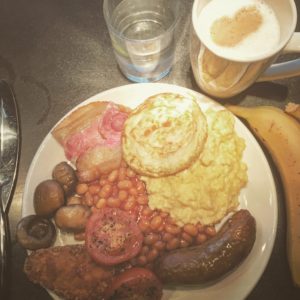 To relieve some of the early-morning-food-induced-coma, we walked to get this: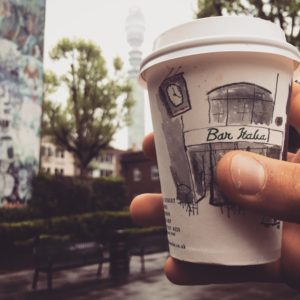 And now, stuffed and caffeinated, it's time for this: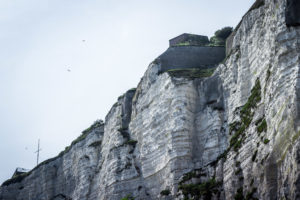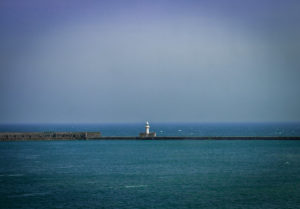 We left the U.K. from the Cliffs of Dover and it was beautiful to say the least.  We missed our scheduled ferry so we had to spend an extra hour sitting in the waiting terminal where we were forced to stare either at the horizon line of still, blue ocean to the east or at the humbling coastline of white rock to the west.  For once in my life, I didn't mind waiting.  I just stared out over water and land, reflecting on the past few days of explorations and experiences.  The view was awesome.  It was almost comparable to the view from my hotel-room window that greeted me in Bruges… just in time for sunset.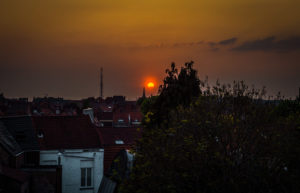 I have a feeling this 2-day stay is going to be far from boring.
---
Friday, May 13th – Bruges, Belgium
CONCERNING HOBBITS – HOWARD SHORE
Don't worry.
Everything that I wrote about the global disease of media-and-advertising-induced-cultural-homogenization may not be as contagious as I've assumed after visiting the modern media hub of London.  I know this to be true because Bruges exists.  Though nobody can agree on how to spell the place's name (I've seen Brugge, Brugs, Brugse, Brewgs, Bruugs, etc.) I think we can all agree on the fact that it is a fairytale of a city… as close as you can get to a hobbit-town without existing between the pages of a J.R.R. Tolkien novel.
Bruges is small.  The buildings are beautiful.  The streets are brick.  The town is surrounded by family farms.  There is music playing everywhere.  There are no billboards.  There are few advertisements (and most ads are for local breweries anyway).  There are plenty of bikes.  There are plenty of bridges.  There are plenty of beers.  A canal system separates the town into sections.  A man sits on a bridge with an acoustic guitar, a bottle of wine, and an open-invitation for friendly conversation.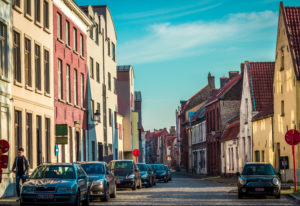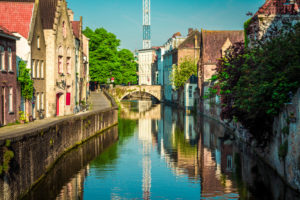 In short – if you've been a good boy, this is where you go when you die… I wonder if all dogs go to Bruges…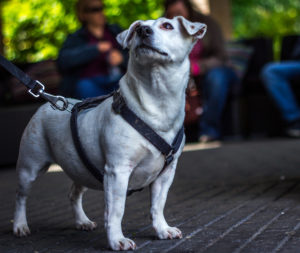 Bruges definitely carries an overriding concern of quality above quantity.  This reigns true to all aspects of Bruges unless it is dinner time.  In the evening, one is confronted with the best quality food at insurmountable quantities.  Plate-cleaners beware.  To help you avoid overeating, they make their desert look like a snake to scare you away.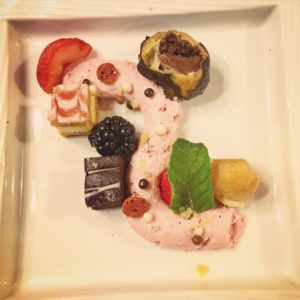 Quality over quantity is evermore true when it comes to the beer.  This is beer central.  Beer lovers from around the world revere Bruges as a nirvana of dark ale.  This is the "Paradise City" that Guns N' Roses sang about where the grass is green and the beers are plenty.  After visiting the Church of the Holy Basilica where I donated a few euros to see a vial containing the blood of Jesus Christ, I headed to De Garre where I donated a few more euros to see a chalice containing the drink of eternal happiness – beer.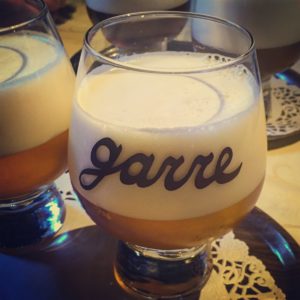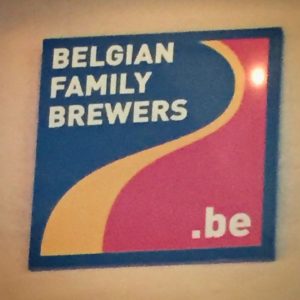 De Garre makes a beer that is often extolled as the best in Bruges.  Bruges makes beer that is often extolled as the best in the world.  De Garre's House Trippel, a dark, frothy concoction that should not be consumed in large quantities (or without a side of cubed cheese and toothpicks), is an experience to remember… more accurately, it's an experience I'll never stop trying to remember.
Racking in at around 10% alcohol, this beer packs a hidden punch masked with countless hidden flavors.  After each sip, one can calmly allow the tastes of fruit and nuts to flow through their mouths as stories that shouldn't be repeated flow out of their mouths behind the amplified music of a playlist composed of authentic Belgian tunes and classic rock n' roll.  The music reflects the beer quite well – full of subtle but drastic transitions yet nevertheless truly authentic, delicious, and best enjoyed in groups.
My experience in Bruges can be summarized with the following quote from Thorin Oakenshield of J.R.R. Tolkien's The Hobbit:
"If more of us valued food and cheer and song above hoarded gold, it would be a merrier world."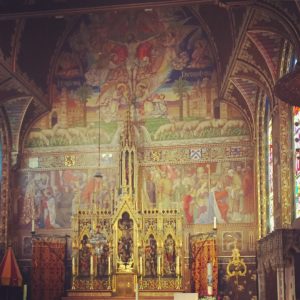 Amen.
---
Saturday, May 14th – Dutch Countryside Tour & Amsterdam
THE STABLE SONG – GREGORY ALAN ISAKOV
I don't know if it was the House Trippel or the long day of walking that did it, but I hit my bed last night and immediately time-traveled.  I don't think I stayed up to see double digits beneath the hour-hand of the two-dollar waterproof watch I frugally purchased at a convenience store.  I'm not sure whether I spent the night dreaming of heaven, or if I merely spent it retracing my memories of De Garre.  Regardless, nearly 11 hours later, I was rudely awaken by the light let in from my hotel-room window.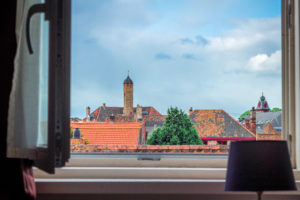 The windows open completely.  The air is fresher than ever as I awake in a hot pool of french-fry-and-mayonnaise-sweat.  A stark contrast hits me in the face.  The beautiful, rustic, self-relying city that is Bruges clashes with the smelly, groggy, self-medicating nomad that is me.  Ying meets Yang and we are at one.  I will now refrain from writing to spiritually, for I expect that in Amsterdam there will be something in the air that will effortlessly bring my writing to a more secular, open, and perhaps humorous place.
Though the fresh air supplies me with a natural burst of energy I still drink several cups of coffee at the hotel before we depart for Amsterdam.  The bus-trip is fortunately divided into sections.  We stop along the Dutch countryside at a flower-theme-park of sorts called The Keukenhof to see some of the best tulip bulbs in the world.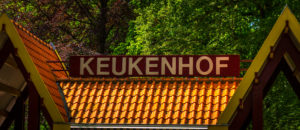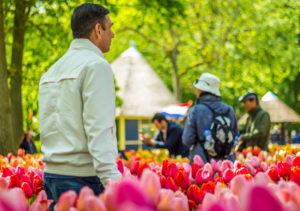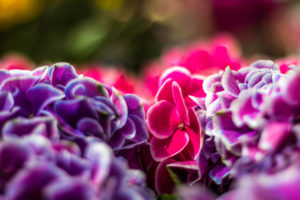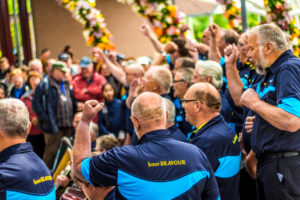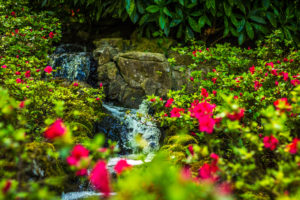 I really needed that stop.  My sweaty travel clothes were really starting to smell after being mushed together in that suitcase and I think that all of the floral scents will mask my stench fairly well.  Too bad we're headed to Amsterdam.  The stench shall return.
Entering Amsterdam does not feel real.  In fact… I'm not sure whether the Cliffs of Dover, Bruges, and Amsterdam all truly exist or if someone just slipped something into my cider in London and I've yet to wake up.
---
Sunday, May 15th – Amsterdam Sightseeing
HOLLAND 1945 – NEUTRAL MILK HOTEL
I spend the morning bus ride typing on a caffeine high while listening to Neutral Milk Hotel's In An Aeroplane Over The Sea; an album very suitable for Amsterdam.  It is musically inspired by simplicity, freedom, and classic Dutch instrumentation.  It is lyrically inspired by stories of Anne Frank and German occupation.  It's also overwhelmingly psychedelic which meshes with the Amsterdam vibe quite well.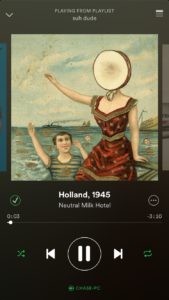 The daily adventures include a trip to the countryside where we learn the art of cheese-making from dutch women whom I'd previously imagined would be elves,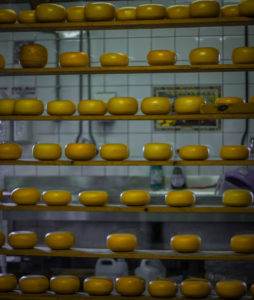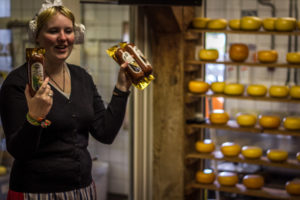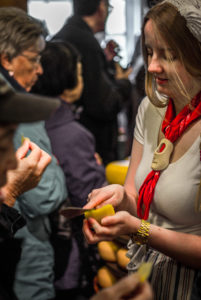 a visit to an historic windmill on the outskirts of the city,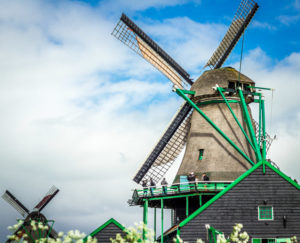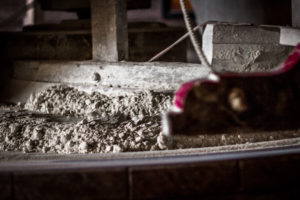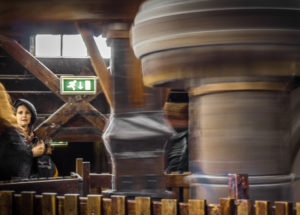 a lesson on clog-making (yet, I'm still confused about clog-wearing… how don't those things fall off?!),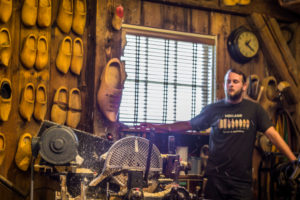 a photo-session with a chicken,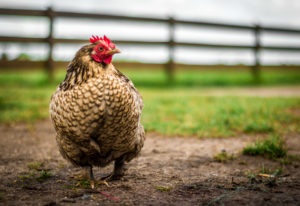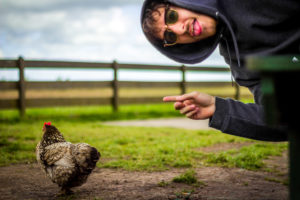 and a visit to the Anne Frank House which leaves us feeling very sad and not quite in the mood for dinner… but dinner turns out to be way better than expected.  We dine with Point Park alumni who have found themselves living in this crazy city which they say is way better than they ever expected.  I can't believe it.
---
Monday, May 16th – University Lecture & Tour
SOMETHING – THE BEATLES
Dear Amsterdam,
I know that some 800,000 people call themselves members of your progressive community.  I know that nearly 20,000,000 more tourists flow freely throughout your 165 canals each year.  They exchange euros for food and drinks in your 1,515 bars and cafes and act as the red blood cells that flow through the veins of a living organism; exchanging oxygen and carbon dioxide between the lungs and body cells.  I know that you're mainly energized by windmills and waterways.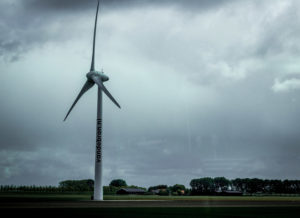 However, I think that you're energized a bit more by something else.  There's something about this place that is surreal and indescribable.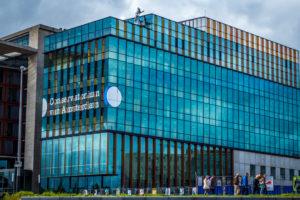 Something in the air has permitted minds like Albert Camus and Anne Frank to exist.  Something in the air has driven street vendors towards feeding people raw haring and eels like typical snack foods.  Something in the air has driven lawmakers to resist the acknowledgement of most victim-less crimes that otherwise promote prison prosperity in the states.  Between the obscure soft-drug and prostitution laws, policemen are busy keeping things from getting violent rather than keeping things from getting edgy.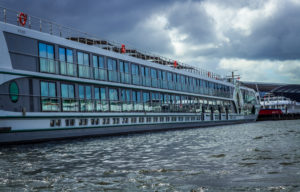 Something in the air has driven people out of cars and onto bicycles.  Nearly 900,000 bicycles reside on your skinny, brick streets.  Though the law does not require that you wear a helmet, it does require lights and bells.  You better not use a mobile phone while biking.  You better not bike under the influence either.  It's about the safety of other people here.  If you want to hurt yourself, go ahead; just don't hurt anybody else.  Be smart.  You're laws will help protect people from other people.  You don't aim to protect people from themselves.  Still, most of your people are in great shape; both physically and mentally.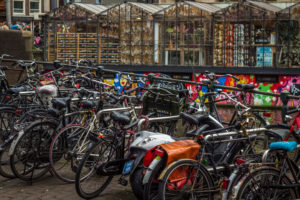 Something in the air has molded you into a progressive, left-wing haven for those who seek equality and tolerance.  "Live and let live," you say to your inhabitants.  You were the first country to legalize same-sex marriage.  You were the first country to tolerate the possession of soft drugs for personal use.  You permit cannabis smoke at more venues than you do cigarette smoke.

Amsterdam, you're one of a kind.  You're not too hedonistic.  You're not too conservative either.  You're a common-sense image of what a city can be.  You've got incredible museums, delicious food, and genuine people.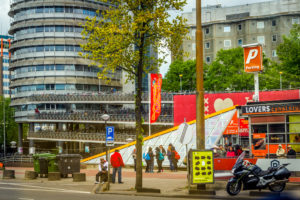 Amsterdam, something in the air has found me irresistibly in love with you.  These next few days shall not be our last together… I mean, Donald Trump might become president of the United States.  I may be back next year on a bike with some euros and a head full of dreams.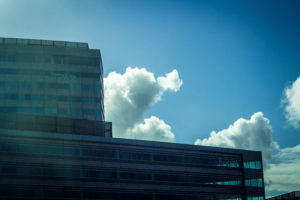 Until then, let's make these next few days last.
"Live and let live."
Sincerely,
Chase
---
Tuesday, May 17th – Het Parool & de Volkskrant
BICYCLE RACE – QUEEN
I know you've heard it already.  Amsterdam is the most bicycle friendly capital city on the planet.  Bikes are the kings of the streets.  Do not mess with them if you do not want any trouble.  I've seen plenty of bikers blow through red lights and nearly run over confused tourists.  On more than one occasion, I've feared for the life of my fellow travelers.
That being said, I think that the bike culture here is phenomenal.  Studies suggest that over 50% of inner-city trips are traversed by bicycle alone.  I can only hope that these bikers are locking u[ their bikes up for the night before they enjoy the deranged comfort of the many bike-themed bars, 'coffeeshops', and many 'other organizations' in the Red Light District.  There are bike racks literally everywhere.  I know that I am on the outskirts of Amsterdam when I see parking lots.

There are bikes.

There are motor-bikes.

There are tandem-bikes.

There are bikes in the papers.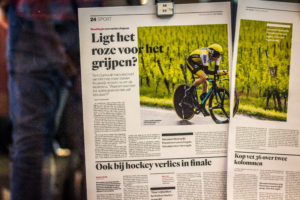 There are bikes sold with the furniture.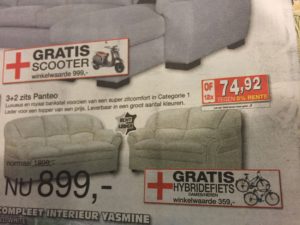 There are bikes on the boats.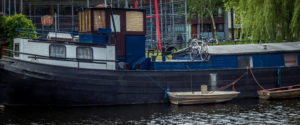 There are bikes in front of every house.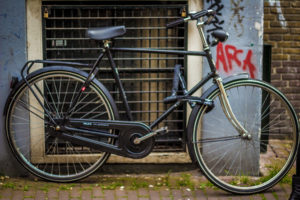 There are bikes on every rack.

There are bikes everywhere (some times I can't remember where I parked my car.  Imagine trying to locate your bike in that mess).
Traveling by bike is a surefire way to avoid rush hour traffic.  It's also a surefire way to reduce your carbon footprint.  It's an opportunity for friendly bonding.  It's an opportunity for exercise and health.  It offers a chance to see the world around you and it offers a chance to live in the moment.  Trust me.  If you're on one of these bikes and your mind is wandering for a second, you might be subject to getting pummeled by a local Dutchman on his way to the haring stand by the canal.
---
Wednesday, May 18th – Ketchum Amsterdam & World Press Photo
DAZED AND CONFUSED – LED ZEPPELIN
It's easy to get lost in Amsterdam.  Hopping onto their metro system is just as intimidating as hopping onto a bike and trying not to get squashed by a local in a hurry… and if you don't quite like the metro system, try the tram system.  If you don't like the tram, try the bus.  If the bus isn't your thing, there's a ferry… and if all else fails, take the train that runs along the northern face of the city.  Don't worry, if this sounds at all confusing, this map will clear things up.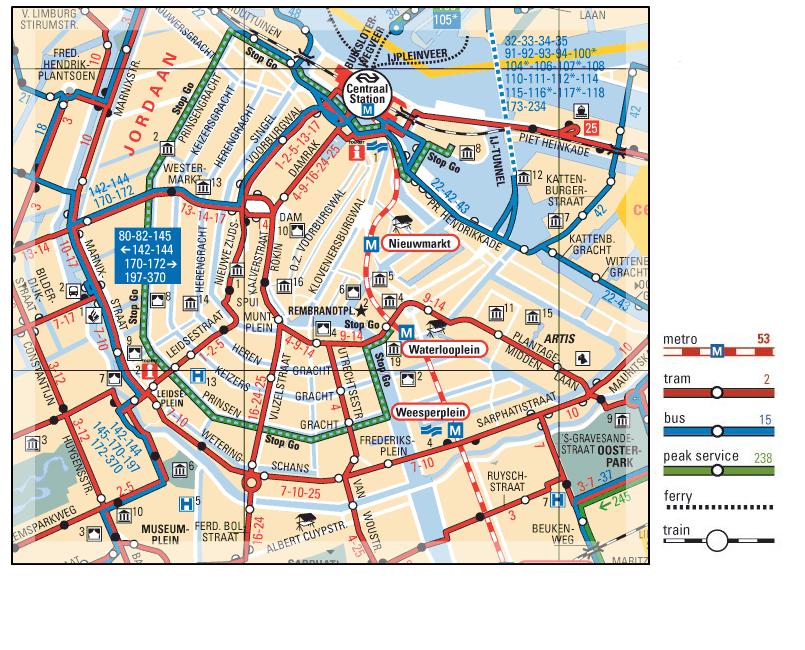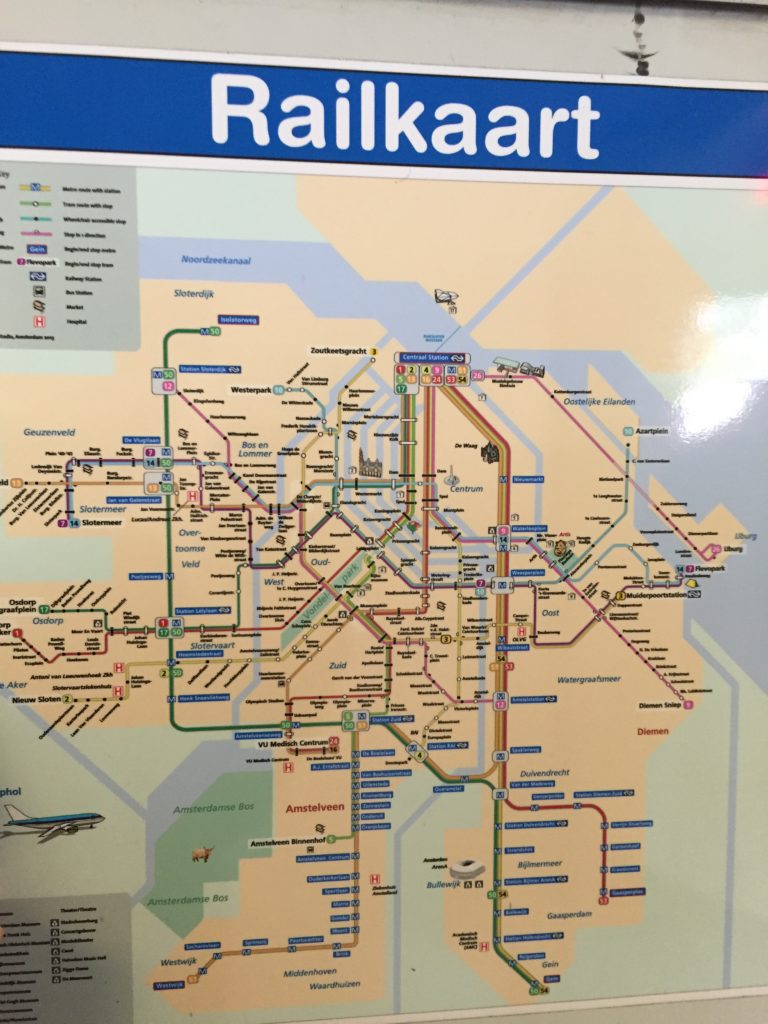 Just kidding.  Spending 5 days in Amsterdam will not only open up a whole new world of culture in your life, it will also open up a whole new world of map-reading.  Maps will never be the same.  Scanning a map of Amsterdam is like reading "The Da Vinci Code."  I now think of Pittsburgh maps as the literary equivalent to "See Spot Run."  Amsterdam's maps are like onions.  They've got layers.  They also might make you cry.  If you understand it and are familiar with it, you'll be just fine.
Not only are the maps multi-layered, they're also all based on street names that are way too dutch for the rest of the world to pronounce.
"Transfer at Bilderdijkstraat," says our tour guide Joost (whose name is very dutch-ly pronounced yoast… yes… like toast… and yes… he does like toast…).
The only location that sounded relatively familiar to me was Leidseplein and that's only because its proper dutch pronunciation reminded me very much of the rock band Led Zeppelin.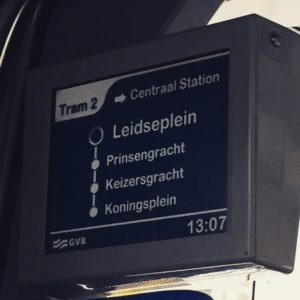 Getting lost in Amsterdam isn't necessarily a band thing.  The people are mostly friendly.  They mostly speak English and most of their accents aren't so horrible that you won't be able to understand them.
After days of reading signs posted on the sides of buildings and wondering what they meant or how I'd ever remember them, I stumbled upon a sign that actually made sense.
Finally, a sign that appropriately suits Amsterdam.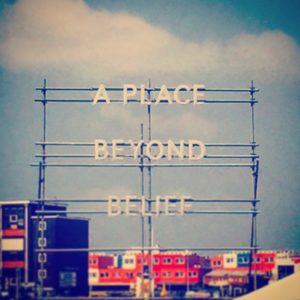 ---
Thursday, May 19th – Free day in Amsterdam, Group Meeting & Farewell Dinner
THIS MUST BE THE PLACE (NAIVE MELODY) – TALKING HEADS
The past 12 days came and went in a blur.  Though the dinner of fish n' chips that greeted us in London feels like ages ago but sleeping through "The Force Awakens" on the way to the U.K. seems like yesterday.  Traveling distorts your sense of time (among many other things).  When you cross time zones, when you cross cultures, or when you just find yourself in an unfamiliar place, you always learn something new.  If not about your environment, then about yourself.  When you throw away everything you've ever known and try to find your way through a new environment, you get to see yourself in a new light.  It's like being born again.  All of the redundant, repetitive habits that you've built up over the years get thrown out the window and you act off of mere instinct again.  You don't know what to expect… and that's what makes all the difference.
I didn't know what to expect when I signed up for this class.  I didn't expect to see a sliver of Tokyo floating in the water just above Amsterdam's central station.

I didn't expect to eat a desert that a young Italian chef called his personal experiment.  Even more-so, I didn't expect him to ask me if a tasted any alcohol in it after I had finished eating…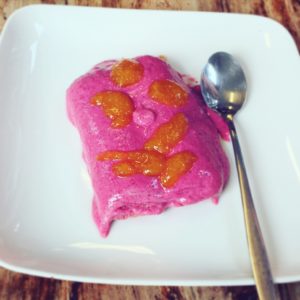 I didn't expect to enjoy long, informative bus rides through the countrysides as much as I did.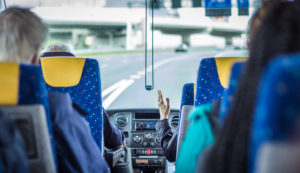 I didn't expect to stumble into a neighborhood called NDSM where people live in renovated shipping containers and graffiti covers nearly every inch of reachable wall space.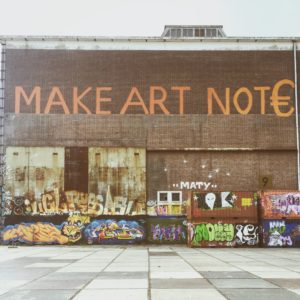 I didn't expect to make some of the best friends I could ask for.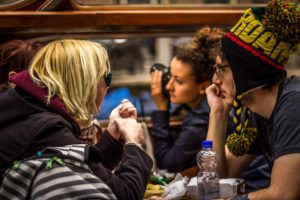 (and some of the worst Jenga players I could ask for [I'm looking at you, Anthony])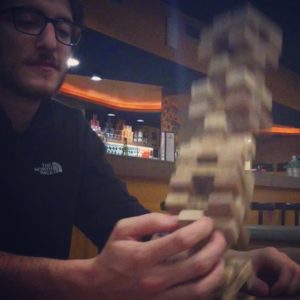 Together we survived London,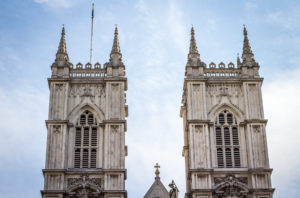 Bruges,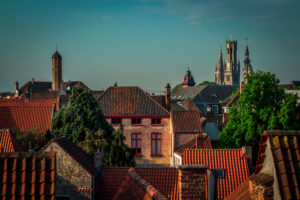 and Amsterdam.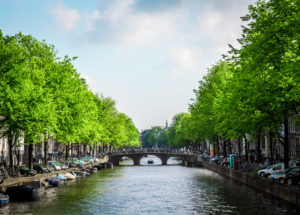 We've seen a lot.  We've been through a lot.  I can't imagine I'll ever get the smell out of my shoes.  We ate more than we should have.  We shouldn't have drank at all.  We've all been cultured and I reckon we'll never be the same.  We're going to travel for an entire day tomorrow and the people that arrive in the land of the free will not be the same people that left 12 days ago.  We've been changed by European culture and (for better or worse) by one another.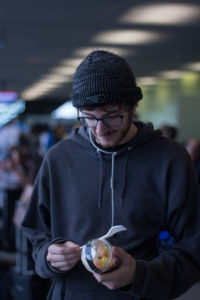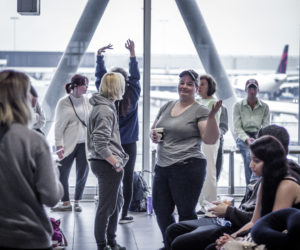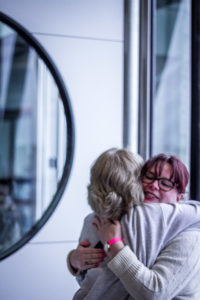 To my tour guides (Ed, Summer, Joost), my instructors (Helen, Jan, Bob), and everybody else who helped make this trip possible through donations or any other means – I cannot thank you enough.
It's been real…
well, "surreal" might be the better word.
---
You did it!  
Congratulations on making it through all of my posts.  I can hardly handle myself half the time and you just endured 12 days of my relentless ramblings and obscure thoughts… impressive!  I hope you enjoyed.  I hope you learned.  I hope you laughed.  Reach out to me if you've got any further questions or concerns (or if you find a typo).
Sincerely,
Chase Barron
ChaseMatthewBarron@gmail.com