Age 19
Major Journalism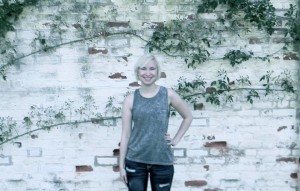 Year Junior
Jessica is from Butler, PA about an hour north of Pittsburgh. She loves food, and is really looking forward to exploring the world and trying a variety of new foods. Another big part of her life is music. She listens to alternative rock music, and going to concerts has become part of her regular routine. She works at the Point Park News Service, and has a web/news internship with the Tribune Review this summer.
Today has finally arrived 
May 8, 2016
Today I woke up filled with nerves and excitement.  It marks the beginning of what I'm positive will be an unforgettable trip!
I am packed and ready to go. I have been since Friday. Since then my dog, Jinx, has hoped in my suitcase several times breaking my heart each time.
In this aspect, I am the complete opposite of my unprepared twin sister, Alysha, who leaves Tuesday for her own trip abroad.  I did put writing this pre-trip post until the morning of our flight nobody is perfect.
I took the week off from work to recover from the spring semester, and prepare for my trip in peace. Not having to go to work was quite the change for me, after working two jobs through the school year. I got my nails done, went shopping, slept in past 9 a.m. it was a much-needed change of pace.
This will be my first flight! I am very excited to get that over with. I'm not afraid to fly I've just never had the opportunity to fly. All of my family vacations growing up we drove to. This trip was my chance to see the world and I knew I had to take advantage of this great opportunity.
Speaking of my family, I will miss them.  I will be missing Emma's (my little sister and best friend) senior night of Lacrosse at Knoch High School and her prom! I am sure she will look beautiful and be the life of the party as she always is.
Well my parents are getting antsy and want us to begin our journey to the airport. Here is to safe travels and I wonderful time! Of course, I cannot forget to mention how excited I am to try so many new foods!
We are in London!
May 9, 2016
Today seemed to be never ending. It certainly does not seem like I only got off the airplane this morning at eight.
Our first day in London was full of so many facts. I spent the day learning about this great, old city.
My first flight was good. I really enjoyed the short flight from Pittsburgh to JFK airport in New York. It was so cool to see the clouds from the other side!
Our next flight from JFK to Heathrow was seven and a half hours. This plane was a lot bigger. I sat in the middle of the behemoth aircraft. There was a beautiful sunset filled with pinks, oranges, and purples as we took off from New York.
Overall, the flight was nice. I watched a few episodes of the show "Mr. Robot."  I was not able to sleep, but I rested my eyes for a few hours through the night.
We landed in Heathrow at about 8 a.m. where we were greeted by a long line to make it through immigration. With no air conditioning, we stood fanning ourselves with our passports trying to pass the time.
Next, we gathered our suitcases and the real fun began.
The group met up with our London tour guide Ed, who would provide us with a guided orientation to London. We saw so many of the famous sites of the city. We also got to witness London traffic in full effect as we made our way around. Ed had so many great facts to share with all of us.
After our tour, we checked into our hotel. The rooms are small, but they are very modern. No complaints here I have stayed in much worse conditions, and there is free WIFI.
After a few hours to rest and shower, we headed out for dinner. For our first night we had the traditional 'Fish 'n Chips' at the North Sea Fish Restaurant. It was out of this world good. I ate every bite of the large fried fish. The fish was paired with a basket of fries and a salad. We had apple cobbler with ice cream for dessert.
I am now lying in bed writing this. As soon as I finish I will be falling right to sleep.
However long and tiring today may have been it was so worth it. I cannot wait to wake up and discover more of London tomorrow.
A Day of London Culture 
May 10, 2016
It was a rainy in London Town today. The locals have informed us that the past two days had been abnormally warm and sunny.  I guess it just would not have been the London experience without rain. While I was packing, I was a little concerned it would be too warm to wear a coat, but I was certainly glad I brought my raincoat with me.
After a good night's rest, I started the day at 8 a.m. I thought breakfast was wonderful. I had two chocolate filled croissants, fruit and a mocha coffee.
As a group, we met up at 9 a.m. Then we started with a ride on the tube. Our guide Ed taught us all the ropes to using the London subway system.
The most important lessons were
Stand against the wall while waiting for your train
The right side of the escalator is for those who want stand
The left side is used by people who are in a hurry so you have to move
Scanning into the subway using your oyster card is a contact sport
Our first activity was the changing of the guard at Buckingham palace. Despite the rain, we got to see a decent amount of activity by the guards. Ed was fantastic he ran us around to make sure we saw everything there was for us to see.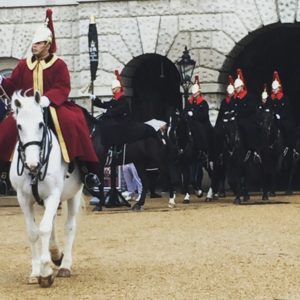 Next up was the Tower of London. My sister Alysha is an expert of everything Tudor history so of course this was a big deal. I'm not as big of a history buff as her, but I thought it was really cool place to be. It was so old there is so much history held inside its walls.

A favorite exhibit I saw while there was the Tower during WWI. They took present day photos and overplayed photos of the army in the same spot during the war. It was very cool to see present day collide with history.
After the Tower of London, we made our way to the South Bank. After a walk across London Bridge (not to be confused with the Tower Bridge) we made it to the Borough Market.  Out of pure excitement I quickly purchased the first thing I saw, a chocolate cookie, as big as my head. To complete my lunch, I followed those purchases with a pretzel and orange juice.
Our main destination on the South Bank was Shakespeare's Globe Theater it was so cool. In high school while I was learning about Shakespeare year after year I never thought I would ever get the chance to visit the Globe. Sadly, tours were closed, and the show was sold out, so we only made it as far as the gift shop.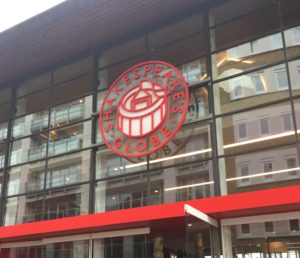 After a trip across another bridge and through the tube, we arrived in the shopping center of London, SoHo. I saw many different shops, which surprised me. I honestly expected to find a bunch of American chain stores.
We shopped for a few hours then headed back to the hotel room to freshen up. Our dinner for the evening was Indian. It was amazing. We selected the restaurant because of a sign boasting of an award they had won in a previous year.
Media of London
May 11, 2016
For our third day in the United Kingdom, we visited two different advertising and public relations companies in London, Battenhall and BMB Advertising.
I found these visits extremely interesting because I come from a journalism background. I thought these visits were a great way to see a whole other side to the communication world.
At Battenhall, we were ushered into a small conference room that 18 chairs and two bean bags crammed in it. This company was incredibly down to earth. They are only three years old, and we spoke with founder and director, Drew Benvie. We also met with others in the company who shared great advice with us on how to get a job.
Next, we returned to the Borough Market for lunch. I had one of my personal favorite foods, a scotch egg, paired with another favorite of mine arugula. Today I opted for the fresh apple cranberry juice that was amazingly good.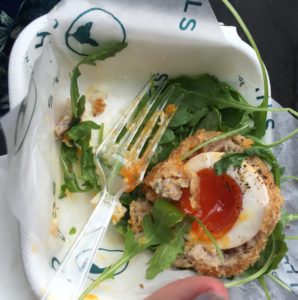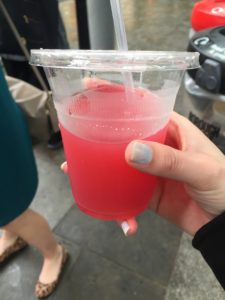 Our next stop was BMB Advertising. I think our group as a whole would have been very content with staying there forever. We would have been fine they have a fully stocked kitchen in the office.
We met with so many creative people. It was great to see all the creative minds, and teams behind some awesome campaigns.
Promotions like a one eyed teddy bear for travel company Thomson
Another creative team came up with a campaign that was all about embracing the haters for Adidas (we Americans say the brand name emphasizing the second syllable: ah-DEE-das. Everywhere else emphasizes the first syllable: AH-dee-das.)
The most interesting, to say the least, person we met was co-founder of BMB, Treavor Beattie. He will be traveling to space next year as part of a six-person team on the Virgin Galactic mission. Beattie says he founded his business as a means to make it to space, and he accomplished that.
Because our time at BMB drifted way past our scheduled time, I decided to forgo making it to church for the second time. When you travel, you really have to be flexible with your time. You cannot see and do everything sadly.
To wrap up the day and our time in London, I wanted a nice dinner. My roommate Emily and I found a nice steak house that was great in every way from the decor to the food. It was an odd combination of industrial and upscale on the inside, but I really connected with this atmosphere. I had a tuna steak with avocado, which was very tasty.
We took a quick walk around after dinner before making it back to the hotel to pack.
Goodbye London, hello Bruges 
May 12, 2016
I just want to start by saying that today was amazing. I was in three different countries in one day!!
I had a great morning. First, I woke up and walked to the St. Giles Hotel. This hotel was where my sister Alysha was staying. I think it was so crazy we were on two completely different school trips and ended up in the same place at the same time! I arrived around 8 a.m. and we decided to go for a walk around the area. We stopped for coffee and tea and headed back to her room before she had to meet with her class to go out for the day.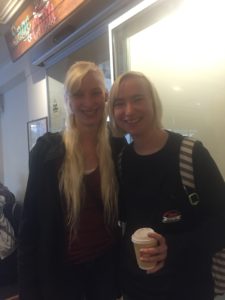 This made me very thankful for the hotel we stayed in. My room may have been small, but it was clean and nice.
I was so happy to see her! Even if it was only briefly. I was sad we had to say goodbye again. This goodbye made me a little homesick for the rest of the day.
After our quick visit, I headed over the British Library. I absolutely loved it there! A collection that had the Magna Carta, sketch books of Mozart and Beethoven, a letter from King Henry VII and Anne Boleyn, lyrics from the Beatles, the list goes on forever. I could have spent days in there. Oh yeah I cannot forget the illustrated copy of Alice in Wonderland by Lewis Carroll.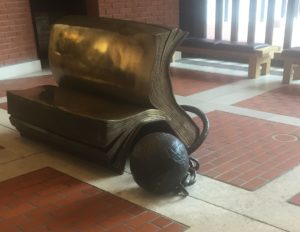 After running into a few others from the trip, I made a quick stop into a pharmacy to grab a few of the alternative rock music magazines that I miss in the states.
Then we took the bus across the UK countryside to get to the cliffs of Dover. I used the bus ride to catch up on a little bit of sleep. Once we arrived at the cliffs, we faced a maze of confusion to make it to the ferry. Getting to the ferry was a fiasco, but in the end, everything was fine.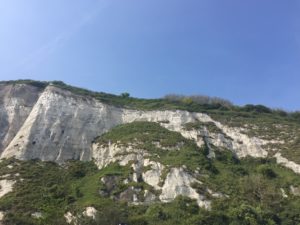 I thought the ferry ride was a great way to make it to our next destination. I had a nice cup of pasta salad with strawberry juice.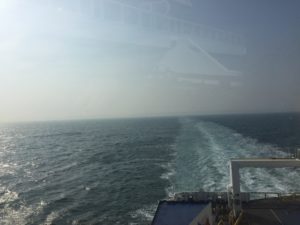 We were all a little nervous about how we would find our luggage. We were reunited with our luggage we just had to wait around a bit for it to get unloaded.
Our new tour guide, Summer, informed us more of the illegal immigrant crisis here in Europe. Right of the cost you will find plenty of border protection in place. You will also find large communities of illegal immigrants called the jungle.  These areas have become breeding grounds for disease and crime.
Once we arrived at our hotel, we quickly began our route to our restaurant. It was so tasty, with three courses. I loved every bit especially dessert.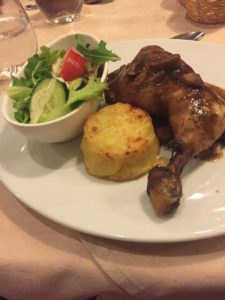 Bruges Culture 
May 13, 2016
We had an early morning breakfast to be sure we saw as much of the city as possible. The breakfast was buffet style in the hotel. It had a very classical feel to it like much of the city. We learned that the city has buildings the can look new and actually be very old and vice versa.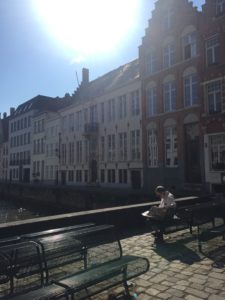 We took a walking tour through the city with our guide Summer. We saw many of the major places throughout this beautiful town. Bruges is a city straight out of fairytale, or old storybook. Our guide said the city could be walked from end to end in one day, so it was on the smaller side. It would be so easy to get lost in the circular shapes one wrong turn and you would be walking through the winding cobble stones streets lost for hours.
At the end of the day, we only took about 14,000 steps (that is half of the 28,000 we took one day in London.) We also took a lovely half hour canal ride through the canals.
For lunch, I had Belgian fries topped with mayo, and a waffle with strawberries. This waffle was out of this world. You have to get on the next plane to Belgium and try one that is how great they were.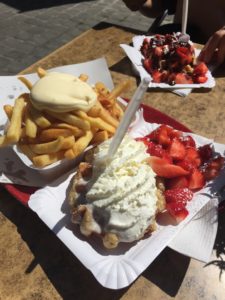 After lunch, we checked out the museum of chocolate it was wonderful. We even got our own complimentary bag of chocolate.
Next, a couple of us went through the museum of French fries it was a very funky interesting place. Complete with their own fry restaurant in the basement. We learned the secrets that make Belgian fries the best in the world.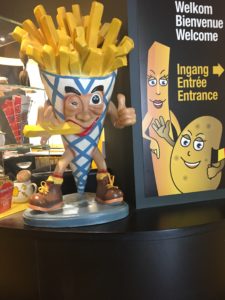 Then we headed back to the hotel to rest up and gather ourselves for dinner.
After about an hour we walked around the city casually, it was very relaxing. For dinner, I just had the salami appetizer. I got a ton of it this delicious meat.
We headed back to the hotel early and I was asleep by 10 p.m.
Travel Day: The Dutch Country Side
May 14, 2016
Today we got up early and we were out of our hotel by 9 a.m. We had a three-hour bus ride out of Bruges to the Netherlands.
The name Netherlands is derived from the fact more than a quarter of the land is located under sea level.
On our drive through the Netherlands on our way to Amsterdam, we saw plenty windmills. Sadly, we missed the opportunity to see fields of tulips. All of the tulips had been beheaded in order to help the bulb grow better for harvesting.
We made one stop at the Keukenhof tulip gardens. The massive grounds of the Keukenhof began as a kitchen garden. We were a little rushed with our time there. It was beautiful though. Our tour guide described it as an amusement park for flowers. She was so right! It felt like walking into Kennywood only no rides just flowers and food.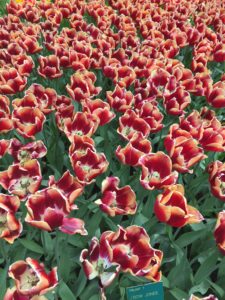 Then it was another hour in the bus until we arrived at our new hotel in Amsterdam. We are about twenty minutes away from the main part of the city.
A three-hour dinner to end the day was wonderful. The restaurant was located right by our hotel. I was very impressed by the asparagus soup and the Netherlands version of fish n' chips.
Now I am watching the Eurovision contents as the mc said "thunder and lightning it's getting exciting." The Ukraine just upset Australia for the win! I am writing my blog sitting in my window sill looking down at the area below me.
A Day in Amsterdam 
May 15, 2016
Today as a busy day. We left our hotel at 11:30 a.m. and we didn't make it back till about 10 p.m.
Our breakfast was a little overwhelming our hotel can hold about 700 people. It felt like at least half of the hotel was in the lobby for the breakfast buffet. I was impressed with the options here at this hotel. I wasn't feeling great so I just grabbed a couple of apples and pieces of bread to snack on.
We met a bus to head out to see demonstrations on cheese and clog making. We also saw the tradition windmills of the country side. The cheese was amazing, and I bought a little sheep friend to take home with me. I wish we have had a little more time to explore this traditional area.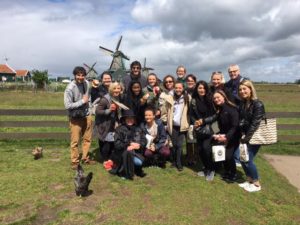 Next, we headed to the Anne Frank house, but because of a long line, we ended up going on a canal cruise before heading into the museum. The cruise was very nice. The boat covered so we were protected from the bone chilling winds for at least an hour. This was a nice way to get to know the city and see where things are located.
Making our way back to the Anne Frank house. We stood in line in the bitter wind for over an hour. It was worth it though, once we made it inside. Back when I read the book I would have never thought I would ever stand were the Frank family spent all their time for about two years. This is really a necessary activity if you visit the area despite the terribly long line.
Next, we headed to a dinner with Point Park alumni. We went to a restaurant that was the original Heineken brewery that opened in the 1800's. I had the pleasure of sitting with alum Matt Dietrich. Turns out Matt was from my hometown of Butler as well. Dinner was salmon and mashed potatoes. Despite the odd combination, I thought it was so yummy I cleaned my plate.
After a short tram ride to the hotel, we had a meeting with our group to discuss the trip and media visits so far and our plans for the week.
Tomorrow will be an early morning we are hoping to check out a museum before our afternoon activities we will see how it goes.
A Long Day in Amsterdam 
May 16, 2016
My day started at 6:30 a.m. Myself and a few others decided to go into town early and try the Rijksmuseum. We met up at 7:20 a.m. to catch the tram into downtown Amsterdam.
The 12 line took us right to the museum square of the city. We definitely overestimated the time it would take us to get into town and we had an hour to wait for the Rijks to open. With perfect timing, this breakfast place named Blushing was opening for the day.
The interior of this cafe was so beautiful. The food was wonderful too.
The Rijksmuseum was so amazing. I am so glad we made it a priority to check it out. I really like to make the most if my time on vacation and this visit was worth the long day.
Seeing Rembrandt paintings like Night Watch, a cool display of fashion through the years called the catwalk and the largest painting in the museum's collection the Waterloo.
After two hours in the museum, we made our way back to the hotel to meet our group for the day.
We headed out to a university to hear a lecture on the Dutch media landscape. This was very informative. I thought it was a nice refresher of the things we learned throughout the semester before our media visits for the week.
One thing I didn't really like is that the Dutch are still spreading the doom and gloom message to anyone interested in journalism. They are discouraging anyone to go into the field. I feel grateful to be at a university that is so dedicated to their journalism program. Despite the decline in print newspapers media is still so important.
At four we had more free time. We took the free ferry across the river to the Norde side. Which was one giant art squat built with in abandoned warehouses and shipping containers.
We had dinner in a greenhouse. I had asparagus soup, a new favorite dish of mine.
We took the ferryboat back to explore the red light district before it got too late. It was an interesting place to see, but far from my favorite part of the trip.
We finally decided it was time to head back around midnight. With a longer commute back I was falling into bed at about 1 p.m.
The Newspapers of Amsterdam 
May 17, 2016
Today we visited the two main newspapers of Amsterdam Het Parool and de Volkskrant. The two papers are actually housed in the same building because they have the same owner.
At Het Parool we spoke with Jacob Bontiusplein about the history of the company, and how they are adjusting to the harsh print market.
Next, we had lunch in the cafeteria of the building. I had a chicken pesto sandwich that was quite tasty.
Next up was de Volkskrant. We spoke with several people about how their paper has evolved since their formation. The name translates to the people's paper. They strive to be the people's paper by staying in the middle and being objective in their coverage.
They have three publications that are just beautiful.
After the media visits, I hung around with the adults of the trip for the evening. We went to the one shopping mall in the city first. I purchased an entire outfit because of the weather being on the colder side. The highlight store of the mall was probably a store called sissy boy. To my dismay they are only located in the Netherlands and do not ship to America yet.
Next, we took a walk to find a dinner spot. We decided on a Dutch spot. I had beef stroganoff. For dessert, we had poffertjes (miniature pancakes) with ice cream and chocolate.
We headed back early for the rest of the evening. I am in the hotel common area writing my blog. A few others from the group are playing a pretty intense game of Jenga.
Ketchum and World Press Photo
May 18, 2016
It was another early morning. As a group, we had to be ready to leave by 8:30 a.m. surprisingly everyone was in the lobby and ready to go for our final day of media visits.
We had a bit of a commute out to the Ketchum offices. They were very nice there. I almost fell up the stairs twice going into their offices. Luckily, I caught myself and there were no injuries. We spent the morning their brainstorming and working with real campaigns, the company had. I enjoyed this visit especially how hospitable and kind they all were.
Next, we took the tram into the Dam Square (yes that is the name of it) for the World Press Photo exhibit. These images were so powerful and our guide gave us the perfect amount of information throughout the exhibit. I am so thankful we had this media visit it was one of my favorites.
Then we headed to the Rembrandt house. Very cool place. It gave a lot of background on one of the Netherlands most famous painters. We received a discount because a few of the exhibits were under construction.
We concluded the evening with dinner at Fornuis. It was amazing I had pork filled with mozzarella cheese and ham. Then it was a quick walk through Rembrandt square and we were on our way back to the hotel.
Now just like last night I am blogging in the common area, with another competitive game of Jenga going on behind me.
Our final day
May 19, 2016
It was the last day of our trip today. Tomorrow we will be up early on our way to the airport.
We had the majority of the day to ourselves.
A few of the girls and I decided that we wanted to get an early start in the morning and head to the Van Gogh Museum.
We met in the lobby around 8 a.m. There we found a majority of our group had the same idea.
After a quick breakfast, we caught the tram into town. We took the tram right into museum square. We were early enough that we missed the que for tickets, so we walked right into the museum.
I was so impressed with the large Van Gogh collection that was on display here. I really enjoyed learning more about his life. Particularly his close relationship with his brother Theo. It is because of the work of Theo's wife that Van Gough's work gained recognition and fame. Although, many of his more famous works are housed elsewhere.
There was also a fascinating exhibit on prostitution in the Van Gough museum called "Easy Virtue, Prostitution in French Art 1850-1910." This exhibit was three floors and was something to see, with works of art from Van Gough, Pablo Picasso and Edgar Degas.
Next, we made our way to the Flower Market. This was a fun way to spend the afternoon. We all did some last minute souvenir shopping.  I purchased some pretty wooden tulips, and an I Amsterdam hat.
Then Emily guided our small group through the Jordan Canal using her trusty Rick Steve's guide to Amsterdam.
We stopped at a few little boutique shops. I purchased a trendy watch.
We enjoyed the beautiful weather with lunch outside a café along the canal.  I had more poffertjes. They were so good! This time I had them served with a lump of butter and powdered sugar.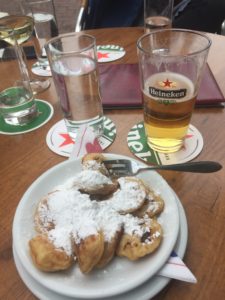 After lunch, we walked around the area a little more. Stopping into whatever shops caught our eye.
At around 6:30 we decided it was time to head into Central Station to meet our group for our final dinner.
We made it with plenty of time. We watched groups of performers in the main building for about half an hour.
Once the group was all gathered we headed to the Lover's Canal Cruise dock. We boarded the boat around 8 p.m.
This dinner was the perfect way to end our time in Amsterdam. We got one final look at the splendid city, while enjoying a phenomenal four-course meal.
We headed back to the hotel after dinner. Now it is just a matter of fitting everything in my suitcase. I sure hope all of the cookies I purchased don't break in my carry on!!
Travel Day
May 20, 2016
I am so sad to be home. I loved Europe, but all good things must come to an end. I am sure I will have more exciting adventures ahead of me this summer.
I did enjoy being unplugged from my phone and family for most of the time I was away. It was a nice experience for me. I only had one day where I was truly homesick.
Our group departed for the airport at about seven in the morning.
The flight back to Atlanta was nine hours. I watched two movies, "In Bruges" and "Top Gun" more of the television series "Mr. Robot." I feel like I also watched the movie "Room" because everyone around me watched it I just didn't hear this movie.
Making it through customs was an interesting process filled with machines, selfies, and interviews.
Next was a terribly long line for security. Only two of the lines were open. Guards tried to make it seem like the line was moving faster by making us stand really close to one another.
My first purchase on American soil was a Dunkin Donuts iced coffee (raspberry, mocha, with cream and sugar if you wanted to know.)
We had a quick flight back to Pittsburgh it was only about an hour. My mother and sister, Emma were waiting to greet me with hugs and kisses.
Our luggage came out and we lingered with our good byes. It is sad when we all go our separate ways after spending so much time together on this journey.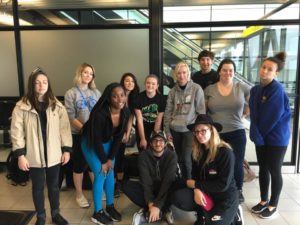 I can't believe I've already been to Europe and back what a trip it was!!
Thanks for reading about my journey!