Discovering Underground Music in Amsterdam
Taking a Closer Look at Young Amsterdam Native Producer
By Jacqueline Roberts-Kpan
First the Soundcloud release "TRY" quickly gained the attention of listeners with
its slowed mellow beats and catchy sample flip.
The popular remix of "Hotline Bling" debuted only seven months ago and appears to be already a fan favorite.
The most recent remix to Drake's "One Dance" is gaining Soundcloud plays and may soon follow in the footsteps of its successors.
With these and more, producer and Amsterdam native SRNO has quickly made a name for himself as his remixes to popular songs, from artists like Drake and Dej Loaf, has made an impression on music lovers worldwide.
Serrano, known as SRNO on Soundcloud revealed his talents to the world when he started his Soundcloud in late 2015. He is a 23-year-old music producer and beat creator from Amsterdam, the Netherlands. SRNO is signed to the Sony/ ATV Publishing recording label. SRNO has collaborated with other artists, including Bobii Lewis, Jahkoy, Alesha Dixon, Gia Koka, Caine Marko & Zack B and LOICK to make interesting songs of blends crossing between Hip Hop and R&B.
You can listen to more of his collaborations below in his SRNO Productions playlist.
He was unavailable for an interview during the class's trip to Amsterdam, so a review of his career to date follows.
In October 2015, SRNO released his first track on Soundcloud. "TRY" caught the attention of Soundcloud listeners as first-time listeners became repeat fans of the sampled flip turned remix. "TRY" quickly gained more than 113,300 plays and 113,000 downloads.
Soundcloud user jarislikeparis commented, "This song is always on repeat!" Soundcloud user Audible Velvet commented, "Great vibes, diggin' it!"
Audible Velvet also featured SRNO's "TRY" on its website.
The way SRNO cleverly flips Dej Loaf's "Try Me" sample is not only appealing to the ear, users said, but also it's something not easily forgotten. The series of repetitive bass drops paired with soothing adlibs, a new song that is uniquely different from the original.
Soundcloud user ATOM &Eve commented, "Awesome rhythm man, liking this, nice job." The slowed lyrics, "try me, try me, I'm a get his whole family, and I'm not playing with nobody, mess around and I'm a catch a body…" attracts fans and incorporates the original Hip Hop aesthetic.
You can listen to SRNO's "TRY" below.
One month after releasing "TRY," SRNO remixed Drake's "Hotline Bling." "Hotline Bling" is SRNO's most played track on Soundcloud with 192,000 plays and more than 7,300 likes. The soft and smooth melody of a female singer complements the slowed tempos SRNO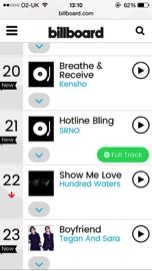 flipped. Soundcloud user Poe Nadi Hline commented, "I could listen to this all day!" Soundcloud user Jacob Bodewig commented, "Still lovin' it." Soundcloud user Jamie Harris commented, "better than the original."
SRNO's technique of drowning out the mellifluous lyrics to the bridge, "ever since I left the city, you, you, you, you and me we just don't get along, you make me feel like I did you wrong, going places where you don't belong, and ever since I left the city, you got exactly what you asked for, running out of pages in your passport, hanging with some girls I've never seen before…" provides a catchy yet contrasting flow to the composition, listeners have noted.
On March 18, SRNO's "Hotline Bling" reached No. 9 on the USA Spotify charts and only a
month later quickly gained the same exposure on the Billboard charts.
"My second single a remix of "Hotline Bling" has charted on the Spotify and Billboard Chart," SRNO proudly posted on Facebook as his song topped at number 21. You can listen to SNRO's "Hotline Bling" below.
SRNO's most recent track, released in May is another hit mix to one of Drake's most recent hits off his "Views" album "One Dance," which is currently at No. 1 on the Spotify playlist Top 100 Tracks Currently in the Netherlands.
SRNO's new mix only has a little more than 13,000 plays and 716 likes, but fans like Soundcloud user Skippy87 who commented, "track is way up," like what they hear. SRNO pairs the slowed lyrics of the first verse, "grips on your waist, front way back way, you know that I don't play, streets not safe but I never run away even when I'm away, oti, oti, there's never much love when we go, oti, I pray to make it back in one piece I pray, I pray…" and the hook, "that's why I need a one dance got a Hennessy in my hand, one more time 'fore I go, higher powers taking a hold on me…" with calming crooning from a female singer.
SRNO also uses what seems to be his signature edit – the repetitive coordinating bass drops, to the composition that adds his own unique touch noticeable to fans. Listen to SRNO's "One Dance" below.
For more information on SRNO, you can stay updated on all his projects by following him on Instagram, Twitter, Facebook. You can also find more of his songs on Soundcloud.