A visit to the Van Gogh museum
By Mackenzie Russ
Amsterdam is very well known for its museums. It's no surprise that the Van Gogh Museum is among its most famous.
According to the Van Gogh Museum website, a million and a half people visit every year. The Stedelijk Museum in Amsterdam displayed much of the Van Gogh collection for many years. The government created the Vincent van Gogh Foundation in 1962, and the design for a museum was commissioned by the Dutch government in 1963. Queen Juliana opened the museum in 1973.
Vincent Van Gogh was a Dutch post-impressionist painter whose work was underrated until after he committed suicide in 1890 at the age 37. Joanna Van Gogh, Van Gogh's brother's wife, was the one who introduced his works of art to the world.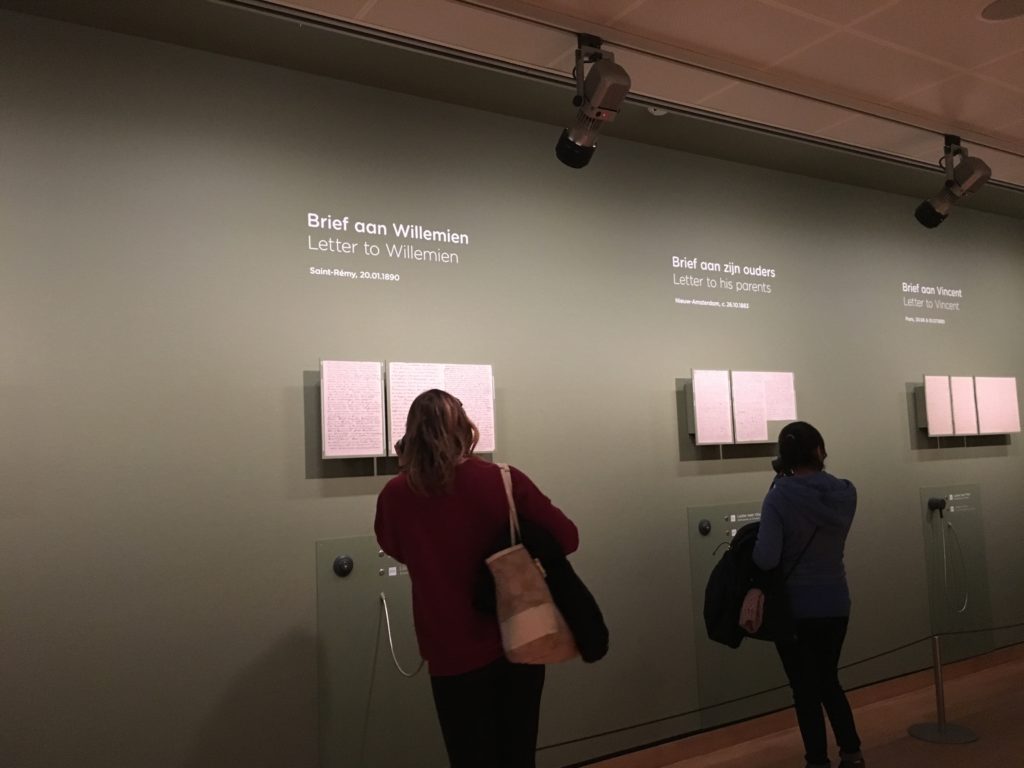 The museum has a very modern interior and exterior. Glass railings line the staircases that lead to three floors, which hold more than 200 of Van Gogh's paintings and 500 of his drawings, along with many other pieces by other impressionist and post-impressionist artists.
Some consider Van Gogh a misunderstood genius. Even though he struggled with mental illness, he still managed to create incredible works of art. Some of his most famous paintings were created toward the end of his short life while he lived in a mental hospital.
"It's hard to believe that he painted so much in his life," said Manon, a first-time visitor of the museum from the Netherlands and an art enthusiast. "There are even more than what's here."
Van Gogh created more than 900 paintings in his lifetime and made more than 1,000 sketches and drawings. Manon also pointed out that, "He was one of a kind. You can see that he was very talented, and I'm happy I got to see [the paintings] for myself."
Photographs of his paintings don't do them much justice. Seeing them in person is a whole different experience. To protect this unique experience and the art itself, the museum has very high security. Photographing any of the art in the museum is strongly prohibited.
Apart from the main exhibition was a smaller exhibition about the image of prostitution in French art from 1850-1910 called "Easy Virtue," which will run until June 19. Some of the artists whose work appears in the exhibition include Edgar Degas, Pablo Picasso, Henri Toulouse-Lautrec, Edouard Manet, Louis Anquetin and, of course, Van Gogh. According to the Van Gogh Museum website, paintings depicting prostitution was highly regarded among the visual arts during the second half of the 19th century.
The rest of the museum consists mostly of pieces painted by Van Gogh, although there are paintings by other artists scattered throughout as well. There are pieces by famous artists such as Claude Monet, Paul Signac, Auguste Rodin, Camille Pissarro and George Seurat.
The vast and various collections of paintings are organized into sections to help distinguish the time period and category. For instance, the section called "Painter or Peasant Life" is a collection of paintings from 1883-1885. Other sections are "Back to Basics" from 1995-1886, "New Perspective" from 1886-1888, "Artistic Flourishing" from 1888-1889, and "Painting Against All Odds" from 1889-1890. There are different sections within these sections as well that include artifacts besides paintings. These categories include "Self Portraits," "Van Gogh's Models," "Artist Friends, " "Family Treasures," "A Life in Letters," "Vincent and Theo," "Illness and Ear," "Death of Recognition" and more.
Donah, a visitor from New Zealand, said, "I couldn't pick my favorite painting. I love them all." When asked what her favorite part of the museum was, she answered, "I went to the Rijksmuseum and found this one to be more holistic. It was very overwhelming in there."
The Rijksmuseum is Dutch national museum dedicated to arts and history in Amsterdam, which is located at the Museum Square close by the Van Gogh Museum, the Stedelijk Museum Amsterdam, and the Concertgebouw.
Not everyone likes the paintings as much as Donah, though. Joppa, an employee at the museum, said "I think I don't like the paintings that much. I like his life more. I read the letters."
The letters Joppa referred to are significant to the exhibition. According to the Van Gogh Museum's website, the letters Van Gogh wrote and received are the window into his universe. The museum contains many of his letters to his brother Theo, his artist friends Paul Gauguin, Emile Bernard and many others. Visitors are able view them as well as listen audio recordings of the letters in several different languages.
"I would recommend anyone to come here if they have a chance," said Joep, a frequent visitor of the museum from Amsterdam. "It is a once in a lifetime experience."