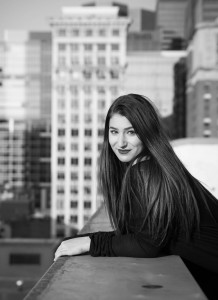 Mackenzie is a Pittsburgh based portrait photographer and is currently a junior at Point Park University majoring in photography. She has gained experience throughout her career by maintaining an online business, and working with and expanding her clientele. Succeeding college, she aspires to work as a fashion photographer, as well as continuing freelance photography. As for the trip, she is most looking forward to being able to capture and experience the different places and cultures!
5.7.16 Pre-trip Blog Post
Tomorrow is the big day! I can't believe it's already here. I don't think it's quite hit me yet that we'll be in Europe in less than two days but I'm sure it will start feeling more real very soon. I'm mostly packed but I still have a bit to get done. My boyfriend is graduating from California University of Pennsylvania today so I'm going to have a full day ahead of me. Between the ceremony and celebratory dinner, I won't have much time to prepare before tomorrow. Thank God for checklists! There are so many questions racing through my mind but I'm really trying not to stress too much. I just want to make the most of every moment and take it all in. This is such an incredible opportunity and I can't believe how lucky I am. I know it's going to be hard leaving my family and I'll probably ball my eyes out when they drop me off at the airport but it will all be worth it. Hopefully I'll be able to keep in contact with them periodically throughout the trip. It would be even more difficult if I my two best friends weren't going to be with me on the trip. I feel like they'll help to make me feel less homesick. Overall, I have a really great group of people to be around for the next two weeks. Everyone seems to get along really well so I'm sure we're going to make tons of memories together. It's going to be such a unique experience. I've traveled out of the country before but I was never old enough to really appreciate it. Amsterdam, London and Bruge are all places I've always wanted to visit and I absolutely cannot wait to see what each place and experience have in store for us!
Blog Day 1 | 5.8.16 / 5.9.16
These past two days have actually felt like one very long day so I decided to combine them into one blog post. My mom, dad, brother and boyfriend dropped me off at the airport at 1:00 p.m. and it was a teary eyed goodbye. I'm extremely close with my family, which made it hard to watch them leave knowing I wouldn't see them for two weeks. Once everyone arrived we got checked in and thankfully my luggage weighed 48 pounds; only two pounds under the maximum weight but I did it! The first flight to JFK airport was a breeze. It honestly felt like we were in the air for five minutes. During our layover I exchanged my American money for Euros and me, Kristen, and Madison went and to pick up something to eat to bring back to the gate. Little did we know, the flight started boarding right as we got our meals so we had to run back to the gate! The flight to London wasn't too bad. It was a little irritating trying to get in a comfortable enough position to sleep but I was able to doze off a couple times. It was so odd flying over night because when we landed it still felt like the same day. Customs were a bit of a drag since my carry-on was so heavy but coming into baggage claim to see everyone's luggage already set aside was a nice surprise! A large chunk of the day was spent site-seeing from the coach bus since we were stuck in some London traffic. I was just in awe of how different it is here than back home. We got to stop for a quick bite to eat near Big Ben but we didn't get to see it up very close so hopefully we'll get to go back at some point. Then we stopped at St. Paul's Cathedral and took some photos. After that, around 3:00 p.m., we arrived at the hotel. I was particularly happy because, as much as I wanted to, I could barely keep my eyes open on the bus. Jet leg got me good. We had a few hours before we had to meet with the group so Madison and I listened to some music and got ready for the night in our room. At 5:30 we met with everyone and discussed our plans for the upcoming days in London then we all walked to dinner together. The restaurant we ate at was called North Sea Fish, which is known for their classic fish and chips dinner. I wasn't sure how I was going to like it but I was pleasantly surprised! The desert, Apple Crumble, was phenomenal as well. After we finished we just came back to the hotel. Now it's finally time to sleep!
Blog day 2 | 5.10.16
I woke up feeling insanely sick to my stomach this morning and, after holding it back for some time, I actually threw up right before we left the hotel to go tour. I still felt a bit queasy on the tube but I continued to feel better and better as the day went on, thank goodness. I was nervous I had the flu so I was glad it didn't stick around to long. First we went to Buckingham Palace, which was neat to see and then walked through a really beautiful garden to watch the changing of the guards. It wasn't really what I was expecting it to be but I honestly enjoyed seeing the horses more than anything. Then we made our way to the Tower of London. I wasn't expecting a huge castle! It was really incredible. Me, Kristen and Madison were in a bit of a rush because we had to leave to make it in time for our appointment at the Warner Brother's Harry Potter Studio Tour at 4:00 p.m. that was a little over an hour away and we wanted to make sure we made it there as early as we could. The only part of the tower we got to see was the crown jewels but they were absolutely magnificent. I can't even imagine how much they're all worth. After we left the tower around 2:00 p.m. we made our way back to the main road to find a taxi. It wasn't a very difficult considering they're literally everywhere you look. We made it to the studio with time to spare! We were all extremely emotional and it really hit me once we got there. I'm a huge Harry Potter fan so this was one of the most life changing experiences I've ever had. That sounds a little dramatic but I would recommend it to anyone who has the chance to go, even for those who aren't Harry Potter fans. I could go on and on and on about how incredible it was but I'd probably need a separate website to explain it all. I was so overwhelmed with happiness throughout the whole studio. It was a million times better than I could have ever imagined. We were there for around four hours but I could have spent a week there and still been overjoyed and intrigued. We were actually the very last ones to leave that day. Once we finished, we came back to the hotel, ate some nachos and pizza in the hotel restaurant and hit the hay.
Blog Day 3 | 5.11.16
Today was full of London media visits. I was anxious to see what they were going to be like since I've never been to one before. Battenhall was the first place we visited. It's a public relation agency that has many talented, young individuals who are very passionate about what they do. They come from all different backgrounds and cultures, which makes them more diverse. They also stressed the importance of being multimedia savvy. In today's world, you almost have to be able to know your way around most technology. I really enjoyed Drew's, the founder and CEO of the agency, presentation. I thought he had some great insight, especially for students. He gave good advice on how to go about getting a job after college and how to make yourself stand out. The other employees who presented had some good advice as well and overall, I really liked the agency and what they stand for. The second places we visited is called BMB and it's a advertising agency. My first impression was that their sense of style, as far as interior design goes, is amazing. Props to whoever decorated their office because it was gorgeous. Each employee who presented was very different but I could tell they had qualities that were clearly important and add to the success of the agency. If I were in advertising and living in or around London, BMB would be the place I'd want to be. Everyone is clearly doing very well and seemed to thoroughly enjoy it as well. The presentation from BMB's founder and CEO, Trevor Beattie, was definitely something I wont forget. He is probably the most successful person I've met so far in my life so I feel really lucky that I was able to listen to all he had to say. He just seems so passionate about life and making the most of it. His creativity is exuberant and you could tell he cared about sharing his knowledge with us. Both of the visits were extremely beneficial for me and I feel that I've truly gained so much. Those were just a few highlights from the visits and even though I'm not a PR or advertising major, there are tons of information I took and will apply to different aspects of my life in the near future.
Blog Day 4 | 5.12.16
Today is the day we left the beautiful city of London. We had some time before we had to get on the bus to get to the ferry that took us to Brugge so we decided to go back to Big Ben. We stopped briefly at West Minster during our first day in London but didn't really get the chance to walk very close to Big Ben or see what was around. We had some trouble getting there on the tube but we figured it out. We only had a little time to walk around and take photos but it was definitely worth it to go back. Then we came back to the hotel and got on the bus for the cliffs of Dover to take the ferry. Because of all of the security we had to go through, we actually missed the first ferry and had to wait for the next one. I was expecting a somewhat small, simple ferry but the boat was actually much bigger than I thought it would be and had a lot of amenities. The ride was about two hours long but it felt faster since we were able to eat and walk around the boat. We actually docked in France so it was cool to see some of their land on our way to Brugge. The bus ride was another hour and as soon as we arrived in the town, I fell in love. We weren't even seeing the best parts yet and I already knew it was special. The hotel we are staying at is called Hotel Jacobs. It has the classic Brugge exterior and rooftop with a really modern mixed with classical interior. Since we missed the first ferry, we were running late for dinner so after dropping off our luggage, we met back up with the group to go eat at Bistro Den Huzaar. I wasn't too crazy about the chicken but everything else was amazing. Once everyone finished eating, we walked around the streets and explored a bit. Everyone was really just in awe of this place that seems like the perfect fairytale.
Blog Day 5 | 5.13.16
We woke up, got ready and got breakfast per usual. They had crepes so I was very excited. Then we left and took a walking tour of the town. During the tour we hopped on a canal boat ride, which was amazing. I cannot wait to see all of the pictures from today. There were too many great photo opportunities. Then we stopped at The Church of Our Lady where we got to see Michelangelo's sculpture, "Madonna and Child". I didn't know we'd see it so I was pretty star-struck. Then we all went our separate ways for a little to get food or whatever we wanted. Me, Kristen and Madison actually got our meal from a food truck. I got a hot dog and fries. It wasn't anything too memorable but it was good. Then we did a little shopping at a store called Mexx. I thought they were really decently priced for good quality items. Next we met back with the group and walked over to a chocolate museum called Choco-Story. I honestly wasn't super interested in the museum as a whole but the chocolate was yummy. We got a big bag of whichever flavor we wanted (I got caramel milk chocolate) for free when we left and I know I'm going to have a hard time trying not to open it before I get back home. After we stopped back at the hotel, we started our search for some Belgian waffles. We found a place, that none of us can remember the name of, where I had by far the best waffles I've ever tasted in my life. They were so dense and sugary. It was all around perfection, as is everything in Brugge. We (Kristen, Madison, Colleen, and Emily) went to dinner a little later at a restaurant called Cabrina's. During the day we asked around about where we should go and multiple people suggested it so we had high expectations and it definitely lived up to them. To finish the night we walked around, stopped in a few places and then ended up running into most the group and we went a neat little bar called De Garre.
Blog Day 6 | 5.14.16
I woke up very sad to leave Brugge today. I honestly wish I could have stayed a lot longer. We made sure everything was packed and then we got on the road for Amsterdam. When we first starting moving, I got really motion sick to the point where I thought I was going to throw up—and thank goodness I didn't. I was able to sleep almost the whole three hours between Brugge and the Keukenhof Gardens, which I really needed. The lack of sleep has been difficult. But the gardens were amazing. There were so many unique flowers and other plants. We were all pretty hungry so a decent part of our limited time was spent in the cafeteria but I was stoked to get some really nice shots. Then we got back on the bus for our hotel, which is called Meininger. When we arrived we relaxed for a while before going to dinner. We went to eat at a restaurant called Bret just a minute walk from our hotel. Our appetizer was, oddly enough, asparagus soup. I really wasn't sure how I'd feel about it but, even though it was a little strange, I actually enjoyed it. I'd even like to go back before we leave to just get a bowl of the soup. For our entre, Kristen and I decided I'd get the cannelloni pasta and she'd get the burger and fries so we could have a bit of each. The pasta was amazing but the burger was not cooked at all in the middle. It was pretty much raw meat and neither of us could bear to eat it so we had to send it back, which I don't like doing at all. It took a while for them to bring the new burger out but it was definitely better. For desert, I got the scone with lemon curd. The lemon curd was lemon to the extreme. The first bite tasted almost as if I just bit right into a lemon. It was a little too intense for me but it could have been worse. Overall, it wasn't the best experience mostly because it took so long for the food to come so after being there for about three hours I was beyond ready to call it a night.
Blog Day 7 | 5.15.16
Today we woke up in Amsterdam and got on the bus to go back to the Dutch Countryside. The first thing we did when we arrived was go to the Dutch cheese factory. It wasn't really a factory but one of the employees told us how they make the cheese. After the little demonstration we got to in another room and sample a lot of their cheeses. I'm a huge cheese fan so I was in dairy heaven. The first cheese I tried was smoked Gouda goat cheese and it was probably one of, if not the best cheese I've ever had. Don't get me wrong, the other cheeses were amazing but nothing compared to the first so I bought it to share with my family (if I don't eat it first). Then Kristen and I got a cheese roll on our way out because we have no self-control. Before going walking over to see the Windmills of Zaanse Schan, we took a group photo and were photo bombed by a friendly chicken. Not only did we get to go up close to the windmills but we even got to go inside them to see what one does. The one we went in creates pigments for paints. When the blades of windmill turn, it connects all the way down to bottom of the windmill where huge circular rocks crush the pigment into what looks similar to sand. We got to go upstairs and see how they all connect through wooden gears then we go to go all the way up to the "roof" of the windmill. It was a little scary because I could see through the cracks in the floors board, it didn't seem very supportive and it was very windy. It was still a really great view though! Next, we got to see how traditional Dutch clogs are made. I didn't think it would be all that interesting but it was actually quite engaging. I must take a lot of practice and technique to make them correctly. Once everyone finished up, the bus took us into the main part of the city of Amsterdam and we were going to try to the Anne Frank house first but it wasn't open yet and there was a long wait. Instead, we decided to go on the canal boat ride first. It was a little hard to see everything very well from inside the boat but it was a nice tour. Then we went back to the Anne Frank house and waited for almost two hours, which wouldn't have been nearly as difficult if it wasn't so cold outside. It was well worth the wait though. It was such a surreal experience and of course it was really sad. It's crazy to think that the Frank's are just one example of a family that suffered during the holocaust. Although it was extremely sad, it was also inspiring so I'm really glad I got the chance to be there. Afterwards, we had dinner with a few Point Park alumni. Matthew, the alum that sat at the table I was at, brought along his wife who is from the Netherlands. We actually spent most of the time talking to them and asking them questions about their culture. It was very informative and they were so kind.
Blog Day 8 | 5.16.16
Today we woke up, got ready and walked to the convenient store next door to get a croissant with cheese on top. Once the whole group arrived in the lobby, we took the tram to Vrise Universiteit Amsterdam and listened to Jolien Arendsen's presentation on the current landscape of mainly media in the Netherlands. She had some great statistics and graphs about various subjects. A good bit of the presentation showed how paper mediums are failing here and everywhere. All of these businesses have to adapt to the constant technological advances and change how they operate. The visit was good overall and it was pretty strange being on a campus in Amsterdam. Then we took the tram into the city, did some window-shopping, and searched for somewhere to have dinner. It's always difficult to choose since there are so many options. Kristen, Madison, Hannah, Chase, Anthony, Jane and I ended up eating at a little Pizzeria. I got a delicious margherita pizza. For desert we stopped at a shop a couple buildings down for some gelato (we were feeling very Italian today apparently). I got a scoop of the dulce de leche, which was also delicious. After that we walked about town a little more and then decided to start trying to make our way back to our hotel. The tram has proved to be quite confusing and we had some trouble getting back. We had to make a switch to get on tram number 12 that takes us back to the hotel and we accidently got on a different tram that was number 12. I started to realize a couple stops in when names weren't sounding familiar so I went to the back if the train to look at the map. A woman saw that I looked lost and gave me a map and I told her where we were trying to get and she told me we were going in the complete opposite direction. I had absolutely no clue how to get back from where we were so thank God this woman was there. I didn't even know people as kind as her existed. She told Kristen, Madison and I to get off at an upcoming station to then take the metros to the station by our hotel. Not only did she tell us how to get there but she also had to get on the same metro as us so she offered to show us where to board the metro, where to get off and where to board the next metro. It sounds confusing and believe me, it was. But without this woman, whose name I feel so sorry that I can't remember, completely saved us. Before saying goodbye, I asked if I could take a portrait of her to remember how thoughtful she was and I'm so glad she let me. Thanks to her, we made it back safe and sound.
Blog Day 9 | 5.17.18
Today we went to visit two very well-known Amsterdam newspaper offices; Het Parool and De Volkskrant. I don't think Het Parool was completely compared for our arrival so the manager, Vincent Smits, didn't have much prepared. He was very nice and answered all of our questions but it definitely didn't seem as personalized. Their paper started during World War II as resistance against the Nazi's. They have such an interesting history and it's awesome how they've continued being successful after all these years. We got some lunch at the cafeteria in the building, which was so good. I got the oddest little sandwich. It has pineapple, lettuce and goat cheese. Sounds like a very weird combination but it was amazing! De Volkskrant, the other newspaper that was conveniently located in the same building at Het Parool, was more prepared and personable in my opinion. Melle Drenthe, the assistant to editor and chief, seemed very excited for us to be there and gave us a lot of interesting insight. I always like seeing the dynamics behind the scenes. I never think about how much time and effort is put into all the little details. After we finished, we took the tram into central Amsterdam. Kristen, Madison and I explored the city, shopped, then got dinner at a burger restaurant. Mine was an Angus burger with cheddar cheese, avocado and their signature sauce. Then for desert, we got some amazing waffles with chocolate, whip cream and strawberries. They were chilled instead of warm, which was something I've never seen before. After, we walked around town a bit more, browsed some of the shops, finally (somewhat) figured out the complexity that is the tram, got back to the hotel and just relaxed the rest of the night. Being able to have everyday be full of amazing things to do has been awesome but it's also been very exhausting so it's been nice to just take a load off.
Blog Day 10 | 5.18.16
Today we woke up, got ready and hopped on the tram to go to Ketchum, a worldwide public relations firm founded in Pittsburgh! They were so welcoming and kind. The visit was very interactive. It felt almost like we were at a work meeting rather than a media visit. Much of the time we were there was spent helping them with a real brief. It was about how they should celebrate the International Baccalaureate (IB) educational program. It was really interesting hearing all the different opinions and ideas that came from my peers and professors. They were also nice enough to give us lunch after we finished and brought us refreshments throughout our time there. We made our way back into central Amsterdam to the visit I was most excited about; World Press Photo. It was located in one of Amsterdam's main squares in a beautiful, grand church. I wouldn't have expected it to be in that setting but it worked. Our guide told us about World Press, walked us through the exhibit and talked to us about some of the award-winning work. The photos were absolutely incredible. The power of photography made it a very emotional experience. A lot of the images were devastating and sad but there were also uplifting and happy moments that were documented. I really liked how various aspects of documentary photography were presented rather than just one. At the end of our short guided tour, the tour guide gave both me and Hannah, the other photo major, a 2016 World Press Photo book containing the whole exhibition. I was so excited and grateful and was totally not expecting it. That was so generous of them and it's definitely something I'll be able to cherish for the rest of my life. The rest of the day was open to do whatever we wanted so we went around the exhibit again to see anything we missed then went off to do some shopping and eat dinner. We ate at a little Italian place that I don't remember the name of. I got the three-cheese pasta, which was amazing. I'm a sucker for anything Italian. Then I got some long awaited crepes. I was craving them the whole trip and the caramel covered desert certainly didn't let me down. We headed back to the hotel a little earlier and now we're working on our blogs and getting ready for bed.
Blog Day 11 | 5.19.16
Today was our last day in Amsterdam 🙁 It's bittersweet because I obviously don't want to leave this beautiful place and I still feel like there's so much more to do but I'm also ready to be back home with my family. We had the whole day to do whatever we wanted so took the tram into central Amsterdam late morning to go to the Van Gogh museum. Seeing those painting in person are something no one should ever pass up. It was absolutely remarkable how talented he and the other artists whose work was in the museum really were. I was particularly captivated by the textures of so many of Van Gogh's paintings. I couldn't believe how many paintings there were. I chose to do my article for this class on the museum so I took a lot of notes and interviewed a few people as well. Next, we went back to the area where the Anne Frank house is to take some photos and get lunch. The sandwiches we got were good but I don't think they were worth the long wait. We tried to find places to do some last minute shopping but didn't have much time. We thought we had to look nice for the dinner cruise so we were rushing back to the hotel to be back at central station in time. As it turned out, we didn't have to be dressed up so we went back for nothing. I was pretty upset because I didn't get everything I needed and I really didn't want to spend my last day traveling back and forth. I'm just glad we made it back in time for the cruise. The food was different but good and it was really interesting having a four-course meal on a canal boat! It was smaller than I expected it to be, which made me feel a bit claustrophobic. I didn't get sick though so I was happy about that! And we had some great conversation and beautiful views along the way. After the cruise, we all went back to the hotel. I was a little bummed because I wanted to get some more photos of the city at night but it was cold and already pretty late. Not to mention I'm still packing and have be ready to leave bright and early tomorrow (technically today since it's so late). Hopefully I can get at least a few hours of sleep!
Blog Day 12 | 5.20.16
Today we got up at six in the morning with a full day of travel ahead of us. I had a little breakfast at the hotel before leaving. It was a pretty short drive to the airport and once we got inside, we checked in to get our boarding passes and turned in our luggage. We had a little time before our flight was leaving and since I wasn't able to finish shopping yesterday, I picked up some Dutch tulip bulbs for my mom and dad. Then we boarded our 9+ hour flight, which wasn't as bad as I thought it would be. I watched three movies (Trainwreck, Joy, and How to Be Single) and slept for about three hours. I was going to try to stay up the whole time but that rest definitely helped. And just like that, we were back in the United States. It was a bit stressful when we arrived in Atlanta because we were originally supposed to depart on our second flight at 3:15 p.m. and it was already after 2:00 p.m. Once we saw that the line for security was hardly moving, we realized we definitely were not going to make that flight. But when we checked our boarding passes, the time was already changed to 5:51 p.m. It was pretty confusing but it ended up working out fine. The flight to Pittsburgh ended up only being an hour, which was really nice. I was so excited to see my family. I picked up my luggage and said my goodbyes. It was really sad leaving the people I can now call great friends and I know it's going to be weird not seeing them every day but I'm so grateful I got to share such an amazing experience with them. When I saw my mom and boyfriend waiting for me as I walked out of the airport, I couldn't help but tear up. I can't wait to tell my family and friends about all the incredible things we did and saw. I am so lucky to have had this opportunity. I learned so much and I truly believe this experience change me for the better and will help me immensely in all aspects of life. Thank you so much to everyone who made this trip possible. I will never forget it.