---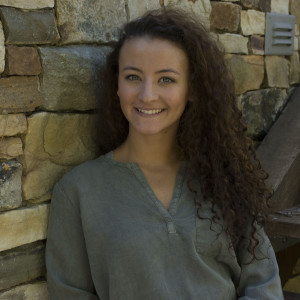 Jess is a junior multimedia major minoring in advertising and public relations.  She is interested in a career in graphic design and hopes to land a job in Pittsburgh.  Jess has never been out of the country so she is excited to see three new places.  She is excited to experience the food and culture of Europe.
---
Pre-trip Post…… (SAT. 5/7/16)
It is the day before we travel to Europe!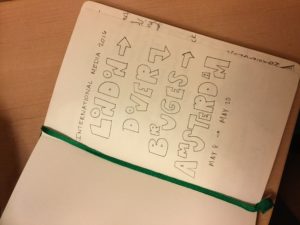 Being a full-time student at Point Park University, I have been anxious to get out of Pittsburgh. Us students get caught up in day-to-day activities and forget to take a breath every once in a while. This International Media trip is the perfect chance to get away for a little while.
I am so appreciative to have the opportunity to travel through Point Park – I had never heard of the International Media class before last semester! The fact that it counted as one of my cultural courses makes it even better. I think the Communications department should invest in spreading the word about this class….most students would be interested in such an awesome offer.
I am so worried about forgetting to pack that I haven't really been thinking about our travels. This happens every night before I leave for an extended trip….even though I am caught in packing mode, I am SO excited to be in a new environment.
I have never been outside of the US (or even West past Texas) so I have been stuck in the same environment for a long time. This is what I am most excited about….being somewhere new! I love experiencing new food, places, cultures, etc. Having the opportunity to visit not one but three different countries is amazing. I plan on getting very little sleep so I can experience these places to the fullest extent!. Stay tuned to read about my journey through London, Bruges, and Amsterdam!
---
London Day 1! (MON. 5/9/16)
We saw SO many things today.
London is HUGE.
Information overload.
I am very sleepy at the end of the day but am proud that I forced myself to stay awake! Going into the tour straight off of the plane was rough but worth it.
On the bus our tour guide, Ed, overloaded us with information. Some interesting facts:
a "queue" indicates traffic
The Thames river is 48% salt
the purple flowers that grow on buildings is called Wysteria
London employs around 414,000 people
Over the course of the tour, I was thinking about how amazing the architecture of the city is. There is a combination of traditional and modern styles – Ed mentioned you could see a Victorian style building on the left and a skyscraper on the right. It seems very different from Pittsburgh in this way until you look up and actually look at the ornaments on the top halves of the buildings. Most people in the city of Pittsburgh limit their view to street level. Looking up you can see old typography and Roman/Greek influenced architecture decorating the tops of the businesses. Still no compare to the buildings that are older than our country itself (aka Tower of London).
We also ate fish chips for dinner!!! I am not the biggest fan of fish so it came as a surprise to me when I enjoyed it.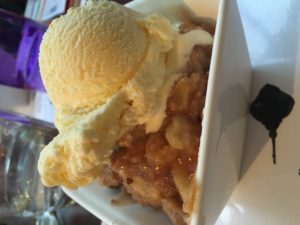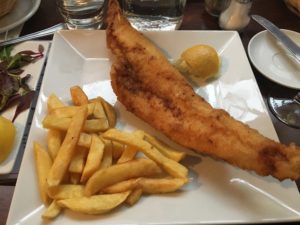 The fish was so crispy of the outside and white and flakey on the inside. The chips were endless which was also a bonus. To finish off the dinner we had apple crumbly……warm apple pie with cold vanilla ice cream. This was so nice due to the fact it was so hot in there!Overall, this first day amazed me. We saw so many amazing things that I never dreamed of seeing. I am so thankful to be here and cannot wait to see more.
---
London Day 2 (TUES. 5/11/16)
Today Ed took us to see lots of historical landmarks and daily occurrences. We saw the changing of the guards, horse guard parade, London tower, London tower bridge, Borough market, Globe Theater, shopped at Soho, and had dinner at an Indian restaurant. How did we do this all in one day you ask? We walked almost eleven miles over the course of the day. I'd say that is the most I've ever done.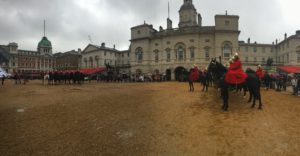 It was really cool seeing the changing of the guards. It is such a grand process done daily for such a simple purpose! I can't think of anything in the US that comes close to comparing. Always interesting to see how different countries go through different processes. Unfortunately, we didn't see the whole procession because of the rain. Although the rain didn't stop us! We continued on to the London tower.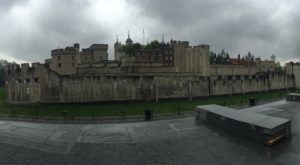 This castle was absolutely amazing. It was huge and happend to be older than the United States! Crazy to think that a building can be older than an occupied country. Too cool. I also got to see the Crown Jewels! The exhibit was absolutely breathtaking. Every item was so beautiful and were worth more money than I will ever wear on my body….the same exhibit contained different items that were used on special occasions including dinners and baptisms. My favorite part of the exhibit was The Royal Punch Bowl. It was created in 1829 for George IV and could hold 144 bottles of wine. What a party!
My favorite part of the day was my meal at dinner! A big group of us found an Indian restaurant called Drummond Villa right by our hotel and it was amazing. I got lamb pasanda with rice and nan bread. SO GOOD. I was a little hesitant to order lamb but I am so glad I did. One of the best meals I have had at a restaurant!
Lastly, the Tube. The Tube is London's trolley but 10 times more complex. People don't stop for anything and there are times where it is so crowded you sweat through 3 layers. With no air conditioning, the wind that blows after passing trains feels like heaven.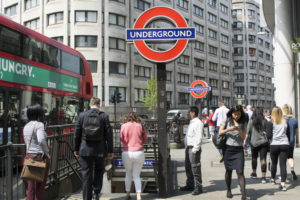 ---
London Day 3 (WED. 5/11/16)
What a great day. I have never been so excited.
We started at Battenhall, a pr/social media firm. The founder, Drew Beattie, gave a presentation on what Battenhall was all about. He is very business ordiented and has a different outlook than the typical US pr firm. He explained this as depth specialism and ensured that every employee had a broad set of skills and experience before he hired them. He also gives them unlimited holiday, money for their own technology, and my favorite, 20% free time as long as it was innovative and creative. This stuck with me. Instead of making your employees sit behind a computer screen all day, give them some free time to be creative and stimulate their brain. I see how beneficial this can be. I recently read an article that actually encourages wasted on the Internet. Reblogging, tweeting, watching, and reading useless stories can really help with inspiration and will encourage workers get actually work harder.
In between visits we visited borough market. The market is perfect for grabbing something quick to eat or sitting all day to relax in a cultural area. This was actually my second time visiting (went on day 2 and got veggie Thai). This time I got a hot chicken wrap…it had chicken, rocket mayo, pico, and spinach.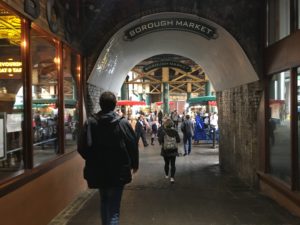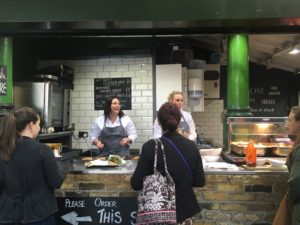 It was the BEST wrap I have ever had. I also grabbed a can of coke and it was so much better than the cans at home. In England, no artificial flavors are used. That means no high fructose corn syrup, no artificial flavors, no chemicals. The food over here in Europe is crazy good because if this!
The second agency was BMB Advertising. They are working at a brand new building with the coolest interior design I have ever seen. Aside from the deco, all the desk space was open and perfect for collaborating. Communicating in a space like this is inspiring. Working with other creatives really helps you feed off of others work and can help to produce something completely different than intended. I am all about this free kind of thinking space. I think it produces a positive environment and can turn a 9-5 job into something lovable. I also loved how they explained that constructive criticism is a good thing. Some people don't understand this concept. Opinions are a good thing! Especially honest ones. After coming up with an idea, sketching, and producing work, sometimes we miss small errors or don't think of alternatives.
Overall, this day was so inspiring. I have visited a few firms in Pittsburgh and can honestly say that I have seen maybe one that has the same ideas (Gatesman + Dave). I absolutely love the collaborative aspect of the agencies we visited and really hope that I can pursue a career in a similar environment.
---
 Bye Bye London! (THURS. 5/12/16)
 Because we were leaving London early this day, a few of us decided to go to the museum that is right down the street from the hotel, Wellcome Collection.

The inside was very cool and modern and all of the art followed suite, mixing elements of art and science. There was an exhibit called, Voices, which completely overloaded my senses.  Walking in there was a soundproof room and a monitor on the wall showing a person swallowing and reenacting the sounds. The exhibit included the psychology behind sound as well, explaining that the pitch of a person's voice is connected to emotion. Leaving this room I felt overwhelmed but appreciated how it kind of pinpointed one sense and completely distracted the others.
Sad to leave London, we drove to Dover to take a ferry across the English Channel. I completely underestimated the monstrous cliffs of Dover, and the ferry as well! I expected both to be small and intimate…..meanwhile it was the complete opposite, the view of the cliffs was just unreal and made me feel very minuscule.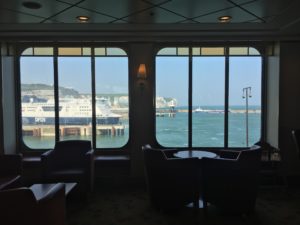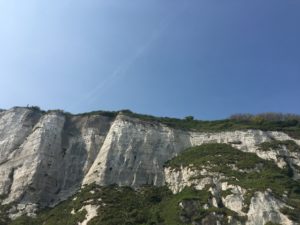 The ferry was not the small 20 person boat I thought it would be! I'm pretty sure there were at least 30 Mac trucks parked in a garage ON the boat. The ride was very smooth and when I first saw land it didn't hit me that it was France! I have taken 6 years of the language so I have been wanting to visit for a very long time. I absolutely love learning about it and hope I can make it back and spend some time experiencing the country first hand.
Most of the rest of the day invoked traveling to Belgium. On the way our new tour guide, Summer taught us about The Jungle. I had no idea that there were small communities of immigrants literally on the side of the main roads. She explained that there are 9 camps spread out full of tents to shelter around six thousand people. She told us about that most of the inhabitants were men and almost every woman has been raped. All of this information was hard to process, and then we actually drove past two of the camps. I couldn't believe that human beings were being forced to live like this, and plan on looking into The Jungle a bit more.
---
Bruges (FRI. 5/13/16)
Today was a busy day but an important one….we went on a canal ride through Bruges and also visited the CHOCOLATE MUSEUM. If you know anything about me, two of my favorite things are chocolate and taking pictures. This day was an exciting one for me.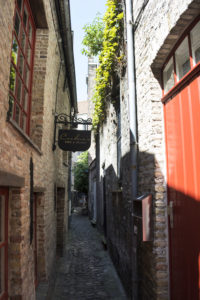 For starters, Bruges is like another any place I have ever been. The tight alleyways and buildings that block the view of any recognizable building make it difficult to navigate the streets. However, the group somehow learned how to get around in a few hours. We seem to all have a knack for direction, able to adapt to new places easily.
I knew the chocolate museum would be great the moment I found out we were receiving a goodie bag. We saw the history of chocolate (from the beginning of the beginning, Montezuma, and the trade in Congo), and also got to see a demonstration. A chocolatier told us about the process of using the melted chocolate in molds. She mentioned they have some bizarre flavors, including wasabi! The best part of the demonstration was the end….we got a sample! It was a nice dark chocolate she'll with a hazelnut filling (almost had to give Jane an Epipen…).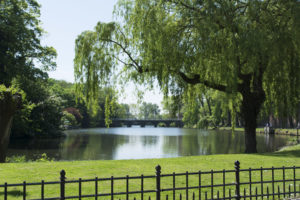 After I thought I couldn't get any happier, we took a ride through the canals. I took about 200 photos/videos and actually teared up because the views were so beautiful. We saw some lovely architecture, swans, and tourists. I also enjoyed the tour guide..'s ability to speak different languages. He would announce facts in French then repeat them in English. I could understand a lot of the words – because I have taken five years of French – and was reassured when he spoke in English. What made the tour even better was the weather. The skies were bright blue and the temperature was high; We couldn't have had better weather.
---
Traveling to Amsterdam (SAT. 5/14/16)
Today, I spent most of my time on the bus traveling to Amsterdam. The first few hours I couldn't help but nod off. When I woke up we were surrounded by farmland and windmills! As we got closer, Summer explained that the city was below sea level. To prevent flooding, the farmland and railroads were raised.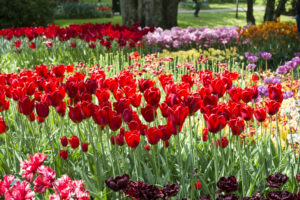 After about an hour we arrived at Kuekenhof Gardens. Expecting to see rows and rows of tulips, we were all a bit disappointed when we found out that the flowers aren't full for very long. It is actually cut so they can be planted the following year. We had just missed the full flowers. Although we didn't see the tulips growing in rows, we walked through the garden and saw so many beautiful arrangements.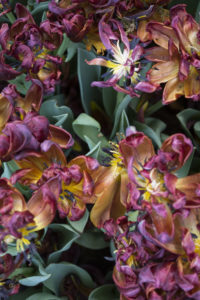 Described as a 'Theme Park of Flowers', we learned that tulips originated in Turkey and South China. We also learned that there are about 2500 different variations of tulips and they are named by the people who created them. Fun fact: in the 17th century, a single tulip bulb could be sold for the equivalent of $90,000.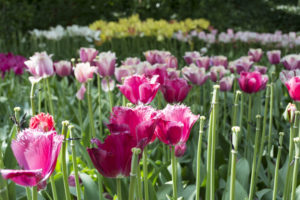 After a long day of checking out the flowers and traveling on the bus, we went to a restaurant right by our hotel, Heft. We had a lovely 3 course meal, starting with asparagus soup (YUM), a veggie burger (spicier than anticipated), and finishing it off with sorbet for dessert (contained grapes which was surprisingly delicious). Dinner lasted about 3 hours, which seems to be a trend here in the Netherlands. People who are dining at any cafe or restaurant doesn't mind spending some time relaxing and waiting around. Us Americans should take note…we are constantly running around itching to get to our next destination.
---
Dutch Countryside (SUN. 5/15/16)
What a cool experience! We traveled by bus to the countryside and I knew we were close when I saw huge wooden windmills. I've only seen the newer, tall white mills so seeing there were pretty cool.
The Dutch countryside was one of the most crowded sites we have been at. When I say I felt like a sheep being hurded, I'm dead serious. We were lucky enough to see a demonstration on how the cheese it made and processed but were guided to a room with some free samples afterward. I have learned that people all over the world go CRAZY over anything that is free. Trying to taste a few things was like trying to cross a bike lane during rush hour: impossible. Though I did get the opportunity to taste everything and bought some cheese to take home! 2 interesting facts I learned along the way: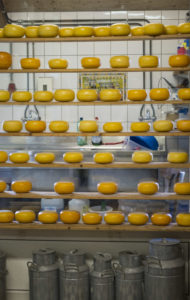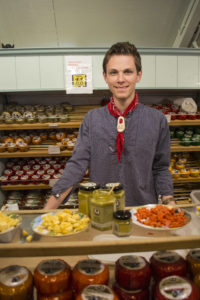 -The 1 kilo cheese needs to be flipped once a day so the fat doesn't settle
-On average, cheese sits for about 6-7 months before selling
Next, we got to see the windmills up close. They are absolutely incredible. We got some information from a family owner, there for a few decades. He showed us the inside of the windmills, the chalk being ground by the massive granite stones. He explained how different things can be added to the mix to produce different colors. For example, red bugs from a cactus were added to make a lipstick and rich red watercolor. In 1781, these water colors were very expensive. I am actually doing a small video on the Dutch countryside…link will be added soon!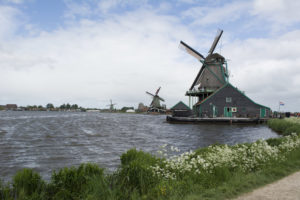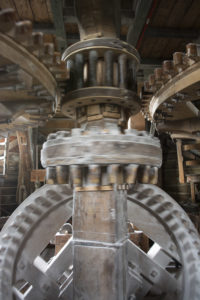 Up next, the Anne Frank house. I am so grateful that I got to visit this historical landmark. Walking through the house made me realize just how terrifying it must have been to live through the Holocaust. The Frank family was trapped hiding in the attic of a business for 2 years. Anne was 13 at the time and more mature than any young teenager I have ever heard of. Her thoughts were so advanced for her age and it came as a surprise to hear her father say that he had no idea she had felt the things she felt. Finding her journal helped her father get to know her better and educate the rest of us about the hardships of a young Jewish girl. Seeing the tick marks on the wall showing the height of Anne and her sister really hit home for me. It's hard to even imagine the time that these people went through. Seeing things like the pencil in the wall and the photos hung in the bedrooms really brings it to life and hits home. Waiting in that 2 hour line was so worth it.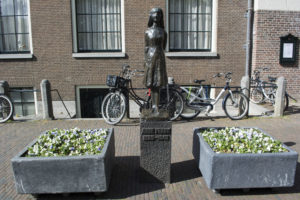 ---
Amsterdam day 2 (MON. 5/16/16)
Today we visited the university of Amsterdam! Professor Jolien Arendsen led us around the small campus. The size kind of reminded me of Point Park! Although the buildings were a bit larger than ours, it felt like a small community.
Jolien lead us into the "Fishbowl" classroom and was kind enough to get us some free coffee. As she started her lecture I was brought back to a classroom downtown, talking about different media laws, audiences, and the current popular mediums. The main topic of the lecture was focused on Ductch media, and Jolien touched on some current  popular channels of media: the Correspondent and Blendle being two prevalent outlets.
The Correspondent's method of creating a platform that is completely digital with no ads proved to be successful. In 2013, they received 18,000 people subscribing for 1 year of service (€60). The numbers continue to grow, now 40,000 subscribers not including Facebook and Twitter.
Blendle is taking a completely different approach, creating a digital news kiosk that readers can buy just one article at a reasonable price. Readers are more likely to not pay attention to the fact that they are spending money, due to the fact that they are spending a measly .20€.
We also touched on the topic of citizen journalism. To give readers something authentic, giving locals the power to tell their own story can give a perspective a professional journalist can't. The local knows every detail of the issues going on in their community, unlike a journalist. But giving a citizen a camera and the ability to create a news story is a debated issue. Journalists take pride in their skill and don't always appreciate a non professional the time of day when they say they have a story. To fix this, the citizen is given a cameraman and a director to facilitate the process. This will provide the citizen with some direction, and the journalist with the satisfaction of preserving their profession. Win win situation.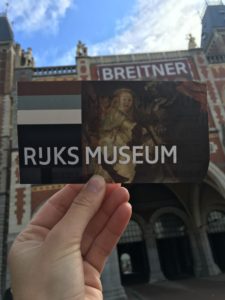 Also saw the Rijksmuseum…..WOW. It took me about an hour and a half to get through one hallway of the three story building. It was really breathtaking. I have such respect for the beautiful paintings and figures that were mostly created by memory. The history behind each painting was just unreal. I was exhausted after seeing just this one hallway….seeing the whole museum would take at LEAST two days for me.
---
Amsterdam day 3 (TUES. 5/17/16)
I surprisingly really enjoyed this day.  I never thought I would be so interested in newspapers! We visited two different papers, Het Parool and de Volkskrant. Both were in a super cool building full of random businesses. This seems to be a trend here in Amsterdam and it is so effective. They all get along nicely and seem to help each other if any business is in need.
Het Parool was a bit unprepared for our arrival so we mostly just asked questions. The paper was very different than what we usually see in the US. The use of graphics on the front page was a refreshing element compared to the traditional text heavy appearance. The use of visuals seems to be really important to Het Parool as the paper is littered with graphics and illustrations.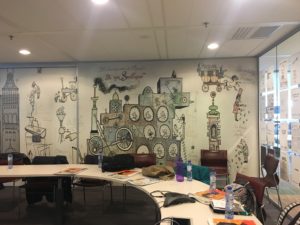 Similar to the use of visuals in Het Parool are the illustrations in de Volkskrant. The paper had an illustrator, Oplhand, who was famous for his drawings in every issue. When he passed away, de Volskrant that it was necessary to preserve his wonderful sketches. They scanned a number of popular illustrations and actually made a wallpaper from them! It is on a wall in one of their conference rooms to remind them of his creative genius.
---
 Amsterdam day 4 (WED. 5/18/16)
"God made our heads round so that our thinking can change direction"
Today we visited Ketchum's Amsterdam agency and the World Press Photo exhibit.
As soon as we got to Ketchum I was put on the spot. Because I was sitting in the seat closest to Tim (CEO) he looked right at me and asked me what I knew about his agency. I actually surprised myself and didn't hesitate or stutter at all! I gave myself a little pat on the back. Ketchum proved to be different from the other agencies in this way. Tim interacted with us after every thought and we all were really into the discussion. We also were given a real mini creative brief and had to come up with some solutions. I really liked this activity because we all got to share our thoughts and both Tim and Yutin seemed to really appreciate our different opinions. Both of them were so nice and willing to teach us about what a day in the office really feels like. Afterward, Tim actually walked us back out of the building and chatted with us for a little while. I really liked him for this reason. He was so kind and personable.
Next we headed over to the World Press Photo exhibit. In the church the king and queen were married in, Nieuwe Kerk, we got to explore the best photos (and multimedia packages) of the year. SO many great photos. I really liked how they set up a big exhibit showing the photo of the year since 1955.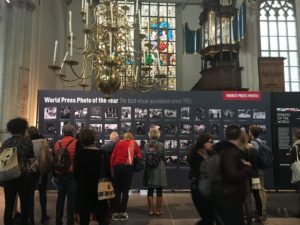 I was happy with myself when I recognized a lot of them. I could've spent an hour just looking at these photos. There are so many powerful photos it's hard not to stare and think about the history behind them. Most of the photos throughout the church were this way. A big topic this year is the immigration issue. The photo of the year shows a baby being handed through a barbed wire fence to a man escaping into Hungary. The attention this photo alone is attracting is so significant. Instead of hearing about the immigration issue on the news, Warren Richardson was able to capture something so beautifully terrifying. An innocent child has no idea that she/he is a part of history. I love photos for this reason. An image can be so simple but is capable of telling a story that cannot be described any other way.
After World Press, we had a lot of free time. We decided to walk around and visit Jordaan, a quiet, less touristy part of Amsterdam. We ended up finding a small Italian restaurant, Salvatorica.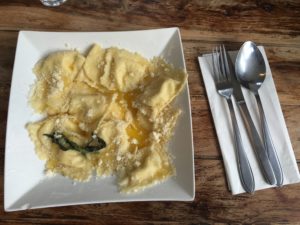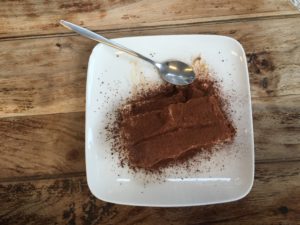 I got asparagus raviolis for dinner and tiramisu with coffee for dinner. All I can say is WOW. I am usually so picky about Italian food because I come from an Italian family who had spaghetti at least three times a week growing up. I have nothing but great words about this place!
---
Final Post (FRI. 5/20/16)
"People say it's difficult to know oneself but it's not easy to paint oneself either"
My final day in Amsterdam, Thursday May 19, I woke up super early to get to the Van Gogh museum. A group of us spent about three hours looking at everything. I was in AWE. I could spend a week in that place. Going through the three floors, I was amazed at the number of works Van Gogh produced and was able to understand his life while chronologically moving through his paintings. Seeing the paintings up close was so cool. I could see every stoke Van Gogh produced in order to complete each painting. I made a list of my favorites throughout the time I was walking through the museum and there are too many to count. Just a few: "Worn Out", "Three Cicadas", "Garden with Courting Couples", "Dish with Citrus Fruit", "The Peach Tree". The list goes on! I was in my happy place for these three hours. I think this was my favorite part of Amsterdam.
We also visited the nicer neighborhood in Amsterdam, Jordaan. The canals and little shops were beautiful.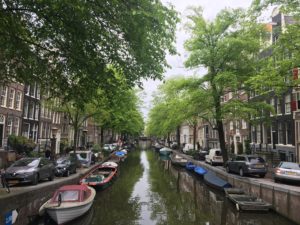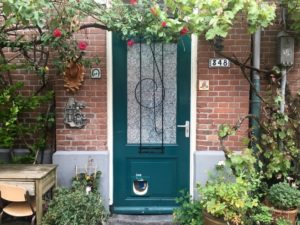 I am so thankful to have seen all of these great places. I took enough pictures to last a lifetime but plan on returning to Europe sooner rather than later……