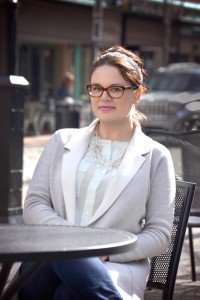 Emily is a recent graduate of the M.A./M.B.A program. As a graduate assistant with the School of Communication, she worked with Wood Street Communications, an initiative that serves Pittsburgh's nonprofit community. The past two years Emily has worked with Helen Fallon on fundraising efforts for the John E. Fallon Jr. travel fund that helps reduce students' travel expenses.
This is her third time traveling with the international media course. Previously she has visited London, Paris, Madrid, Barcelona and Lisbon. She's thrilled to be headed back to London (crossing her fingers she sees Princess Kate!) and is most looking forward to the fairytale village of Bruges.
We Have Arrived!
May 9, 2016
The good news, we made it to London. The bad news, Prince Harry is back home in the States.
I was hoping that my third time around traveling to Europe would have been easier – it wasn't. I'm exhausted and I could have gone to bed at 3 p.m. without any FOMO – fear of missing out – feelings. But I didn't. I indulged in delicious fish 'n chips with our tired yet curious group of students. My favorite part of the day –  seeing how excited the students are to travel abroad. For many of them it was their first time in Europe. Having a good idea of what they will experience – physically, emotionally and mentally – I am equally excited for them. There is nothing like traveling to a new country, new culture; it's a feeling that is lacks a definition – there are just no words.
I'll be posting some fun and interesting facts during this trip to London, Bruges and Amsterdam and I welcome and thank you for following along in my journey. Please read the student blogs, too, for we all may have done the same thing but share different experiences.
Today's fun fact – the address of homes was once determined by the fan light, the window above the door. Each window had its own unique design that distinguished one house from another.
The Bison is the "Official" Mammal of the USA
May 10 -11, 2016
I grew up in a home that read the newspaper – papers, I should say, more than one. Though our society seems to be ditching the newsprint and going digital, that's not necessarily the case here in London. I'm not surprised by this, however; my past media visits to Europe have proved that print still matters. With that said, I picked up the London Evening Standard at the subway and learned that the bison is the "official" mammal of the USA. Not sure if the mainstream news picked that up at home but I found it to be an interesting dribs and drabs (not so sure that I used that term correctly). The paper also provides other world and local news, not just updates on national mammals.
Moving on.
Is this what you thought when you first saw an elephant? I learned this and so much more about circus-like animals that were at the Tower of London.
"An elephant was sent to England by the French king as a present to the King of England…the people flocked to see the novel sight…The beast is about ten years old, possessing a rough hide rather than fur, has small eyes at the top of its head, and eats and drinks with a trunk." Matthew Paris, monk of St. Albans Abbey.
My media fun fact – don't count out WhatsApp. Battenhall London does some darn cool things that include using the app for internal communications. I also met someone who will be going to space on the Virgin Galactic, he happens to be the CEO of BMB agency. He had some high-level thoughts that were out of the world (pun intended). But truly, he was an unique character to listen to (along with his team at the agency.)
Looking forward to moving over and up to Bruges!
Current Events
May 12-14
After a brief ship ride across the Channel (that included several unorganized security checks) we were greeted in Calais, France with barbed wired, immigrant camps and police patrolling the land. Our new tour guide, Summer, offered some insightful information on the immigration crisis that we, as Americans, are typically removed from. Called "the jungle," immigrants occupy vacant land and turn them into makeshift homes that are often made of plywood and provided by NGOs. Their hope is to make it to England, they have no want to stay in France. Together, France and England are working to better handle the situation. The site in Calais is one of the largest; camps are made up of mostly men, ages 17-35 and it is predicted that every woman has been raped. Calais, the fifth poorest town in France, has seen a 40% drop in income due to the immigrants.
I learned this while on the way to Bruges, a quaint yet beautiful Belgian town. It is one of the most desirable tourism destinations and was rebranded in the 18th century to attract tourists (talk about some early PR and marketing skills!). Similar to my experience in Segovia, Spain and Mont Saint-Michel in France, it's a real-life fairytale. Trading wool is what put the city on the map but I also learned much about lace and chocolate making and Flemish artists like Jean Van Eyck. Europe is full of old yet beautiful churches and Bruges didn't disappoint. Of course I visited three, one of which included a Michelangelo piece.
Enjoy the photos of the tulips as I prep for Amsterdam!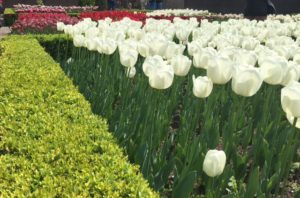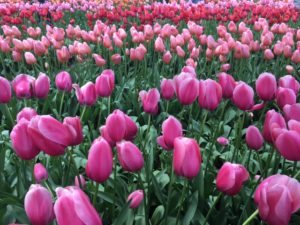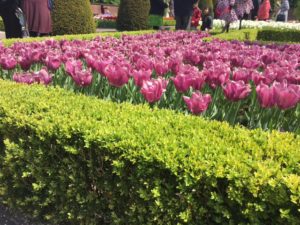 Photos taken at the Keukenhof Gardens. ?
Follow Your Heart
May 15 – 20
Please excuse my absence in blog writing.  ? I may back in the 'burgh but I still would like to share some Amsterdam experiences with you.
Cheese can quickly sum up my experiences in the Netherlands but let me expand. After a beautiful introduction to the Netherlands via Keukenhof Gardens to explore the tulips, we dove into the Dutch media. I would like to share that most tulips had their "heads cut off,"which is when they snip the actual flower off of the stem with the goal to preserve the bulb, but there were enough "heads" left to see the beauty.
We got our first taste of Dutch media from Dr.Jolien Arendsen professor at VU Amsterdam. She spoke in depth about the current state of the media which is similar to ours – looking for ways to incorporate the digital world. I encourage you to research Blendle. It's providing the Dutch a new way to consume media and has recently entered the States. Per usual, our media visits were outstanding and not only provided insight on the media, specifically public relations and journalism, but the warm welcome Het Parool, de Volkskrant, Ketchum Amsterdam and World Press Photo provided was quite refreshing. I particularly enjoyed learning about the new magazine pieces that de Volkskrant is now issuing in hopes to better connect as well as educate its readers which include younger readers, too. Ketchum Amsterdam provided us with an interactive case study that I think surprised the students and forced them to use their brains! We all eventually act a bit robotic so using our brains for an actual real-world project was welcomed. I shared a personal conversation with the CEO about crisis communication, a topic that I spent this past semester researching and have become quite interested in. Though not a photographer, I appreciated the stories told through the compelling World Press Photo winners. Powerful and emotional. And speaks to the need for photojournalists.
Getting back to the cheese. I ate so much of it. Not only is it delicious it is part of the Dutch culture. So are the plethora of museums – the Netherlands is full of history. Standing in a two hour line to enter Anne Franks House is powerful in itself. She may have been a young girl but she had such big ideas. I've never read The Diary of Anne Frank but will be doing so this summer. I will also be reading the letters Vincent Van Gogh sent to his brother, Theo. I read of Van Gogh's time in Montmartre and appreciated his paintings that reflected his impressions of Paris while remembering my own Paris memories in that same neighborhood. I viewed The Night Watch, which is a powerful piece both is size and artistic execution. I visited Rembrandt's home and learned a great deal about the artist and art dealer; a talented artist who loved the ladies and made poor financial decisions. I feel like he's not alone!
I have to give a shout out to Rick Steves. He is a travel genius and I relied on his Amsterdam guide all.the.time. I was often heard saying "Let me ask Rick." Because of his travel suggestions myself along with a small group of students explored the Jordaan neighborhood. Stunning. What you think Amsterdam would look like, the Jordaan is it. The group stopped at a small cafe along a canal that Rick recommends in his book. It was perfect. When we finally made the sad decision to leave the cafe I went inside to ask for directions/suggestions to further explore the neighborhood. A local man sitting at the bar told me to "Follow your heart." I think that was the perfect ending to an amazing European adventure.
I have had the privilege to attend the international media trip three times. I know how lucky I am to be able to say that. I can't say one trip was better than the other for they all offer unique experiences that I will never forget. This trip, however, wrapped up my graduate experience at Point Park and for that it's special. Each trip brings along a different group of students with different ideas and interests and it's always refreshing to see them explore and cultivate their own ideas of the world through our unique experiences. I thank them for sharing this adventure with me and with each other and loved seeing them hug Helen at the airport as a small gesture of thanks, one I know she greatly appreciates.
I think Paris is quite fabulous but Amsterdam doesn't disappoint.
Proost! (which I believe means "cheers!") until next time.
P.S. I would like to make it known that I consumed a lot of beer and actually enjoyed it. I feel like its a small badge of honor!